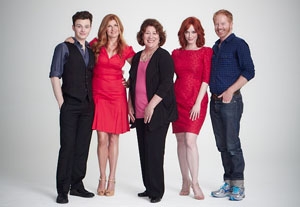 The 2010–11 television season proved to be a banner year for the medium, with its groundbreaking stories and memorable performances. As Emmy season gets into gear, Back Stage gathered several actors, representing the best in drama and comedy, at Smudge Studios in Los Angeles to discuss how they booked their roles, their most difficult moments from the past year, and what it's like to be nominated for an Emmy Award. The participants were:
Connie Britton
, who bid farewell to "
Friday Night Lights
" this year;
Chris Colfer
, who headed a bold storyline about gay bullying on "
Glee
;"
Jesse Tyler Ferguson
, who took his role on "
Modern Family
" to new comedic heights both physically and verbally;
Christina Hendricks
, whose "
Mad Men
" character struggled with an unplanned pregnancy from an affair; and
Margo Martindale
, who stole scenes on "
Justified
" as a criminal matriarch who lived (and died) by her own code.
Connie Britton
The "Friday Night Lights" star shares her best acting lesson and how she embraces her uniqueness as a performer.
Chris Colfer
The "Glee" star talks about playing Kurt Hummel and other roles he would like to play in on film, TV, and stage.
Jesse Tyler Fergusen
The "Modern Family" star talks about being nude on stage and forgetting his lines.
Christina Hendricks
The "Mad Men" star talks about her favorite roles and shares her best career advice.
Margo Martindale
The "Justified" star talks about learning to fly and what she knows now as an actor.