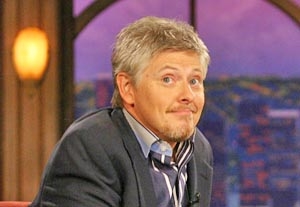 Actor Dave Foley realized something recently while shooting "Death Comes to Town," a new eight-part miniseries premiering Jan. 12 on the CBC with his comedy troupe, the Kids in the Hall. "We've been working together for 25 years this year," says Foley, who also starred in "NewsRadio" and "A Bug's Life." "It's disturbing to me that Monty Python only started 15 years before us." Foley jokes that the secret to the Canadian troupe's longevity is that its members find one another more funny than annoying.
The last time Foley, Bruce McCulloch, Kevin McDonald, Mark McKinney, and Scott Thompson appeared onscreen together was for 1996's "Brain Candy," which Foley calls a "horrible experience."
Foley says the troupe, along with "Brain Candy" director Kelly Makin, learned one major lesson before embarking on this new venture: "You shouldn't go into production at a time when you all hate each other. That was a bad decision on our part with 'Brain Candy.' It was a time in our lives when everyone was going through weird things and we were all tired of looking at each other. But everyone was afraid that if we didn't do [a movie] right away, we wouldn't get a chance. I always knew that that wasn't true, but I think it turned out much better than I thought it would. We all kind of felt that we let maybe the style of 'Brain Candy' overwhelm the content at times." Foley returned to the troupe in 2000 for a couple of reunion tours. "I think 'Death Comes to Town' has more of the goofy spirit of the Kids in the Hall," he notes.
Despite their original series being executive-produced by Lorne Michaels ("Saturday Night Live"), the Kids developed their own sense of comedy and have stood the test of time—mostly by avoiding pop-culture parodies and celebrity impersonations. They often made fun of yuppie businessmen and played female characters without winking at the audience. Some of their more famous twisted sketches were "Head Crusher," "Chicken Lady," "Buddy Cole," "The Sizzler Sisters," "Cabbage Head," "Sir Simon & Hecubus," "Cathy and Kathie," "Mr. Heavyfoot," and "The Dr. Seuss Bible." Their manifesto was to study the comics they loved and then studiously avoid those signatures.
"We studied Monty Python and SCTV, and then we had to reject it out of love for their work. We didn't want to try to replicate it," explains Foley. "We wouldn't link our sketches the way Python did. Python were brilliant. They got rid of endings. We love that about Python, so our sketches always had to have endings."
Back to the Tube
After five groundbreaking seasons, the Kids said they'd never do television again. But while working on ideas for a second film, they realized that "Death Comes to Town" would work best as a miniseries because, Foley says, "a miniseries isn't like doing sketch again, and it has a definite end. We had a definite exit strategy, which made it comfortable to go into it."
"Death Comes to Town" is a comic murder-mystery set in the fictional town of Shuckton, Ontario, where the first to die is the mayor. Foley plays the mayor's alcoholic wife, who succeeds her husband in office after his demise. He also plays the kindly abortionist Doc Porterhouse, the local news producer, and the vaguely ethnic veterinary nurse.
"There are some cameos [from the old series]," he reveals. "I guess I'm not supposed to say which they are, and I have no idea why, because I don't think anyone cares. The only old characters that are really in the show are the cop characters [played by McCulloch and McKinney]. They play the town cops."
The series has yet to be sold in the U.S., but it will likely end up on cable. "They're shopping it now," he says. "I think there needs to be a massive letter-writing campaign. I think the press has to galvanize the public. This has to be the biggest social movement since the Vietnam War protests. If we can get a million people on the [National] Mall then maybe the Kids in the Hall will be on American TV."
Currently, Foley can be seen in "The Strip," a feature released Dec. 4 about a group of electronics-store employees in a strip mall who all dream of something more. He plays the deluded manager, Glenn, whose secure life unravels. Between takes, Foley had to be in a wheelchair after badly breaking his toe two days before the shoot.
"I did a movie once where I tore the ligaments on both sides of my ankle, but I've never worked through an injury this bad," says Foley. "Basically every time you see me walking in ["The Strip"], I'm re-breaking all the bones in my toe." The director, Jameel Khan, said Foley's injury might have improved his performance.
"Yeah, I think [Khan] was wrong about that. I think I would've been just fine without the intense pain," says Foley. Other upcoming projects include the rock-star-studded vampire movie "Suck," which premiered last year at Toronto; he also voiced Wayne in the half-hour animated special "Prep and Landing" which premiered Dec. 8 on ABC.
Does Foley have plans to appear in more-dramatic fare? "I think really good dramatic actors do something very different from what I do, the depths that they go to into themselves. I don't know if I could do that or not," Foley says, then pauses. "I could certainly be a perfectly fine average dramatic actor. I've not really tried to seek it out. I'm open to it, but I don't really have any need or pressing desire. I know a lot of comedians who feel like they have to prove themselves somehow, and I think comedy is pretty good. I don't think of comedy as a somehow lesser art form than drama."