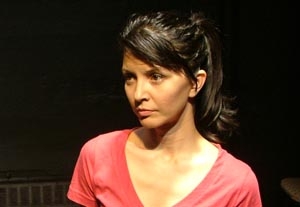 When Michelle Glick saw her first solo show, her response was, "That is so scary, why would anybody do that?"
But it was the fear, the craziness of baring one's world, that drew her into the idea: "That's kind of where I am with my work; I need to be a little frightened. It's a crazy ride when you are following that fear."
Fear was the inspiration for Glick's upcoming solo show "Asian Belle," an autobiographical tale of the daughter of a Vietnamese war bride growing up in Alabama. It is a story of self-actualization, a journey that began with denial.
"I spent most of my childhood and especially my teen years really trying to hide that part of myself," she said.
In the show, Glick goes from being a confused little girl to a confused materialistic teenager, to a curious adult who begins to unconfuse herself. "I think it's changed since I left, but when I was growing up I had kids come up to me and ask, 'Are you black, or are you white?' I was seven, and I was like, 'Whaa? I think I'm white... I don't know. Am I black?'"
The road to conquering fear is never an easy one. Glick, who went to Matt Hoverman's solo show workshops, said in many classes she cried over the prospect of sharing her most personal secrets.
"When you write about those places that are so sacred and hidden, that's what people respond to... It's very universal. Our fears are universal."
And that's certainly the response she gained in a reading of her script two months ago. From an Italian American to an older Jewish woman who grew up in "a very white Connecticut," people told Glick, "I get it!"
"It's not just an Asian story," she added. "People all over the board really identify with it—which has really been a pleasant surprise for me."
But beyond sharing her experiences with an audience, working on this project has changed Glick's relationship with her mother. Describing their relationship as "tumultuous," it was a story that was waiting to be tackled. Talking with her mother inspired her throughout the process, and she literally puts herself in her mother's shoes for a good portion of the show.
"It's just really helped me understand her a lot more. I feel like I have a lot more compassion for her. I think something will have changed between us just from doing this."
Accepting, and finally finding pride in her Vietnamese culture, Glick sees a future that is informed by such moments in her life.
"I want an international career... I have Asian American friends who are spending part of the year in Asia, working. I'm thinking about paving the way doing that."
In the meantime, her curiosity is leading her to explore producing and writing. "I have some actor friends who say that it drives them nuts to be on a set and not be acting. But no, it doesn't bother me. I feel like knowledge and experience is power."
"Asian Belle" debuts at the Dorothy Strelsin Theatre July 15 as part of the Midtown International Theatre Festival. For tickets and more information, visit www.midtownfestival.org and www.michelleglick.com.