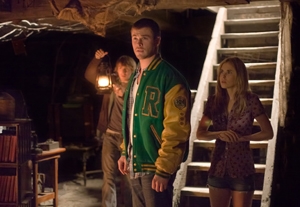 Friday the 13th might be unlucky for some, but for
Fran Kranz
, it's a day he's been anticipating for over three years. It was March 2009 when he first began shooting
"The Cabin in the Woods,"
a horror comedy penned by Joss Whedon and Drew Goddard and directed by Goddard, in which Kranz plays a slacker stoner whose weekend journey with friends goes very, very wrong. After years of delays, the movie finally hits theaters this Friday, April 13, after an enthusiastic response at last month's SXSW Film Festival.
Kranz, currently appearing as Bernard, the nerdy neighbor, in Mike Nichols' revival of
"Death of Salesman"
opposite Phillip Seymour Hoffman and Andrew Garfield, took some time out of his busy schedule to talk about his Broadway debut, working with Whedon, and the long wait to get
"Cabin"
in theaters.
Back Stage: You previously worked with Joss Whedon on the TV series "Dollhouse." Were you familiar with him before auditioning for that show?Fran Kranz
: I knew who he was, but I'm embarrassed to say I hadn't seen his work. I auditioned for "Dollhouse" like any TV pilot; I did not get a full script, though. But I got a scene and it was such a great scene, so I was already so impressed with the guy. And meeting him, he was laid-back, he was friendly, and I really respected the guy. When I start to really think about all he's done for me, or all that's come you know my way because of him, it's a little embarrassing. He's someone that's sort of brought out the best in me, and I think he does that for mostly everyone he works with.
Back Stage: But from what I understand, you didn't first hear about "Cabin in the Woods" from Joss?Kranz
: Well, I knew he was making a horror film. People were talking about it. But this was the first season of "Dollhouse," so I was just keeping my head down and doing my job. I wasn't about to go up to Joss and say, "Hey, can I audition for your horror film?" One day Drew Goddard came to set and he was showing Joss possible locations for the cabin where they were going to shoot the movie. I came over to see what they were looking at, and one of the possible locations was the original Camp Crystal Lake from "Friday the 13th," and I completely geeked out, saying they had to go there. That's how I met Drew. Fast-forward to the end of the casting process when I finally got the role and we were up in Vancouver rehearsing, and Joss told me that he had Drew come to set that day because they were already thinking about me for the role of Marty. I guess Drew was there to watch me work, then it was just a bonus to have me be a horror film fan and to geek out the way I did. I think he saw a kindred spirit.
Back Stage: Has it been hard waiting for the movie to come out while so much time passed? Kranz
: I do think it's been worth the wait. I do think we have the right release date and the right timing. You hope for the best with movies, but once you shoot them, you have to kind of forget. You have to walk away, because as an actor, it's so out of your control. But with this movie, I loved it so much, I cared about it so much, I had so much faith in it. I never lost faith. I just think a lot of other people might have. But I just knew that this movie was too good to go unseen.
Back Stage: How did you land the role in "Death of a Salesman"?Kranz
: I did a play about a year and a half ago, "Bachelorette," Off-Broadway at Second Stage. Mike Nichols had seen it, the same casting directors had cast it, and I had worked with ["Salesman"] producer Scott Rudin years before on "The Village." So they all knew me and when they wanted to see me for Bernard, and I knew it was worth the plane ticket, no matter what happened. I flew myself to New York for three days and I worked my butt off on the audition. I went in for Mike Nichols first, and as soon as I walked out of the audition at Lincoln Center, I got a phone call asking me to come back up for Scott Rudin. So then the next morning it was official, and I got the offer. And it's been quite an experience. To have a Broadway debut like this is a little bit overwhelming, I'm working with such amazing people on such a high-profile show; I can't imagine that all Broadway productions or experiences are like this, so I'm very grateful for it. And the intensity of it all is not lost on me. I'm trying to experience and soak up every little detail of it.