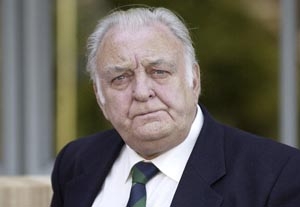 Currently one of the great living legends of British acting, knighted for his service in 1997, Donald Sinden is not shy about telling firsthand tales of actors he has admired—including John Gielgud, Ralph Richardson, and Laurence Olivier. Sinden more reluctantly reveals his thoughts on why some acting has not improved in the modern era.
Trained at the Webber Douglas Academy of Dramatic Art, Sinden has been an associate artist of the Royal Shakespeare Company since the early 1960s, appearing in "The Wars of the Roses" as the Duke of York opposite Peggy Ashcroft; in "Much Ado About Nothing" as Benedick opposite Judi Dench; and as King Lear.
In his one-man show, "An Evening With… Sir Donald Sinden," arriving Aug. 21 in the Los Angeles area, he might tell tales of these performances and many others, including his film work with Marilyn Monroe and Clark Gable. Or not. As Sinden explains, "An Evening With…" is an impromptu series of reminiscences.
Back Stage
: In the world of acting, what do you think has changed the most since you began?
Donald Sinden
: Diction is not nearly as good as it was. Also a lack of theatricality.
Back Stage
: Do you mean the actors are too big?
Sinden
: Oh, no, not nearly big enough. Unfortunately it's the fault of films and then television. I'm even told that at the National Theatre now, they're using microphones for the actors. That's a terrible thought, because projecting the voice is the same as projecting the personality. And if you use a microphone, your personality is hidden behind a microphone. Luckily I was almost brought up on [Alfred Lunt and Lynn Fontanne]. Those two, I saw, I think, five or six of their plays when they came to London. I sat at their feet. Luckily I got to know them both well enough that I stayed with them when I was in the States. They could turn backs on the audience and whisper and still be heard at the back of the gallery. How did they do it?
Back Stage
: What did they say?
Sinden
: I tried to find out. But it was years of working together in their case and giving each other advice. Lynn made a wonderful remark to me. At that point, when I was [in the U.S.] I was suffering from a director. So I said to Lynn, "What has been your relationship with directors?" And she said, "Oh, my darling, I've always done everything a director asked me to do." And I was fairly astonished. I said, "Really?" She said, "Well, unless I disagreed with him." Which is wonderful. Those were the days.
Back Stage
: Do you think, in general, most actors today are better or worse than when you began?
Sinden
: I don't think the leading actors are any better. When I started, the people at the top of my profession in [the U.K.] were Gielgud first, Olivier, Richardson, [Michael] Redgrave, [Donald] Wolfit. They only had to say one sentence, and you knew exactly who it was. Most distinctive voices. Now I can't tell the difference between half a dozen of them. Not individual enough. Whereas, down the line, the smaller parts are now much better played than they were when I was young. And all the young actors can dance and play musical instruments. It's all so clever.
I have to be very careful, because Americans pronounce certain words differently, and I'm not talking about that difference. But consonants matter. Clarity of speech depends entirely on the consonants, and the vowels look after themselves. The number of T's that are missing in words—and I'm sorry to say the Americans are quite often very bad at that. I was working with some American students on one occasion, and one morning, one of them came and said, "I gah a leda." He was saying, "I got a letter."
An old actor, who was old enough to be my father—Newton Lick, his name was—said he was taught by an old actor that the consonants are what give clarity of speech. So all you do is stand in your dressing room and you say, "Hip bath, hip bath, lavatory, lavatory, bidet, bidet, douche." He said it's all the voice production you need.
Back Stage
: What sort of vocal warm-up do you do before going onstage?
Sinden
: Only a bit of "hip bath, hip bath." [He pronounces these words clearly and slowly and fully]. It's very good.
Back Stage
: Are you still working on technical things?
Sinden
: I'm of an age now when I'm sitting back a bit, but you should try to do at least one play by as many different authors as possible, because each one has a different voice. I did my first Ibsen in 1975, "An Enemy of the People," and I suddenly fell in love with him. Three years later I did my first [George] Bernard Shaw, "Major Barbara," playing Undershaft. I had two speeches in that that were technically difficult. Well, I'll tell you a little anecdote. When I did my first job, in 1942, I was working with a comedian by the name of Lawrence O'Madden. Unheard of today. We were in the rehearsal room. We'd both got our scripts open on our knees. I saw him putting four crosses on various points in his speech. I was desperate to learn everything, so I said, "What are the crosses for?" He said, "Oh, that's where I'm going to get the laughs." And sure enough, when we opened the play, where he put those crosses, big laughs. I went to him afterwards—I've always been like this—I said, "How did you know at that point of rehearsal that that's where the laughs would be?" He said, "Well, it's my decision. I could have gotten them there, there, there, and there. I'll show you what I mean." So the next night, he went on, he cut the four laughs he'd been getting and got four new ones. And as he came off the stage, he said, "You see what I mean? The other four are better, aren't they!" I thought, "I never realized it was as technical as that."
I need to know who the audience are in any particular play. It's no good forgetting that they're there. I like to think how [they] as a mass would affect the performance I'm giving. For instance, when I played Lord Foppington in "The Relapse," I imagined that the audience were my equals in society, and that if anything terrible happed to me it would be singularly embarrassing in front of my contemporaries. Whereas when I played Malvolio, I assumed they were all beneath me intellectually.
Back Stage
: Which gave you a sense of disdain?
Sinden
: Yes. "These common people." And then when he gets his comeuppance at the end, there's nothing for him but suicide.
Back Stage
: Of the actors you most admired, what do you think was the quality that made them great?
Sinden
: Well, I've worked with and known a lot of very old actors of the past. Somebody early on said, "Don't ever steal from your contemporaries or even the generation before; steal from people two generations before, then nobody will remember. Lovely man, I didn't work with him but knew him very well, Baliol Holloway. He maintained that I'd never seen a great actor, when we were talking one day. I said, "Don't be absurd, of course I have: Gielgud, Richardson, Olivier." "Ah, no, no," he said, "they're not great actors. Very, very good ones but not great." I said, "How would you define a great actor?" He said, "Well, now look. You're working at Haymarket theater at the moment. If you look out at the auditorium, all around the boxes, around the circle, it's all gilt. When a great actor walks onto the stage, that lights up." I know it sounds facile, but when you think about it, it works. The actors of the past—Henry Irving, [Herbert] Beerbohm Tree, Henry Ainley—you always had that feeling with them. The lights came up. Possibly the electricians turned the lights up. But now, you see, modern directors would frown upon that. Sibyl Thorndike's brother wrote a wonderful book, describing what it was like when he and Sibyl were young, going to the theater. Now, entrance rounds [applause for well-known actors' entrances] are strongly deprecated. In my time, he got a round of applause on his entrance, before he'd spoken a word. I've seen Richardson do it several times. It got us all into a great frame of mind; we were on the edges of our seats, ready to applaud. And laugh. Sibyl Thorndike was the best audience I've ever known. She used to sit in the front row, always, and paid me the great compliment of seeing many things I did. She was on the edge of her seat the whole time, leaning forward, listening. She was always the first to laugh, the first to applaud. Today, the audience sits back, thinking they're watching television. The audience have as much work to do as the actors.
Back Stage
: Any particular moment onscreen that you can point to, when you were truly in the pocket while you were being filmed?
Sinden
: On film? No, no, no, no, no. Nothing. I was under contract for eight years, and I was in so much rubbish in that time. One or two good ones, yes, "Doctor in the House." "The Cruel Sea," I could have done it better.
Back Stage
: I've gleaned bits and pieces about your "Evening With." Are we going to be hearing unvarnished truth of what happened, or is it a little theatricalized?
Sinden
: Ah, aha. It's a little theatricalized. I don't believe in all this soul-searching going on. I'm trying to remember only the amusing things that have happened. I've had some heartbreaking things happen, but I choose to forget them immediately.
I hang it on a career, but en route I can branch out and tell anecdotes. Everything will be a little different two nights consecutively. I don't have a script. I just keep talking for two hours. That's all it's hinged on. Actors I've seen in the past and anecdotes about them. Gielgud, Richardson, Olivier, Wolfit. Wolfit especially. Enormous, terrifying, his King Lear was really quite frightening.
Back Stage
: What about your own work?
Sinden
: I've done eight plays that have run a year or more. One of them ran 19 months— 644 performances, that was.
Back Stage
: Would you mind explaining what you do to keep it fresh?
Sinden
: That's our job. I don't know how I do it or what anybody else does. The moment you find yourself running on automatic, it's a danger sign. It's a question of thinking about it again. But that's the job. And too much nonsense talked about the acting. It's the job of work. As Ralph Richardson once said, "The art of acting is the art of stopping people coughing." And it's so right.
Back Stage
: Do you enjoy the rehearsal process, the time you spend creating the characters?
Sinden
: Oh, yes, enormously. I'm really not livable with when I'm rehearsing, because I'm living the character. In Stratford, when I was playing Henry VIII—for breakfast I enjoy having muesli with milk and cream—one morning I said to my wife, "Where's the cream?" And she said, "The milkman hasn't delivered it." So I said, "Would you kindly see [drawing out the vowels] that tomorrow morning I get cream [drawing out the "m"] with my breakfast." And when I was gone to the theater, she telephoned the milkman and said, "Would you please make sure we have cream tomorrow morning?" He said, "I'm terribly sorry, madam; the milkman forgot it this morning." She said, "It's all very well for you, but I am living with Henry VIII." I don't believe I did behave like that, but she says I did.
"An Evening With… Sir Donald Sinden" plays Aug. 21, 7 p.m., at the City of Calabasas Outdoor Amphitheatre, 200 Civic Center Way, Calabasas. $20–$35. (800) 341-2766.
www.citfestival.org.