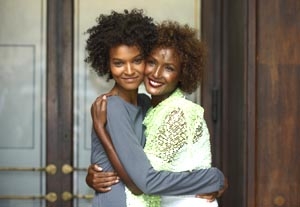 Starring in a film for the first time is daunting enough. Acting opposite Sally Hawkins, Timothy Spall, Juliet Stevenson, and Anthony Mackie adds yet another layer of anxiety. "But to play someone who is real and alive—that's intimidating," asserts model-turned-actor Liya Kebede, who is tackling Waris Dirie in Sherry Hormann's film "Desert Flower."
It's an extraordinary story of transformation. Dirie lived as a nomad in Somali, escaped at age 13, worked as a maid in her country's London embassy, and was ultimately discovered by a major fashion photographer who helped launch her career as a supermodel. In the end she became a leading spokesperson against female circumcision—of which she was a victim at age 3.
In 1997 Dirie was named United Nations special ambassador for women's rights in Africa. The film is based on Dirie's autobiography, "Desert Flower: The Extraordinary Journey of a Desert Nomad." In telling a true story, "You feel a tremendous responsibility," says Kebede, an international model whose film credits include "Lord of War" and "The Good Shepherd."
Still, Kebede insists she is not impersonating Waris, short of mastering the Somali accent and some of the language. In fact, she did not meet Waris until the last day of shooting. "Sherry did not want me to be influenced by her," says Kebede. "She didn't want us to do a biopic, but rather the story of a girl who like many girls in those circumstances are lost, alone, experiencing incredible friendships, and discovering new truths. She wanted me to internalize that."
Kebede hopes she has evoked a character "who feels trapped with no way out, yet is remarkably courageous. Also, she has a terrific sense of humor. There is lightness despite the heavy things in her life. Her courage is inspiring and compelling."
Kebede and Waris share common ground, including their African roots, their experience of relocating to the West, unplanned careers as mega-models and finally their social activism. A major difference, however, is that Kebede attended a French school and was exposed from the beginning to Western culture, values, and lifestyles. Nevertheless, she says Waris' story talks to her. "There was nothing here that was hard for me to understand."
Modeling as Steppingstone to Acting
Kebede was born and raised in Addis Ababa, capital of Ethiopia. Early on her goal was to come to America, "the land of opportunity," she says and, indeed, made the trip alone at 18, living in Chicago with her brothers. She admits the prospect of a modeling career never dawned on her, though she had modeled in high school and found it enjoyable. "I thought of it as something that might pay for college, not as a profession."
During her two years in Chicago, however, she generated some money doing a few shows here and there, along with catalogue work. She relocated to New York and within short order was gracing the covers of Vogue, Harper's Bazaar, and Elle in addition to appearing on runway shows and major print campaigns for the hottest designers across the globe. In 2005 she became the first model of color to represent Esteé Lauder and, according to Forbes, is one highest-earning models anywhere.
But something was missing. Movies were always part of her life and she began to think of acting as a possibility. Five years ago she enrolled in an acting class at Stella Adler and loved it. Kebede has little doubt that modeling helped prepare her for an acting career in giving her confidence, comfort in front of a camera, and the ability to collaborate with colleagues. Though she describes acting as an "inner and emotional journey, it's only one step away from modeling." She especially appreciates not having to worry about looking perfect every moment. When you're acting, there are more pressing concerns, she notes.
Unlike other models-turned-actors, she has not received negative reactions from casting directors, Kebede continues. "Still, Sherry cast me without knowing anything about me. She then Googled me and found out I was a model. She said, 'If I had known you were a model, I would have been biased against bringing you on the film.' We laugh about it now. Years ago, a lot of successful actresses had started their careers as models. It wasn't considered a crazy idea."
Kebede wants to continue acting, acknowledging she has several projects in the hopper in various stages of development. At the moment, she is launching a press tour to promote "Desert Flower." But far more pressing than any movie is her role as mom to two kids and goodwill ambassador to the World Health Organization's maternal and child health care program.
"I always wanted to give back and I was approached by the WHO to be the voice for mothers in Third World countries," she says. "A woman dies every minute because of childbirth complications, such as hemorrhaging or infections—conditions that are treatable here but take lives there all the time. It's been going on for so long there is little sense of urgency and therefore doesn't get funding. I'm trying to raise awareness about these issues."
Waris Dirie would understand.