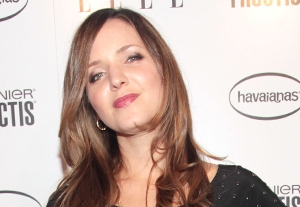 Jordana Spiro, who plays the likable, looking-for-love P.J. Franklin on the TBS television series "My Boys," never thought of herself as a comedic actor. "I always pictured myself in dramatic film roles, which is funny because I do a lot of comedy now," says Spiro.
She certainly does. Besides her leading sitcom role in which she holds her own against male comedy vets such as Jim Gaffigan, she had a hilarious scene-stealing part in the film "Must Love Dogs," played opposite funny guys Jeremy Piven and Ed Helms in "The Goods: Live Hard, Sell Hard," and recently shot the romantic-comedy pilot "
Love Bites
," which was picked up by NBC.
For Spiro, who grew up in Manhattan, there wasn't one defining moment where she knew she wanted to be an actor; it all happened naturally. "I was the kid who would be staging plays in the living room using the coffee table as the stage and forcing my little sisters to get dressed up in ridiculous outfits," chuckles Spiro. "I was lucky to have parents who took a lot of notice of what was interesting to their kids and wanted to feed that. They got me into acting classes, and it all began from there." Although they were supportive, her mom and dad definitely weren't the stereotypical New York "stage parents." They did not allow Spiro to pursue professional acting until she was 18.
Spiro spent two summers during high school attending the
Circle in the Square Theatre School
. "That was a really incredible program," she recalls. "I had so many wonderful teachers. Terese Hayden was my favorite." With expert training under her belt, Spiro was now convinced that she would be a professional actor. She applied to the
Royal Academy of Dramatic Art
in London, which held its auditions in New York. "The auditions were at the [United Nations] building, which I thought was so cool," says Spiro. "I thought for sure I was getting in. I was arrogant. Everybody was applying for colleges, and I put it off because I was going to go to Royal Academy of Dramatic Art, and if you want to do something, you can't have a fallback plan; you just have to go and do it." Unfortunately, Spiro didn't get in. "It broke my heart. Then, because it was too late to apply to other schools, it really broke my heart." Thankfully, the Academy offered to let her in to its Shakespeare summer program, which she attended and loved. Undeterred, Spiro decided against college and moved to Los Angeles that fall.
Fits and Starts
Upon arriving, Spiro starting taking classes and getting work in "fits and starts," as she says. "I spent years buying Back Stage and going to your casting calls." She finally got Taft-Hartleyed into SAG with a guest-starring role on a sitcom called "Maybe This Time," starring Craig Ferguson, Betty White, Dane Cook, and Marie Osmond. From there, she just kept working.
Looking back, Spiro doesn't believe she ever had a defining moment or a big break like other successful actors: "I would get a job, and it would always feel like it was going to be the thing that was going to get me the choicest roles. I would feel like, 'After this, I'll be able to be more in the driver's seat of my career,' and it's not quite the way it goes, but then I'll get another [job]. So I've always been able to work consistently, but there's never been one specific role that opened all these magic doors for me. Which I think is fine. It's just a blessing to be working consistently."
As she was building a long résumé of guest-starring and day-player roles, Spiro never concerned herself with the size of the job or her level of visibility, as long as she was working on an interesting project or character. "I think at a certain point actors do have to be smart and be a little bit choosy, but my take on it has always been that I just want to act in projects that have good characters that I think are interesting to me or have something that I want to express," she says.
One of the 'Boys'
When Spiro read the script for "My Boys," she thought it was hilarious and perfect for her. Fortunately, she had an in. Reveals Spiro, "I had done a pilot the year before with Betsy Thomas [the creator of "My Boys"] that got picked up, cast, but never got shot. Ah, the craziness of pilot season. So because she knew me, I got to skip the pre-reading level, and I went in directly to read with her and [executive producers] Jamie Tarses and Gavin Polone. It was a very friendly room, so I felt comfortable and was really able to bring all the choices that I wanted to make into the room. Then I met with Sony, then TBS, and then I got it! It was one of the smoother audition processes that I've had. But they definitely weren't banging down my door. I still had to jump through the audition hoops, just like any other audition."
This year, Spiro shot "Love Bites" in second position to "My Boys" and won't know her status until the fall, but either way she is thrilled to have the opportunity to play funny leading roles. "I feel really grateful to be on 'My Boys' because it's a comedy written by a very funny woman," Spiro says. "Betsy Thomas actually allows for a lot of the comedy to be given to the female." Spiro admits that sometimes she feels let down when she reads comedic film scripts in which almost all the funny parts are given to men. "I do need to check my ego at the door sometimes and try to think of the funniness of the entire process rather than who gets the joke. It's a little bit frustrating, but thank goodness we have people like Betsy Thomas and Tina Fey, who are breaking those barriers and those stereotypes down for us."
Spiro believes that actors of any level should always be in class. She currently takes workshops with
Diana Castle
, who teaches in Los Angeles and in New York, where Spiro now lives. After that, Spiro's best advice is to stay interested in your life and life in general. "It's so easy to get caught up in chasing the dangling carrot, becoming addicted in the audition process, and not really realizing that in order to bring something to a role, you need to be open to life around you," says Spiro. "It can get really debilitating. I have done that, where my whole life became about what is the next audition or how did I do on that audition. It gets depressing and it knocks your spirit down. If you can find hobbies, volunteer work, or whatever it is that keeps you interested and motivated in exploring different facets of your life, who you are, and how you can be creative, then you have a lot more to bring in to the room."
Season 4 of "My Boys" premieres July 25 on TBS.