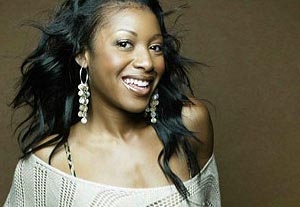 "I consider myself a hustla," says Gabrielle Dennis, and she is in the very best sense of the word.
After graduating from Howard University, Gabrielle moved to Hollywood and landed her first job within a month.  She's followed it up with standout roles on Showtime's "The Underground" with Damon Wayans, and on CW's "The Game." She's currently playing the role of Denise Roy, the controlling girlfriend of the star running-back in Spike TV's outrageous new series "Blue Mountain State."
Gabrielle exhibits a natural confidence in person, peppering her conversation with dazzling array of wry and witty remarks.
Chosen as this week's Girl2Watch, Paula will be featured in a series or articles, fun facts, and social media tweets through this week for subscribers of
Girl2Watch.com
.
Actor2Watch: What was your first real break as an actor?
Gabrielle Dennis: It might've been "A Rage in Harlem" with Gregory Hines. I had a scene with him and it was so fun. It was shot right around the corner from my high school, and I thought it was the coolest thing on Earth.
And then the movie came out and they cut my lines. So I'm just standing there looking at him and he's talking to me, but I say nothing. But that was my first break.
A2W: Can you tell us about your worst audition moment?
GD: There's one, I blocked so much of it out of my memory. I don't even know what it was for. And this is when I learned how important it is to be even earlier than you expect, because I was always taught being on time is late and being five minutes early is on time kind of thing.
But there are some places you've never been before, like a studio lot, and you need all this extra time to park.
So by the time I got in the room, literally they were ready for me. So I go in and I just blanked halfway through, because I fluttered on a word and then that was what was in my head. I was talking, but I wasn't acting, and I was like, "I'm sorry" I had to stop. I was like, "I don't even know what I'm saying right now." And they were like, "Would you like to go again?" I said, "Not really, because I'm just not focused today."
It was so frustrating for me. Not that I'm a perfectionist, but you feel like something that you're so passionate about, that you allowed yourself to not be focused in the moment. I'm a big believer that luck is when preparation meets opportunity, and that moment I wasn't too lucky, because I wasn't getting that job because I wasn't prepared for it.
A2W: What kind of training did you get, and who do you study with?
GD: I went to performing arts high school in fourth grade. I did a lot of music theatre. Dance was mainly my background. In college, I minored in theatre. Vera Katz was my favorite instructor back in college. She's helped study with people like Gwyn Whitfield and things like that.
Currently I study with Tasha Smith. She's this big actress right now that's on the rise, and she's done a lot of Tyler Perry movies. That's the only class I've actually taken in L.A.,outside of casting director workshops, which I think are very helpful. Because learning how to act is one thing, but learning how to audition is a whole different thing.
Hearing from casting directors the dos and don'ts to do in a room and kind of getting their take is just such valuable information that you'll never get from a class, because an actor or a teacher is one thing and a casting director is someone completely different.
A2W: Do you have any tips for novices? Is there anything you wish someone told you when you first started out at acting?
GD: The hardest thing is finding out what your type is. So asking those questions, going to the casting director workshops and making sure your type and your picture match.
That was my note at the beginning. It was a mismatch. I'm trying to look a certain way and sell a certain kind of general, broad vision that I think Hollywood wants to see from a young African-American. But then, when I go in the room, if your comedy is your selling point and that's your niche, don't try to come in there with glamour shots because it doesn't sell you as who you are.
Just make sure you find your niche whatever it is. If you're the sexy, thin fatale, or if you're the girl next door, find your niche and make sure your headshots kind of conform to that. I spent way too much money on headshots!