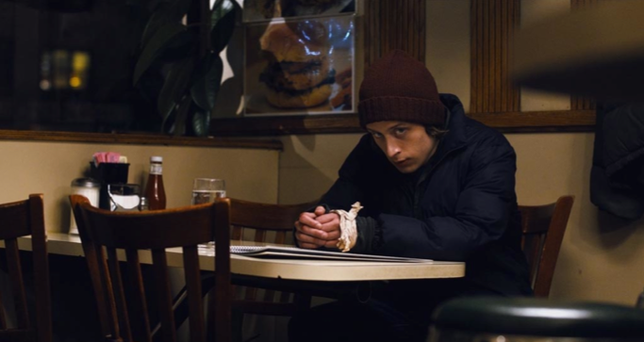 When creating a film as delicate as Lou Howe's "Gabriel," a strong connection between the director and the lead actor is vital. For Howe and star of the film, Rory Culkin, this connection was instant.
The two met through the film's casting director, and Howe says they "really connected about the story and the approach to the film I think and we very quickly were on the same page about talking through Gabe's point of view."
"Gabriel," which premiered on April 17 at the Tribeca Film Festival, follows an unstable and vulnerable teenager who struggles with mental illness, and is convinced that reuniting with an old girlfriend will alleviate his troubles.
The story seeds from a friend of Howe's who "was diagnosed with mental illness in his late teens. So the very beginning of the whole project was just trying to understand my friend's experience in the world, but very quickly became a fictional character and his experience in the world," Howe says.
And although he wrote and directed the film, it wasn't a one-man show. "I think the cast brought the script to a while new place of authenticity," he says. "The character's got more complex, the scenes got richer through pre-production, and a lot of conversations and rewrites."
Howe is not only open to collaboration, he encourages it. "I like to basically—for cast and crew—basically hire and work with people who I really respect and connect with, and I find very talented and am excited by, and then kind of support them in what they do," he says.
It's this respect and connection that Howe found in Culkin. Though he'd never worked with him before, Howe says that he "loved his previous work" and had always been a fan. "As soon as we met and sort of had a very similar process, it was clear that he was perfect for Gabe."
Howe says, of his protagonist, "I think we really connected with the character both on a personal level, like we both felt like we understood him as a person."
Culkin, who masterfully plays the titular lead, certainly understands the layers of his character. "He's very complex, but he's also very relatable. I think we all miss our childhood. There are moments in his childhood that are so important to him, but he's as close as he's ever gonna be to being that young and being that close to his childhood… and he's just gonna drift further and further away from that and he wants those back," he says. "You know, we all do. I just think some of us are better at adjusting to growing up."
Because of Culkin's acute understanding of Gabriel, Howe let him take control. Howe says he wanted to "make him as comfortable as possible, and as proud of what he's doing as possible, and let him sort of lead the experimentation in terms of the actual performance."
And it's this kind of trusting actor-director relationship that leads to films as mesmerizing as "Gabriel."
And don't forget to check out our Tribeca Film Festival coverage, coming to you all week!