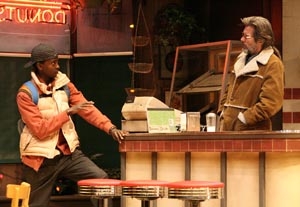 Gary Cole ("Office Space" and TV's "Entourage") and Edi Gathegi (the "Twilight" films and TV's "House") are co-starring in the L.A. premiere of an acclaimed Broadway play. They portray the primary characters in the Geffen Playhouse's staging of the bittersweet comedy "Superior Donuts," by Pulitzer- and Tony-winning Tracy Letts ("August: Osage County"). Cole plays disillusioned Arthur Przybyszewski, the proprietor of Superior Donuts, a run-down sweets shop that has been a community hub in Chicago for decades. When a fast-talking dreamer, the African-American Franco (Gathegi), drifts into the shop, the two vastly different men share a fateful encounter. A noted ensemble cast joins them, under the direction of Randall Arney.
Back Stage:
During its Broadway run, "Superior Donuts" was described by many observers as quite different from the works that brought Tracy Letts into prominence, such as the terrifying "Killer Joe" and the almost nihilistic "Bug." What do you find in "Superior Donuts" to be notably different from Letts' other plays?
Gary Cole:
One of the things that makes Tracy a great writer and also unusual is that to me every play of his is very different from the others. There doesn't seem to be a style or setup or subject matter that he consistently goes to. There are similarities, sure, yet he seems to come up with situations and characters that are from very distinct worlds. "Superior Donuts" is a play about people presenting one face, when they're really something else—both of our characters included.
Edi Gathegi:
Yes, that's true from the beginning of the play.
Back Stage:
Yet it seems his prior plays—including "August: Osage County"—are all quite dark. Some critics have compared "Donuts" to the Norman Lear sitcoms of the 1970s, such as "All in the Family" and "The Jeffersons," which were raucously funny yet caustically satiric.
Cole:
I think "Donuts" resembles Lear's shows a little in the ethnic humor. You have a black character and a Russian immigrant character, but you also have a retro-'60s character [Cole's role]. They're not played like in [David Mamet's] "Glengarry Glen Ross"—six guys in business suits. Each one is very distinct. Set in a donut shop, there's a similarity to the Norman Lear early- to mid-1970s situations—sort of a slice-of-life, with all kinds of representations of characters. But it goes well beyond that for me. I think during the early run of the play, that comparison kind of got prodded along. Still, it's not bad to be compared to Norman Lear, who was a significant writer-producer.
Back Stage:
What acting challenges have these roles offered?
Gathegi:
That's a good question for me, because I tend to do characters that are really far from who I am. It's fun for me to do the detective work, investigating completely different kinds of characters. Yet this character is probably the closest one I've played to who I am as a person. It's gives me a playground I can mess around in—saying whatever comes to mind. This character could be played one of 50 different ways. What Gary gives me every day inspires my next action.
Back Stage:
Though both of you trained in theater, you went on to work extensively in front of the camera. What is the experience like when you come back to do a play?
Cole:
The last couple of years, I've been doing more plays, but there had been like a five-year period when I wasn't. I came back when I did "August: Osage County" in London and then for a year and a half in Sydney, Australia. Theater is always fulfilling because you really get to work on something in depth. I try to learn something whatever I'm doing; but, doing theater, there's time to examine every moment and the history of a character. And when you have a writer like this and a production like this one, you can really take advantage and soak it all up. For me, it's like filling your tank up again. This play kind of gets to me emotionally. I'm younger than the character of Arthur. But I'm from Chicago, and I know that period of time that the character goes back to during his monologues, in the early 1960s. How the city was changing is still very vivid in my mind.
Gathegi:
I feel very fortunate too, to do live theater. It's in many ways the more difficult medium. You have to use your whole body; you have to find a different way to convey things. It's exactly as Gary says. Going back to theater is like a recharge, it's stretching your muscles. You get to really investigate moments in a complex way, then try out different sizes during the course of the run. In film, there are multiple takes, you memorize lines, do it for the camera, and then you're done with it, and never have to do it again. It's a different mode of work, but has its own challenges.
Back Stage:
Do the two of you feel you've been able to enjoy playing a wide range of roles?
Cole:
Yeah, I've been lucky that way. I've been able to move in and out of comedy and dark stuff and do different types of characters. That makes it easier to work. If you tend to repeat what you're doing, there's only so many ways you can go. Sometimes, there are periods when whatever comes your way is the same, but there are also times when it's employment, period. It's all relative.
Gathegi:
The roles are all beautiful, in the fact that you're working. I've had some things that have been rewarding, and things that were great career jobs, and sometimes things that I didn't really enjoy. It varies. But the people you work with—the director and actors—are very important.
Cole:
My background from Chicago, primarily Steppenwolf, had a lot to do with interacting with other people onstage. Sometimes they can define your character for an audience even more than you can. It's about listening and throwing the ball back and forth, and that's really the joy of it to me.
Gathegi:
I agree 100 percent. I believe your play is only as strong as your weakest link. That's why I'm really excited to be a part of this show, where everybody is extraordinary and honest, and listening. The whole process has been like a well-oiled machine.
Cole:
There's a lot of information in this play, a lot of background detail in people's relationships to each other. They're all very good roles.
Gathegi:
Tracy is an actor. He gets it. He writes roles that actors want to play.
Cole:
I think that's one of his strengths. He's a terrific actor. He was an actor before anybody knew he was a playwright. I've never acted with him, but I hopefully will someday.
"Superior Donuts" continues at the Geffen Playhouse, 10886 Le Conte Ave., L.A., through July 10. (310) 208-5454. www.geffenplayhouse.com.