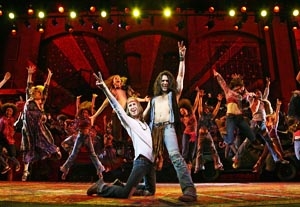 Funny how things happen. Gavin Creel moves to New York a decade ago as a kid out college, toils for a few years, and then boom: a lead role in
Thoroughly Modern Millie
and a Tony nomination for best actor. He gets a couple more Broadway gigs along the way—a benefit concert for
Hair
and a revival of
La Cage Aux Folles
—then goes to London's West End to play Bert in
Mary Poppins
.
Meantime, last summer in Central Park, Jonathan Groff plays Claude in the Public Theater's revival of
Hair
, a production that gets rave reviews and a transfer to Broadway. But Groff receives an offer for another '60s gig,
Taking Woodstock
, a film by Ang Lee. Into the role of Claude steps Creel, and
Hair
is not only well-received, it garners eight Tony nominations, including best revival of a musical and best actor for Creel.
Back Stage recently spoke with the actor about the 1960s, the vagaries of Broadway, and his instant karma.
How are you doing
?
I'm blissed out. I'm in a show that looks like it's going to run for a while, and it's got an amazing message, and it's nice to be in a show where you agree with what it says.
What's the message and why do you agree with it
?
The overall thing that I take away from it is being aware and being awake to what's around you and what you're a part of: not ascribing to what the media or whoever else tells you what to ascribe to; following your own instincts; being your own person. I also like that it's about a youth generation that's aware, that's hooked in socially and not just into surface things.
How did you prepare for Claude
?
When I met with Diane [Paulus, the director], I had this obsession with two questions: How old is this character, and how long is his hair going to be? Hair length is definitely a statement. When I was growing my hair out and I refused to cut it for
La Cage
I got so much flack for having long hair, and I was like, "Fuck you, you know? I'm going to do what I want." I can only imagine at the time what a statement it was to just quote unquote let yourself go. As for age, I couldn't play an 18-year-old, because it's just not in my realm, and she said, as long as you are between the ages of 18 and 26, you can be any age you want. I just made this decision that I was 25 years old and seven months, and in five months I was going to turn 26 and be free of this death sentence. It just heightened the whole thing for me, so that when I smoked pot, it was that much more important. The clock is ticking really loudly in my ear, every day I wake up and there's not a letter in my mailbox, I'm like, okay, one day closer. And the days feel like years.
How did that preparation serve you as an actor
?
The thing that Diane worked with me on a lot was taking every opportunity completely seriously, and to be unafraid and unashamed to stand up and say, I'm Aquarius and with my powers and my love I can heal this entire theater. This entire theater will then have the power to heal the entire world. And it was kind of just, honestly, drinking the Kool-Aid. I had to go back to when I first moved into the city. Every day I walked through the streets and felt, I own this city. You could call it eager, naïve, but I had to get back to that place of completely believing.
How did you get away from that
?
Ten years of being in the city I think it just— [pause]. I think I'm a pretty positive and optimistic person but I'm guessing my wick is way shorter than when I first moved here. And also, I guess just growing up does this thing where it takes the shine off of everything. And also having success takes the shine off it more than anything.
Why
?
Because when you fail when you're younger you can still get up and there's still something to find. When I did
Thoroughly Modern Millie
it was almost every "first" I could have imagined: I dreamt someday being on Broadway, and then dreamt someday playing a lead on Broadway, and then dreamt someday of getting to originate a role, and then getting a Tony nomination. It all happened at once. I was just terrified.
You were determined to come to Broadway out of college, and it is not necessarily the first choice of people of your generation. Why Broadway
?
As opposed to what, Los Angeles? Being on TV?
Yes
.
Honestly, 'cause I like singing. I like singing too much and I believe in the art form, the musical. When it's great, there's nothing better, and when it's bad there's nothing worse.
Do you not want to work in TV and film
?
If I don't, I won't be in therapy. It doesn't really matter to me. I'm just kind of like, I'm 33 years old, I got a life here, I got a dog and hopefully some day I'll have a family. That's why I'm grateful I'm a bit older. I just realized, "Yeah, you get on TV and so what?" It's not going to make me happy. And I don't want to move to Los Angeles. That place creeps me out. I want to live here. I don't know. I don't think about it that much.
Tell me about your album
,
Goodtimenation
.
Where'd you get the idea and why are you doing it
?
To be an actor, it's really tough to find your own voice because you're always tied to other characters and going to auditions and trying to get a job, hoping they'll pick you. And I think it's just so important for an actor to have something else that's creative, something that's creative and you're in charge of.
What music from the '60s did you like
?
Oh, the Beatles. Beatles, Beatles, Beatles. I just think it's as good as it gets. As good as songwriting gets.
For some people, the 1960s have become the Coca-Cola of American history. There is no other brand, no other decade that matters. Why
?
It was the turning point in the television age. I think with television, people could watch life happening around them, and we had people saying, "I don't want to be like this. I don't want to be like my parents' generation. I don't want to behave—I want to be able to express myself." I think the '60s were a time where they were singing about what was going on around them. They weren't singing about "my ho's and my humps" and all the stupid fucking shit I can't stand listening to now. People were acting out in a way that was in reaction to a war they didn't support. Where is that now?
When you're ass is not on the line, you don't take to the streets
.
I didn't think it would be this cynical and this apathetic. The people who lived in those times, they say, "You kids don't understand." I hate to say it, but I kind of agree with them. We need to wake up, start a renaissance. Maybe
Hair
will start it. Maybe this revival will.