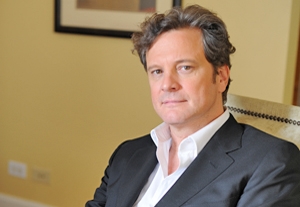 Colin Firth has been showing up around Los Angeles dressed in a stylish suit, white shirt, and tie. Why not? He's speaking about his role in "A Single Man," written and directed by fashion designer Tom Ford. Says Firth of the first-time director, "It's a whole ethos that goes with him, that you certainly realize is worth playing up to, worth doing. It makes you realize jeans and T-shirts are a shame."
Ford not only has the obvious sense of style; he cast wisely and shot tenderly, bringing out of the veteran Firth one of his finest performances to date—and that's saying something. "A Single Man," based on the Christopher Isherwood novel, follows a day in the life of George Falconer (Firth), a British college professor recently bereaved of his longtime partner (Matthew Goode). George is gentle, restrained, refined—and highly introspective on this one day.
Ford initially approached Firth via email, inviting the actor to star in the film. Any tiny fears of career suicide in playing a gay leading role in a first-time director's project? "There is something invigorating about the unexpected, and I was intrigued," says Firth. "There is absolutely nothing to savor about life without risk, and typecasting is constantly the enemy in a way.
"I mean, I do tend to get men who operate as an old-fashioned kind of middle-class Englishman who likes to contain his emotions and behave with a certain kind of decorum," he continues, adding with not a hint of whinge, "Instead of waiting for somebody to cast me as a Glaswegian soccer hooligan or a Japanese martial arts instructor or something, I find a lot of room to maneuver, if I can, within those confines."
Still Here
When he was a very young teen, Firth says, he noticed how much he preferred undemonstrative, still acting. The young Firth was inspired by Paul Scofield, whom he saw in "A Man for All Seasons" and whom he observed seemed more truthful than someone in real life. "I love the kind of cinema which makes a virtue of the human face," says Firth. "I like the films with people like [Ingmar] Bergman for that reason, and there are a great number of filmmakers who will allow something to develop, just by letting an actor perform in an unbroken scene."
How fortunate, then, that Ford turned out to be just such a filmmaker. The scene in which George is notified by phone call of his partner's death is in essence a page-and-a-half monologue. Firth reports that Ford "rolled out a whole mag of film" and let the actor have three full takes without notes or direction between. The actor says he found the scene poignant for its complete politeness. "It reminds me of a child being bullied and still pretending he's okay and being friends with the bullies while it's happening," says Firth. "It's as pathetic as that. And there was no time planned for the aftermath of the phone call. Tom didn't say, 'Cut,' so it carried on."
The scene was also difficult for its shifting emotional states. "Actors will prefer to prepare for a scene being in a particular emotional state: 'Give me a moment, I've got to gather myself, play me some music, okay, ready to roll,' " says Firth. "I remember reading it and thinking, 'Oh dear, I've got to start as if everything's fine, and then this has got to develop while the cameras are rolling.' " Fortunately, he well remembers those exercises from his drama school days. So, although the line "I'm fine" is common to many projects, spoken by many actors, it has fascinating layers as Firth speaks it here.
At another extreme, George carefully plans a suicide attempt that plays surprisingly humorously. "Well, I knew that it was comical," says Firth. "I think George is aware of the absurdity of his position when he's doing that. That's a rehearsal. He's not thinking of doing it right there. I wasn't playing up, to be funny. He's fooling around: the shower, the falling down. I think he's quite capable of wry humor."
Lines of Communication
And at the middle of George's remarkable ranges of emotions, in one scene he sentimentally inhales at the ears of a fox terrier, a breed he and his late partner owned, remarking, "Her ears smell like buttered toast. I used to have fox terriers." That line enabled the actor to fill in the "right" kinds of spaces Ford left in his script. "Reading in a script, 'He sees a dog in the car, sniffs its ears, and says [that line],' " says Firth. "That didn't resonate with me at all, at the time. There's nothing exciting about the line. But it's informed with all sorts of things. I didn't even know that was a line that worked, really, until I was in the context. But it connected with a lot of people, it became a moment of sensuality but also of a kind of very sad, very melancholic attempt to physically reconnect with what he'd lost."
Exactly how does an actor deal with a line he's not sure will work? Should he say to himself, "What will be will be," or should he discuss it in detail with his director? Says Firth, by the time he and Ford were ready to shoot that scene, the actor had confidence everything would work. "We were going to find a way, one way or another," says Firth. "I mean, that was a long time before, when I was looking through some of this dialogue, and I hadn't gotten a measure of the whole thing yet. The 'what will be will be' is facilitated by him; this is the skill of the director.
"I started to realize that we were never going to do a scene unless we found a reliable center of gravity from which it all made sense," the actor continues. "So when it came to the unpredictable things and the difficult things, there was a kind of security that Tom, even though he didn't give us verbal instructions very often, had a sense of direction, and also I was so rooted in it at this point. I mean, there's something rather magical can happen if you fall in love with a character and you share it with your director who's also the writer and put a lot of himself in. There weren't a lot of words necessary. This character of George became something we believed in tremendously."
Then there's that scene of George, in his tight 1960s suit and tie, dancing quite badly. And that's hard to do well. "Not for me it isn't," Firth quickly interjects. Hmm. If dancing badly comes that naturally to him, maybe his Glaswegian soccer hooligan isn't far behind.   
Outtakes
-His career took off with a West End production of "Another Country," which also launched the careers of Rupert Everett, Kenneth Branagh, Daniel Day-Lewis, and James Wilby
-Studied at the Drama Centre in London; says Firth, "It was Stanislavsky-Strasberg-based. It was very much motivated by the extraordinary personalities of the men who ran it: They were hugely charismatic and very powerful, and rather frightening teachers."
-Insists he'll use any available tools to prepare a role: "I'll scrounge for anything."