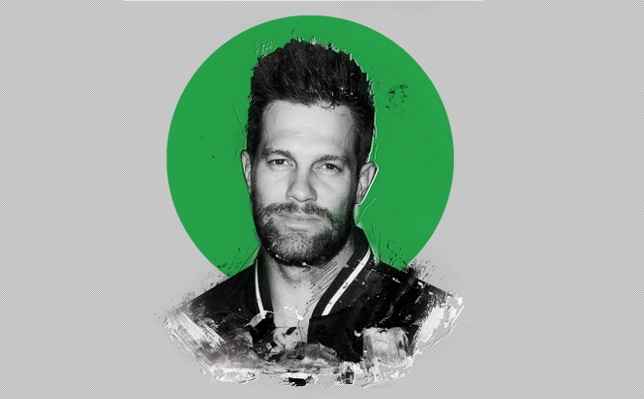 First introduced as Jessica Biel's firefighter boyfriend on "7th Heaven," Geoff Stults has since built a lasting career on television and in film. Now with a slew of upcoming projects, including "Granite Mountain," "Horse Soldier," and the thriller "Unforgettable," with Katherine Heigl and Rosario Dawson, Stults is on the fast track to becoming a leading man. Here, he chats about acting alongside strong women, auditioning for his twin brother's roles, and why actors always have to do the work.
What was the best part of your role in 'Unforgettable'?
It's my first true lead of a studio film, and so it was a wonderful opportunity for me to get to work with very strong, successful people like Katherine Heigl, Rosario Dawson, and Denise Di Novi, the director. I really learned from watching these three very strong women. It was directed by, produced by, and starred women.
What movie do you think every actor should see?
Watch a movie like "Caddyshack" and see really seasoned veteran comedy actors like Rodney Dangerfield and Chevy Chase at the height of their game. Don't limit yourself to one thing, because if you want to be a great actor, the key is to be able to do a lot of things. For me, that's the most interesting.
f you're an actor and you want to play at the highest level, I think the most talented actor alive today is Daniel Day-Lewis. If you think about what that guy's done in his career,and the effort that he puts in, he's not doing it to be a movie star, he's not doing it to be on the cover of magazines. He's doing it because he loves the work. He takes it far and is so different in every movie—"There Will Be Blood," "The Last of the Mohicans," "In the Name of the Father." He is such a talented dude.
How did you get your SAG-AFTRA card?
My brother George and I had just graduated from college, and he was having lunch in Hollywood with a girlfriend of ours we'd grown up with. This agent saw him, jumped out of a car, handed him her card, and wanted to represent him. He wanted nothing to do with it, but I talked him into it. I used to crash his auditions. The whole game would be, my name is Geoff with a G, and his name is George with a G, and I would show up and I wouldn't be on the list, and I would say, "Oh, I understand there's been a mistake. You probably thought we were just one person, but I'm here...Can I audition for it?" And that's how it started. Then I eventually got into SAG by being a guest star on "Everybody Loves Raymond," my first speaking role.
What's your worst audition story?
I don't remember exactly what the project was, but I remember going in, not being prepared, and trying to wing it in the room. I just stopped and said, "You know what? I'm going to do us all a favor here and I'm just going to go because I'm just bad," and the producer went, "Thanks, man. I really appreciate that." He didn't even try to be like, "No, you're doing great, do it again." He just went, "Thanks, you're saving me time!" That was humbling.
I've had so many bad ones, especially early on, with your shirt off, trying to figure out a way to be funny, and you're just absolutely tanking. You're in your car afterward going, "Well, I've got to get a real job." Every actor's had that experience where they're like, "This is the dumbest career choice of all time, what am I gonna do?"
How do you typically prepare for an audition?
I used to think that if you just memorized your lines, you did the work. I studied with a woman who I think is a genius. Her name is Deborah Aquila. She really changed the way that I did things. I was so terrified of her criticisms because I wasn't prepared, because I didn't have a backstory, because I didn't know where this guy went to high school or what his mom did for a living and what he liked to eat during the day. I always thought that was just overkill, but there's just no other way to do it. If you do the work and you really put the time in, and you have a story and understand where this character is coming from, you might not get the job—because you're not the right look or the right essence or you're too good-looking or you're not good-looking enough—but you can go into that audition, do the job and you [won't] leave feeling like, "Man, I should have studied harder" or "I should have said this line different." That stuff falls by the wayside if you have done the work and if you have prepared. And I credit my recent success to her. My process used to be the old wing-it method, and that can only get you so far.
You know how they say the difference between high school and college is learning how to study? It's not about retaining the information. The workload is so much more in college, but it's about being efficient in how to study, knowing what to focus on. I think that that's something that takes a bit of time, and for me it took a long time. I would tell my younger self to stop worrying about the things you can't control [and] do the work. I think I'd probably be a lot further along, but that was my process and it took me a little while to mature and understand things.
What advice would you give your younger self?
I would say, "Stop worrying about your hair. Stop worrying about the way you look." All those things don't mean anything if you do the work, and I'm embarrassed that it took me years to figure it out. Because I had some success from just winging it. I learned on a set how to be an actor. I didn't know what I was doing. I didn't know what a mark was or what it meant to hit your mark, and that can only take you so far. I had a lot of valleys and plateaus in my career.
Check out our Los Angeles audition listings!