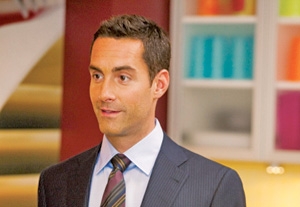 As the title character in "Better Off Ted," an off-the-beaten-path office comedy in its second season on ABC, Jay Harrington feels an added level of pressure. "Nobody is making me feel this way," he emphasizes. "But if we're not being watched as much I may hope, I will feel a certain responsibility." Still, after more than a decade in the business, he says the lead role on a network program is the most "fun and challenging" gig of his career as well as a major step for the 38-year-old Wellesley, Mass., native—perhaps best known for his recurring roles as the temperamental jerk Dr. Wyatt Lockhart on "Private Practice" and Teri Hatcher's youthful love interest on "Desperate Housewives." But starring on "Better Off Ted" presents a new set of challenges, not least his 12-hour-a-day, five-day-per-week schedule.
"Look, I'm not working as a coal miner or in an auto plant, and it's not the same as curing cancer," he says. "I get it. But when you do four or five shows in a row, you want to stay sharp and funny. One of the challenges is the fast pace of the writing. It's razor-sharp, and you can't be fumbling over your words." Indeed, breaking the fourth wall is one of the quirky elements that attracted him to the role of Ted Crisp in "Ted." The character is the head of research and development who tries to maintain his integrity and psychic equilibrium in a corporate setting overflowing with oddballs and nonsensical rules and regulations.
For Harrington, far more difficult than making asides to the audience is performing comedy with a single camera. For starters, scenes are shot out of sequence; and because of the number of shots needed for each snippet of acting, keeping the comedy fresh—"getting it real and fast and right"—is a challenge, Harrington admits. The lack of an audience doesn't help. "I know we all have ethics and morals and want to take time to explore it and get it right, but guess what? We have to move on," he says. "In that way the network is very much like Veridian Dynamics," the faceless, multinational conglomerate that employs Crisp.
Prep and Confidence
Though Harrington trained in Method, he says he created his own method, which makes it possible for him to choose the skills he needs for each project. Given the demands on his voice in his current stint, he says, his voice training has served him well. So has his background in improvisation, which aids him in "the give, the take, the ability to listen, respond, and adapt to a fast pace."
A key to good acting—and maybe even a successful career—is "confidence and to not 'need' the job," Harrington says. He knows that's easier said than done and admits it took him many years to develop that viewpoint. "I now work steadily, but I've had millions of noes," he recalls. "After getting so far along in the process with four or five callbacks and losing jobs to the same group of actors repeatedly, I came to realize there was going to come a time when it would be my turn. That helped me relax and gave me confidence."
He says he auditions well, in part because he enjoys the process and, equally important, makes it his business to be prepared and memorize the script. Harrington is gung ho on the topic of preparation. "Whenever anyone asks me, 'How do you become an actor?'—and it's a silly question because there is no real answer—I say the pictures and headshots are important, but you must also be reading Back Stage and Hollywood Reporter and Variety. If you're not reading those publications, you're not up on what's happening. When I started out, I was reading Back Stage all the time. It's a tool you can use to learn about seminars and ways to meet casting directors."
Still, outside of a few independent features, he has not made the transition to the big screen, and he's keenly aware of the danger of typecasting himself as a TV actor. But television careers did not stop Bradley Cooper or George Clooney, he points out. Harrington loves playing Ted, especially because "Ted is both straight man and comic— and if that typecasts me, that's fine. I see this character in every movie."
The Guest House
Harrington majored in theater at Syracuse University. After graduating, he and fellow classmate Taye Diggs arrived in New York, ready to pound the pavement. While Harrington spent much of his time as a bartender at Planet Hollywood, Diggs was cast in the original production of "Rent." "I remember when he got that part," Harrington says. "We just thought it was a small little thing, a workshop. Six months later, it won the Pulitzer Prize and was on the cover of Newsweek."
After three years in New York, Harrington decided to try his luck in Los Angeles, a move made easier because his brother was living there and Harrington's girlfriend at the time was willing to accompany him. The relocation was undoubtedly fortuitous. Harrington's L.A. neighbor, a casting director, introduced Harrington to an agent who was willing to take him on and send him out on auditions for television. However, his first guest role on a TV show, "Pacific Blue," was not a good experience.
"I was very nervous," Harrington recalls. "Once I got on the set and wired for sound, I lost everything I knew about acting. I knew the lines backwards and forwards, but when the camera was on, I blanked. It was a panic attack. But after lunch I did a different scene, and the camera guy said, 'Jay nailed that one.' Just hearing him say it out loud gave me the confidence I needed to continue."
Harrington says a major challenge for a guest star is being the outsider: "You come onto a well-oiled machine with its own rhythms, and you're not part of it. In the beginning the regular actors don't even know each other's names. Now there's a new guy in the room. It's huge when an actor on a show introduces himself to you. So often they don't even say hello."
At the moment, Harrington's thoughts are on "Better Off Ted." He is hopeful that down the road he'll continue to feel the enthusiasm he feels now when he nails a role, "and it won't matter if it's on TV or in a film or a play." Harrington has performed on stage a few times and would like to explore theater more fully on his upcoming hiatuses, specifically productions that show him in an unexpected light—perhaps in a Neil LaBute play.
Looking back, Harrington's half-regret is that he did not relocate to L.A. sooner. "Still, everyone should live in New York to have life experiences," he reflects. "But as an actor, it's tough and expensive. It's not that I really regret it, but if I had been in Los Angeles sooner, I might have been doing earlier what I'm doing now."   
Outtakes
-Studied acting as a youngster at the Harwich Junior Theatre in Cape Cod, one of the oldest children's theaters
-Had recurring roles on "The Division," "Coupling," "Summerland," and "The Inside"
-Played a heavy in an episode of "Burn Notice"