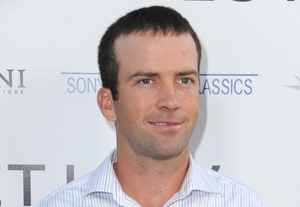 One hears tales of the mythic Southern gentleman, but to those who live outside that region, this mysterious figure seems no more than a classic American legend. However, one may find a living, breathing specimen in the form of Lucas Black. With a Southern drawl, impeccable manners, and a knack for getting each role just right, Black is both charming and talented.
His most recent film, "
Get Low
" is just the kind Black likes: one with a great lesson to impart. The story revolves around Felix, a cantankerous and lively old man played by
Robert Duvall
with adept and transfixing skill, who decides to throw a funeral for himself in his 1930s Southern town. Black plays Buddy, the young family man and assistant to the town's funeral home director, Frank Quinn, played to understated comedic perfection by
Bill Murray
. Felix's feminine counterpart in the folk tale–like story, Mattie Darrow, is played by Sissy Spacek. With a roll call like this, it's not surprising that Black enjoyed working with—and playing off—his co-stars.
However, Black himself is no greenhorn. Far from it, he has been acting since age 10, when his mother took him to an open call for the film "The War," co-starring Kevin Costner. As Black recalls, he's not sure if her motives were based on his potential or on another factor. "Mama took me to this audition just 'cause she either thought I would be good for it or she heard Kevin Costner was in a movie and she thought she might get to meet Kevin Costner," Black admits. Both suppositions were fulfilled. Black got the part and found further success in later roles, including his star-launching turn in "Sling Blade," opposite Billy Bob Thornton at the tender age of 14.
Black managed to continue working through the turbulent teen years that often serve as a career graveyard. Since then, he has fostered a growing and evolving career, while maintaining his sense of self and his homegrown values. He prizes films with a strong heart and moral center, treasuring when he is cast in wholesome and well-meaning parts that have a good message. As he puts it, "Roles like that you can go to and consciously feel good about what you're doing." "Get Low" fits right in line with this ideal, says the actor: "I think there should be more films like this. I think there should be more scripts written like this, especially in today's world and society. A lot of things you see on TV and movies—some of it's just a lot of junk, really. I really like stories that are inspirational."
It was not just the onscreen exploits of "Get Low" that Black enjoyed. He developed a special appreciation of co-star Murray while working on the film, admiring his work ethic and sense of levity in spite of the occasionally trying conditions of film production. Black reveals, "If the crew members were stressed out about getting things done on time, he always tried to keep every situation light, and he'd bring a boom box on set and turn the music up, dance around." Black also admired Murray's passion for sports; the two shared several games of golf. As Black tells it, "We had a blast. I love golf. I play it religiously. You know, I played tournament golf, and I've studied the history, and we got to play at East Lake Golf Club, which is the home of Bobby Jones, and I'll never forget it because it was a miserable day, really, to play golf for most people; it was probably, like, 50 degrees. I said, 'I'd love to go out and play.' And Bill Murray says, 'I'll go out and play with ya.' It was cool to see he had a passion for the game, 'cause most of the time when I've seen him playing on TV, he's just showing off to the crowd, which is what he does. But when he's by himself just playing by himself, he loves the game." When delicately asked who the winner was, Black answers swiftly and heartily: "I was. I was, definitely."
Though Black could doubtless offer excellent golfing tips, he also offers advice to actors. "I think it's just like anything you do in life: You really just got to follow your heart and you just got to hang in there no matter how tough it gets," he says. "I feel like if you're doing something you love, you can't go wrong, you know?" As for his own most recent acting endeavor, Black's ambitions for "Get Low" are right in line with his homegrown Southern values: "I hope it reaches out to people in the world to live a better life—that's all you can hope for." With the film now in theaters, his high hopes for "Get Low" may very well come to life.