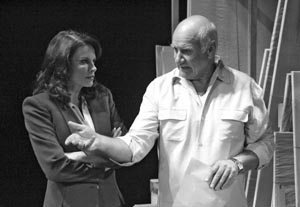 These days, Gil Cates is among the best-known television producers and directors in the world, having had his hand on the Academy Awards broadcasts more than a dozen times. He got one of his first jobs, however, from a notice in Back Stage: as the assistant stage manager of
Shinbone Alley
, which played Broadway's Ambassador Theatre in 1957 and starred Eartha Kitt and Eddie Bracken.
Since those early days, he has settled in Los Angeles—where he founded the UCLA School of Theater, Film and Television and, more recently, founded the Geffen Playhouse and continues as its producing director. Between his days at the Ambassador and his years at the Geffen, Cates produced and directed Oscar-nominated films and Emmy-winning broadcasts, and he earned a master's degree after writing his dissertation on the European circus of 1964.
Los Angeles theatre critics have in the main praised Cates' many stage productions—those he has directed or produced. There also have been his detractors among the reviewing community. Yet in recent months he has thrown his considerable support behind the local critics, whose ranks are thinning as print journalism shuts its doors against the arts. Protesting by letter in local newspapers, appearing on various radio outlets, he has been one of the most prominent figures—with Pasadena Playhouse's Sheldon Epps and Center Theatre Group's Michael Ritchie—to raise an outcry against the decimation of those who have sometimes been considered the enemy of theatremakers.
First Love
In person, Cates is a cheery man of many interests, with many interesting tales to tell about the industry. As a teen, he startled his family by discarding his intentions to study medicine, joining the theatre department at Syracuse University through his fencing abilities his first year there, and deciding on a career directing theatre.
The first professional play he saw was
The Shrike
. Cates recalls being concerned for the lead actor, who seemed extremely sad. Said actor was José Ferrer, and the experience had a powerful impact on the young Cates. He also recalls appreciating Elia Kazan. "I always admired that strong realism, that sense of naturalism, really, where you really believed that the actor was the person," Cates says. "I can remember
On the Waterfront
as if I saw it yesterday. I admire his work, both on the stage and on film, and I like the relationship that he had with writers, like Arthur Miller and Robert Anderson. And, to me, he was the director that made me want to become a director, more than anyone else."
Cates began in the TV industry as a page at the networks and gradually worked his way up. After
Shinbone Alley
, he found a niche in game shows. When, as he says, he was doing "well enough" to return to the theatre, he produced
You Know I Can't Hear You When the Water's Running
, with Martin Balsam, George Grizzard, Melinda Dillon, and Eileen Heckart. "And it turned out, fortuitously, to be a success," recalls Cates. "So I thought it was kind of easy. Gee, my first show and we capitalized it at $135,000, which would make anyone doing a show today laugh. But then it seemed like a great deal of money." He continued to produce and direct theatre, moving west and setting up theatrical institutions at UCLA and at the Geffen.
Casting and rehearsals, he says, are among the highlights of his tasks. "I look forward to casting with great anticipation, because I learn a great deal during the casting process," he says. Each actor brings a different quality, and assessing those qualities, Cates says, helps him determine which ones will help the scene work. He doesn't start casting per se during his first look at a script, but "people do pop up, types pop up, characteristics pop up." And then, he says, comes the game of "Wouldn't it be great to have this person if she were 30 years younger, or this person if he were 15 years older, or do you think so-and-so could gain 30 pounds or lose 30 pounds?"
Casting, he suggests, is first finding the soul of the character, then moving on to the actors who could play it. But the most important ingredient he looks for in actors—"aside from, obviously, talent, which I think to a large degree is God-given, you can perfect it, you can learn, but the gift is there or not there"—is confidence and the willingness to accept challenges. He admires an openness to taking risks, likening memorizing a script and being on one's own on a stage to "jumping off in the deep end of the pool, not knowing quite whether you can swim or not."
At rehearsals, says Cates, he likes first to explore the text, preferably with the playwright. As for working with the actor's individual process, he says he's not a game player. Yet he fully understands how different the processes of actors can be.
Extraordinary Efforts
At UCLA, Cates' goal has been to tie the disciplines of film, television, and theatre together. "Most theatre actors today work in film, most directors direct both stage and film, most writers write in stage and film, so why they should be taught as separate disciplines was one thing, but why they should be taught as separate disciplines without coming together was idiotic," he says. And from his students he has learned the joys of unlimited possibilities.
Says Cates, "If there's anything I got from my circus experience, it's that quality really demands extraordinary effort, and I think that's true in any walk of life." For Cates' lengthy and passionate extraordinary efforts on behalf of theatre in Los Angeles, he has been named Back Stage's first recipient of a Garland Award for Lifetime Achievement.
The Back Stage Garland Awards, celebrating excellence in Southern California theatre, will be presented at a private reception.