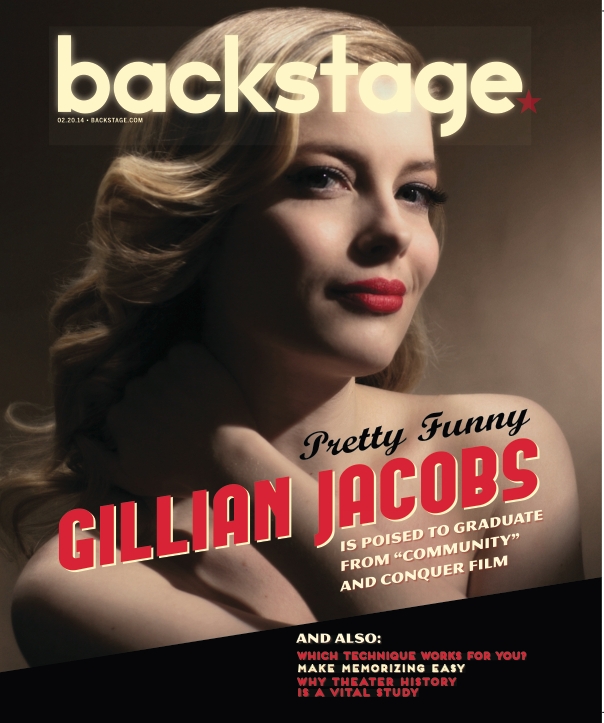 Gillian Jacobs graces our cover this week, and she chats with Backstage about her role in NBC's "Community" and her time at Juilliard. Check out a sneak peek from the feature below!
---
Gillian Jacobs on Her Busy Year
Fans of Gillian Jacobs will have a lot to celebrate in 2014, with six feature films coming up. Jacobs breaks down what we can expect from her in all of them.
"Walk of Shame" (out April 25)
"Elizabeth [Banks] is an L.A. reporter who gets stranded. I'm her best friend, and James [Marsden] is a guy who's had a one-night stand with her and is helping me look for her as she's going on her misadventures. I admire Elizabeth hugely. She's a wonderful actress; believable in any genre you throw her into."
"Hot Tub Time Machine 2" (out Dec. 25)
"I play Adam Scott's fiancée. He's a new addition to the cast. I knew it was going to be an awesome group. They did not disappoint."
"Black and White"
"I play the idiot girlfriend of Kevin Costner's best friend and law partner [Bill Burr]. I had such a wonderful time shooting this film and was so happy to work with Bill Burr again. Everyone else had to be really serious with lots of crying scenes, and I got to be a total idiot."
"Life Partners"
"I'm one of two best friends; one straight—that's me—and one lesbian—that's Leighton [Meester]. We'd never met before, but I really think we have that best friend chemistry. This film has such a great supporting cast, and it was so refreshing to do a movie written and directed by women."
"No Way Jose"
"This one's basically a cameo. The amazingly talented Adam Goldberg wrote, directed, and starred in it. I'm his crazy ex-girlfriend, so I basically have one fun, drunk, crawling-on-the-floor-and-trying-to-get-him-back scene."
"The Lookalike"
"This is a drama but was almost like a soap opera for me, because I play two parts. One character isn't in the movie very long, and then I'm the look-alike for myself. I don't know if I pulled it off. We'll have to see!"