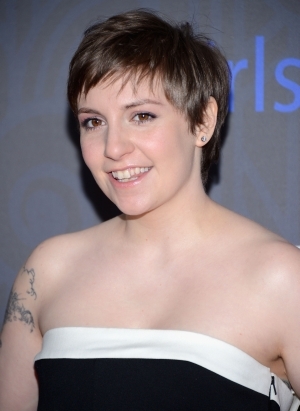 On Sunday, Jan. 13, the same night that Season 2 of the hit HBO series "Girls" premieres, the show's writer, director, executive producer, and star Lena Dunham could take home her first Golden Globe award for Best Performance by an Actress in a Television Series (Musical or Comedy). The first season of "Girls" is also nominated for Best Television Series (Musical or Comedy).

Backstage spoke with Dunham late last year for our "Great TV Performances of 2012" special issue (at which point she had already been nominated for Outstanding Directing, Outstanding Writing, and Outstanding Lead Actress at the 2012 Emmy Awards). But some of our conversation was left on the cutting room floor, so here are a few of the things Dunham has learned over the course of two seasons writing, directing, and acting for television.

Audition, or blind date?
"Auditions are a little too much like internet dating for my taste," Dunham says. But, she adds, "I have so much respect for that part of an actor's job. And I purposefully avoided it. I don't go on auditions. That was never part of my life. I just didn't think that I was cut out for that. I have so much respect for what it takes, but if I had to do that I don't think I would necessarily be acting now. Auditions are not my favorite process."

On improvising versus writing:
"I do a fair amount of improv, but I really do like to start out from a scripted place," Dunham says, "otherwise I just don't feel like I have a proper grasp of what I'm doing and what my job is. So it's really important for me to feel like I have a road map, and then improvisation is just a little twisty turn that I can take to get a new shade or color. But I try to never find the character that way."

On working with "Girls" casting director Jennifer Euston, who won a 2012 Primetime Emmy for casting the series:
"Jen has been a huge factor in my ability to understand actors at all," Dunham says. "She's educated me so immensely. I'm such a great big fan of hers."

On learning to act by directing:
"I feel like every director should take an acting class, just to understand what actors are up against," says Dunham. "I think having had the cold fear of being in a sex scene really makes me better at my job. I understand the process now."
On what she's learning from her co-stars
"It's been everything from Richard Masur teaching me how to hit my mark and showing me what he called the 'signature Masur pivot,' to watching Zosia [Mamet, who plays Shoshanna] take a moment and look down, then suddenly look up and she's another person. I'm watching the slight tics and quirks she uses to get into character. Doing a scene with Chris Eigeman taught me so much about comic delivery, and finding a slight difference between who you are in life and who you are on screen. It's amazing the range of actors I've gotten to work with. And I also learn so much from the people for whom this is their first job."

Lena Dunham's advice for actors:
"I'm just so excited to be talking to this particular Backstage audience," she says. "I would encourage people who feel like they have something to say or something to write, to write parts for themselves, because I think it can be a very liberating thing for actors."

The second season of "Girls" premieres Sunday, Jan. 13, on HBO.