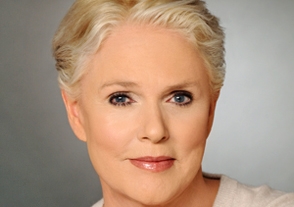 "I have to orgasm onstage, and it's the bravest thing I've ever done in my life." So asserts Sharon Gless, who is talking about her role in "A Round-Heeled Woman," a true story that she optioned nine years ago. Slated to run through Feb. 7 at San Francisco's Theater Artaud, the play by Jane Prowse is based on the best-selling memoir by Jane Juska, a former teacher who put a personal ad in The New York Review of Books saying that before she turned 67, she wanted to have a lot of sex with a man she actually liked.
"This is a woman who had not been touched in 30 years," says Gless, who has never shied away from risky roles, if she felt they were worthwhile. American producers wouldn't come near it, she says, but Gless persisted, undaunted, until she found British producers who wanted to underwrite the piece. "Britain seems to honor the sensuality of an older woman," says Gless. "There's Judi Dench, Maggie Smith, Helen Mirren, Brenda Blethyn."
Perhaps most widely known as the crusty but vulnerable Detective Christine Cagney on "Cagney & Lacey," Gless has also enjoyed a substantial following as the over-the-top Debbie Novotny on "Queer as Folk" and the chain-smoking, loud, self-indulgent Madeline Westen on "Burn Notice." She recently had the lead role in an independent film, "Hannah Free," about the final days of a lifelong lesbian love affair. The story is set in a nursing home.
"The greatest compliment I get is if a writer says, 'When I wrote that, I never dreamed it could be done that way,'" remarks the Los Angeles–born actor, who admits frankly she has no particular method, no formal technique. "I do it by the seat of my pants. I just pretend. I make believe."
A Family Business, Sort of
Gless' background is patrician. Her family attended the theater but did not approve of acting as a profession. "You did not display yourself," Gless says, laughing. Still, her grandfather Neil S. McCarthy was an entertainment attorney and wrote the first contract for contract players, while Gless' uncle Jack Baur was a major movie casting director who "had the reputation of being not only a gentleman but also a gentle man," recalls Gless. "He didn't believe in nepotism, and he didn't encourage anyone to go into the business. He said when you're on the other side of the camera, you see the pain when an actor is not chosen."
For most of Gless' early life, her desire to act was secret, though she worked as a production secretary for various companies in Hollywood, where she read with other actors who were auditioning. She was struck by how much less capable than herself they were as actors and how much more money they were making. So at age 27 she decided to give acting a shot, performing with a local community group, where she was discovered.
"I had done a little play in Encino Community Senior Center, and there was someone in the audience who came up to me and said he was with publicity at Universal Studio and that I would be perfect for the lead in the new John Cassavetes film," Gless recalls. "He said he wanted me to meet with Monique James."
Gless never auditioned for the Cassavetes film, but she performed a monologue for James, who was head of casting at Universal and one of the most powerful women in Hollywood. Gless was promptly signed for 10 years as a contract player—the last in Hollywood, she says. The money was modest, and the roles she landed were small, but it served as a springboard for principal roles on such series as "Marcus Welby, M.D." and "Switch," among others.
But it was "Cagney & Lacey" (1982–88) that changed her life professionally, financially, and personally, she says. Suddenly she was in demand and scripts were coming her way; she ultimately married the show's producer Barney Rosenzweig, became (and is to this day) a close friend of co-star Tyne Daly, and experienced fame for the first time. "Tyne and I had no idea," Gless says. "We just did our work—17 hours a day—and we were very proud of it."
Gless was welcomed in the U.K. and starred on the West End in productions of Stephen King's "Misery" and Neil Simon's "Chapter Two." The actor says she has always felt more embraced in London than in New York, where she suspects that if she appeared on stage, she'd be viewed as "TV cop live." She points out she has never been a critics' darling or a member of the "in" club among serious stage actors who struggled in New York before venturing out to the West Coast. Her success was Hollywood-based and it happened quickly.
Weight Gain
Still, it wasn't all smooth sailing. During one period, Gless gained a lot of weight, which she says led to her being unemployed for five years. It was a defining event fostered in part by menopause, giving up smoking, and her appearance in the London production of "Misery," in which she was playing an overweight character. "The producers said, 'We'll give you a fat suit,' and I said, 'You don't have to do that; I'll take care of it,' " Gless recalls. "I put on 40 pounds. I thought I was Robert De Niro. And I've been fighting weight ever since. I got up to 200 pounds. The industry dropped me, and the press was so cruel." She adds that while Daly also gained a lot of weight, nobody was quite as nasty to her. "I said to Barney, 'Why are they so mean to me?' And he said, 'Because they can't forgive the blonde. You broke their heart.' "
Showtime's "Queer as Folk" (2000–05) marked Gless' comeback. When she heard about the project, she was determined to go after it. She was immediately drawn to Debbie's flamboyance, as well as the controversy Gless was sure the show would generate. "I love trouble," she says. "I knew there would be a sensation around this show. The producers couldn't believe I would want to be in it."
Before she met with them, she warned them she would not audition. "It's not because I'm above reading for a role but because I'm a terrible reader," she says. "I've never gotten anything I've read for except when I was very young. I freeze when I read. And that's probably why I never did features." When the producers said they would still like to meet with her, Gless asked, " 'Do you know what I look like?' and they said, 'Yes. We want your heart.' I am so grateful to the producers of 'Queer as Folk.' They took me, not caring what I looked like. Because they accepted me, I was able to lose weight."
A regular stint on "Burn Notice" followed, where once again the actor found herself tackling a colorful mom. "Years ago, I said I would never play a mother—the 'good' mother—because I knew I would never be heard from again," Gless says. "But these two women are total personalities."
Gless is undoubtedly enjoying herself right now, though she maintains, "The most exciting time in my life was my young years when I dreamed of all I'd become."