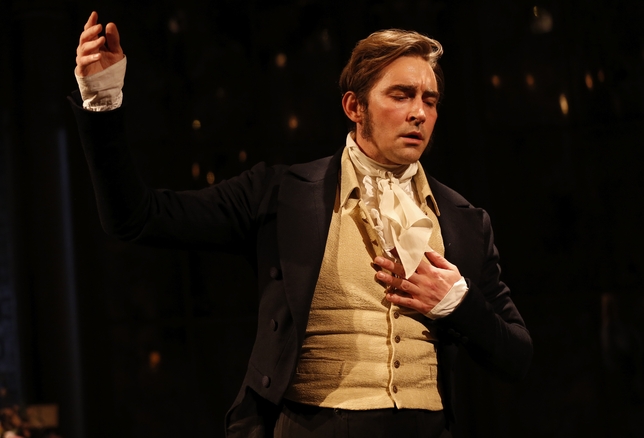 Lee Pace is a little unsure of how audiences are reacting to his performance in the Manhattan Theatre Club's production of "Golden Age." "Was it okay?" he asks in earnest, hours before opening night. "Is it good? I honestly have no idea what I'm doing up there."
Truthfully, it's very good. And Pace's insecurity might be a case of life imitating art. In "Golden Age," he plays Vincenzo Bellini, the acclaimed nineteenth century Italian composer battling the usual demons that plague genius artists: self-doubt, nervousness, excitement, and ego. Set backstage at the Paris premiere of his new opera (and months before his death), Bellini roars through the play with total abandonment.
It's a tour-de-force performance from Pace and a bit of a departure from the love-struck guy we first fell in love with in "Pushing Daisies." But for Pace, last seen on the New York stage in 2010's Tony-winning "The Normal Heart," "Golden Age" is just one of the many triumphs in what's becoming a very busy year for the actor. He can currently be seen as Garrett in "The Twilight Saga: Breaking Dawn – Part 2," as Fernando Wood in "Lincoln," and as Thranduil in "The Hobbit." "It's extraordinary," he says of his busy year.
Vincenzo Bellini is a complicated character. How did you prepare for the role?
Lee Pace: The character is very much about throwing it all out there and throwing aside structure and form and just letting his art be an emotional, wild thing. I just tried to get into what the thoughts were. He knows that he's very ill and that he may never be able to organize an evening like this again. That's a big part of the insecurity. When you're ill, you don't think very clearly. When I get nervous about something, it's because there are things that are making me anxious. So I spend the performance reminding myself, "Is it going to be good? Am I able to fulfill my potential?"
What did you learn from your experience doing "The Normal Heart" that you were able to bring to "Golden Age?"
Pace: When I did "The Normal Heart," it was such a well-received show, and artistically, we all felt so good about what we were doing. There was that excitement of being a part of something when the art is really, really good. That backstage rush. That was a big inspiration for this. Bellini is in the same place. This night is magnificent. Every time those singers come off the stage, they've just nailed it. The audience loves it. He's won over this very discerning Parisian audience with very simple, emotional music. And he's triumphed over the pressure of following up a massive success.
Do you feel the pressure as an actor of having to live up to your last accomplishment?
Pace: On lots of different levels, yes. You want to keep challenging yourself and keep the work really good. And this character was a great opportunity because the character is so rich and complicated. You just don't get characters like this very often. And it's very hard on me. I spent a good month and a half really researching the man's life. But the biggest part of the work is just thinking about it a lot. Making connections with your own life [and] really letting the ideas of the play, the man, the situations – let them become a part of your imagination, your thought so that you really can't escape it. I like being able to learn what I do better. And to get a character like this is a real opportunity to become a better actor.
Acting is such a collaborative art form, and in "Golden Age," you havesome heavy hitters by your side. What have you had the opportunity to learn from your co-stars?
Pace: When you work with really talented people, it's just very easy to be open to what they bring. You have to learn how to just be generous with what you bring. Don't worry about it being right or wrong, just bring what you've got. That collaboration will inform something unique and interesting. The great thing about working with people you trust and know are talented and bring interesting things is that you don't worry the ball is going to drop when you throw it in their direction. They're going to give you something interesting to play with. Working with Bebe Neuwirth every night, when our eyes connect, we can kind of just read each other's minds, which is what's happening with the characters. It's exciting.
In originating a character on stage in a new work, how much collaboration did you have with author Terrance McNally and director Walter Bobbie?
Pace: It's a true privilege to be able to originate one of Terrance McNally's characters. He's so intelligent and he puts it all into not just the words, but also the punctuation. He's not neurotic; he just cares about the work being truthful so deeply and cares about communicating with an audience so passionately. Very much like Bellini. Walter's experiences were incredibly inspiring. One of the things that sticks with me every night was that he was standing on stage, about to sing at the Tonys, and he said, "I'm not going to waste this moment in fear." I kind of come back to that thought again and again in the play.
"Golden Age" is playing through Jan. 6 at New York City Center - Stage 1. For more information, visit www.goldenageplay.com.