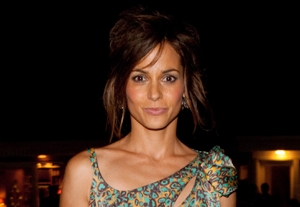 Co-starring with Paul Rudd and Steve Carell in "
Dinner for Schmucks
" is a major career breakthrough for Stephanie Szostak. Her highest-profile gig to date was a small role in "The Devil Wears Prada." In "Schmucks," she plays Rudd's rational girlfriend, torn between her love for him and her distaste at his cruel antics in an attempt to gain points at his job. Szostak sees her part as closely allied to her own persona and thus a whole lot trickier than it might seem.
"This is the first time I've had to play myself, and that's hard," says Szostak. "This character speaks like me and dresses like me, not that I dress exactly that way, but it's very similar. I love to play dark characters, and Julie is not a dark character. She is a sweet girl and very straightforward. It was difficult to be myself in those crazy, outrageous situations and at the same time still find love for [Rudd's] Tim. Also, this is a comedy—my first—and [director] Jay [Roach] had me play it straight, which felt conflicting." The film is inspired by Francis Veber's 1998 dark comedy "The Dinner Game."
Growing up in La Celle Saint Cloud, a suburb of Paris, Szostak had no idea what she wanted to do. In France, by the time you're in the 10th grade, you're supposed to decide on a career and then specialize in college. She would have preferred a liberal arts program with "a couple of years to do everything," but the French higher-education system makes no such provisions. In addition, Szostak was a competitive golfer, and there were no sports programs in French colleges. So, at 19, she relocated to the United States, her father's home country, and enrolled at the College of William & Mary in Williamsburg, Va. She ultimately majored in business, believing such a practical course of study would ensure her a steady job in the U.S. She had mastered English, having visited the States many times, though she still speaks with a slight, indefinable foreign accent.  

Marketing, Modeling, Acting
Szostak's first step on her journey to acting was moving to New York, where she landed a job in Chanel's marketing department. This position served as a steppingstone to a modeling career when she was asked to pose for the camera for an in-house brochure. The photographer assumed she was a professional model, and Szostak had an epiphany of sorts. "I realized I did not want to be working in an office anymore," she recalls. "It was just not for me, and I figured I could make some money as a model while I tried to figure out what I really wanted to do."
Szostak quit her job and was able to find enough modeling gigs to get by while she explored other options. Her experimental forays included taking "an acting class with Sondra Lee, who was originally from the Actors Studio, and it awakened something in me," Szostak notes. "I knew very quickly I wanted to do this. I didn't know at what level, but I knew this was it. It was a physical thing." Her commitment to acting was further confirmed when for the first time in class, she and a character she was tackling meshed. It was also an artistic turning point: "I felt alive being that person, not playing that person." Szostak employs various relaxation techniques as a way of making herself accessible to each role, she says, adding, "You must let go of everything you've ever learned."
Within short order, Szostak started doing independent films; some were good, others not so good, but they were terrific learning experiences, she points out. One of these independent flicks, "Satellite," in which she had a co-starring role, was shown at the Tribeca Film Festival, and as a result she landed her first agent. Szostak is currently repped by Darren Boghosian of United Talent Agency and managed by Estelle Lasher of Principal Entertainment Talent Management.
During her tenure on the indie film and Off-Broadway circuits, Szostak was able to make ends meet by doing commercials. Szostak also has a home life including two small kids, so family responsibilities always have to be taken into account before she signs on for any project. But she's hopeful "Dinner for Schmucks" will open the doors wide. She'd love to do more plays (though the prospect is "scary"), perhaps an ongoing role in a television series, and be featured in a French film. "I just want to be working and someday be able to choose my own projects," she says. A veteran actor couldn't ask for more.