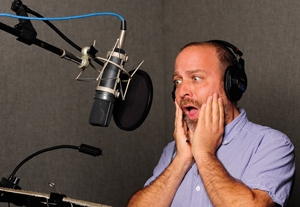 Most actors consider themselves lucky to land one role on a series.
H. Jon Benjamin
finds himself in an even more enviable position: playing the lead on two shows simultaneously. While you might not recognize the face, odds are you know the voice. On FX's subversive spy comedy "
Archer
," Benjamin provides the voice of the egotistical title character, a secret agent who succeeds despite his selfishness. On Fox's animated sitcom "
Bob's Burgers
," Benjamin plays the family patriarch who loves running his hamburger restaurant more than anything else in the world. The two characters are notable entries in Benjamin's voiceover résumé, which includes the shiftless son on "Dr. Katz, Professional Therapist" and a self-loving
can of vegetables
in the film "Wet Hot American Summer."
Benjamin's work as a comedian led to a career in voice work, but to hear him tell it, he stumbled into both professions. "I was a little scattered when I started doing comedy," he says. "I was going to graduate school in Chicago, and I think my only goal was to stay in school a long, long time. You know when they say, 'Kids, stay in school'? I wanted to stay in school until retirement." Majoring in history and studying the Holocaust, Benjamin says, "I needed to drop out. The Holocaust was not making me happy."
Archer (FX)

Benjamin's friend Sam Seder was breaking into comedy in Boston and invited Benjamin to join him. "I got into it ad hoc; it wasn't a goal," Benjamin says. "Then I grew to like it." From there, Benjamin joined the sketch group Cross Comedy, led by David Cross. The group became popular in Boston and performed in New York, where it was seen by scouts for "Saturday Night Live" and networks.
One person who frequently performed with Cross Comedy was Jonathan Katz, a well-known Boston comedian. Katz asked Benjamin to read for "Dr. Katz, Professional Therapist," a new animated show he was doing for Comedy Central that was being made locally. "When most people were getting jobs in New York and L.A., I got a job in Watertown, Mass.," Benjamin says with a laugh.
For his audition, Benjamin went to the home of the show's co-creator, Tom Snyder. "It was a very odd situation: The audition was at his house in his pantry, where he set up a microphone," Benjamin says. "It felt like it was on the verge of them saying, 'Can you take your shirt off?' "
Originally, Benjamin auditioned for the role of Katz's father and was doing "an old Jewish voice, very charactery." It was suggested he try the role of Katz's slacker son, Ben. "It was very improvisational; they said, 'Just talk about something,' " he says. That improvisational quality would carry over to the show, leading to its naturalistic tone. "It was a very loose structure; there weren't really any scripts for the first two or three seasons. You would do a ton of improv and it became conversational," Benjamin says. "The task was the editor cutting down the conversation into manageable, funny moments. It compelled you to be natural because you were in the booth for two or three hours talking. That would be hard to keep up if you were doing some crazy accent."
The same company would hire Benjamin for several other projects, including "Home Movies" and "Lucy: The Daughter of the Devil." Benjamin says it changed his career, even though he'd never considered a future in voice acting. "I think I became aware I was good at it and that it was a very specific thing I was good at," he says. "And I was lucky to find this partnership with this company where we were so suited for each other. I think at that point in my career I pictured being more of a sitcom actor. The natural choice for me would have been to move to New York or L.A. and start trying to get into other people's shows. And the only reason that didn't happen was because of 'Dr. Katz.' I was very lucky to find such a collaboration."
The initial experiences of "Archer" and "Bob's Burgers" proved to be very different. For "Archer," Benjamin says he was offered the role by creator Adam Reed and quickly said yes. "I don't even think I had read the script when I said yes," he says. "I went in for an hour and recorded the pilot, and eight months later, they said, 'Hey, remember that thing you did? It's been picked up.' " For "Bob's Burgers," the process was more arduous. Loren Bouchard, the editor on "Dr. Katz" and creator of "Home Movies," spent close to a year developing the show. "They put a lot of work into it over a long period of time," Benjamin says. "I remember one day when we redid a scene over 20 times."
Bob's Burger (Fox)

As a result, Benjamin makes no apologies if the characters sound somewhat similar. "A lot of people have poked fun at me for having the same voice, but I didn't plan on the two shows being out at the same time," he says. "They were done at different times, so initially I wasn't compelled to think, 'Oh, I can't do this like that other thing,' because I didn't remember doing that other thing! 'I better not step on that thing I did eight months ago for an hour and a half!' But I actually do think the characters are very different."
Aside from his voice work, Benjamin has enjoyed a prolific career in the flesh -- in addition to his standup, he appeared regularly on "Important Things With Demetri Martin" and had his own show on Comedy Central last year, "Jon Benjamin Has a Van." Though the latter was canceled -- "they were very firm about that" -- he's developing a single-camera comedy in which he would star as a corrupt politician. But he has a special place in his heart for voice work, which he says has many advantages. "I don't have to get all dolled up -- that's for sure," he says. "Then again, I'm not sure how I would look all dolled up. It might be disturbing."