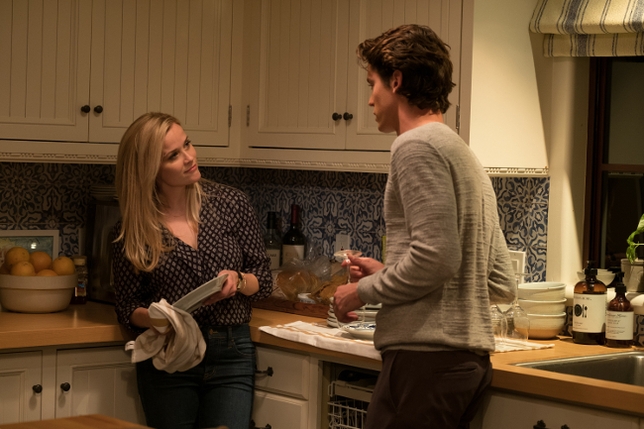 Though Hallie Meyers-Shyer had never made a film before directing Reese Witherspoon in her original script for "Home Again," she did possess a lifetime of exposure to filmmaking as the daughter of writer-directors Nancy Meyers ("Something's Gotta Give") and Charles Shyer ("Father of the Bride").
One of Meyers-Shyer's first memories is playing a flower girl in the latter film, when she was about 3 years old. ("They put all these pins in my hair and I remember being very uncomfortable," she says, laughing.) Now she's 30, but she remembers feeling that when her parents were working on a project, "that movie always became like an extra family member for that couple of years. I would see them throughout the entire process, and I really saw what went into it and how difficult it was—and how rewarding it could be."
Even after they divorced in 1999, Meyers and Shyer nurtured their daughter's interest in the craft. In high school, she experimented with her first film script, "Lola In Between," before studying screenwriting for a year at USC. (She later transferred to the New School.) During college, her first professional job came co-writing "Eloise in Paris," a stalled adaptation of Kay Thompson and Hilary Knight's best-selling children's book, with her father. After taking what she calls "little writing jobs here and there" for clients like Universal, Meyers-Shyer eventually got the itch to get behind the camera as well as the pen, so she wrote herself a vehicle: "Home Again."
Her directorial debut finds a 40-year-old mother (Witherspoon) rooming with a trio of besotted, millennial filmmakers (Pico Alexander, Jon Rudnitsky, and Nat Wolff) after moving cross-country to recover from her recent separation (Michael Sheen plays Witherspoon's ex).
"I worked super hard on it, and then I showed it to my mom and asked if she would produce it, and she helped me do a few new drafts of it and we got it into really good shape, and then we sent it out to some financiers and it all started going from there," Meyers-Shyer says.
Black Bicycle Entertainment gave them the go-ahead. Major studios are currently "not making the kinds of movies that I love," Meyers-Shyer explains; one recent "Home Again" trailer even warns, "The following film DOES NOT include masked heroes, web slingers, mutants, indestructible shields, forged hammers, storm troopers, alien invaders, golden lassos, latex suits, cyborgs, robots, death stars, [or] superpowers." Still, partly thanks to technology's many platforms, Meyers-Shyer says investors "are taking chances on young people," which she credits in part to "Girls" creator Lena Dunham: "[She] really helped people have faith in young women as content creators."
On set, Meyers-Shyer was "so grateful" that Witherspoon "treated me as if I had directed 10 movies and put all her trust in me," acknowledging that "it's a scary thing for a first-time director to be working with such an important person in this business." She says the Academy Award winner "set a tone" with the cast and crew. "She's so professional and winning and hilarious, and she has such good ideas that she thinks so deeply about [with] the character and scenes," Meyers-Shyer says of her star. "She's had a divorce, she's a mother, she lives in Los Angeles…. She connected to this character. I think a lot of women will."
Despite the "many people who have said, 'Don't work with your own family,' " Meyers-Shyer calls her own mother "the perfect person" to have on set every day because "she does not hear the word no." The director attributes her mother's "unusual success in this business—not only as a woman but just as a filmmaker" to her "incredible judgment" and "sticking to her guns." Led by decades of example, Meyers-Shyer advises other aspiring creatives to remain "really strong" and unswayed when people of rank dispense advice beginning with the words "you have to" or "you can't."
"If you see something on set that isn't the way you want it, you can't just let it go," she says. "There's no tomorrow in filmmaking. You can't go back, you can't get it again…. In the editing room, you're alone with your material."
Want to work with new filmmakers? Check out Backstage's film audition listings!