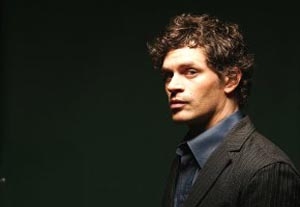 The 12-minute film
Glock
—which played in April and May at the Tribeca Film Festival—started out as an exercise in frustration. Actor Tom Everett Scott (
That Thing You Do, One True Thing
) had wanted for a while to move into screenwriting, directing, and producing. He had tried creating scripts in the past but always wound up ripping his false starts to shreds.
After the cancellation of
Saved
, a 2006 TNT series in which he starred, Scott set to work on a new screenplay, about a secret agent who waits with his cell phone for an assignment that never comes. Scott recognized that the spy's predicament paralleled that of an unemployed actor. "I realized that
I
was waiting for
my
phone to ring," he explains.
This time, Scott had a story idea that showed promise, but he still needed help. He met with friend and fellow actor Michael McMillian (
Dorian Blues, What I Like About You
), who had been a
Saved
co-star. Scott and McMillian had previously discussed working together on a self-generated project. Now McMillian, who had once penned an episode of
What I Like
, was primed to make the collaboration a reality.
"I remember I went home that night and wrote a basic outline," McMillian recalls, "and the name 'Glock' kind of popped in my head. I got the idea that [the spy] was in this organization called the Cachet, where everyone was named after a famous gun. I thought this had a nice little fantasy element to it—you know, I'm a huge genre fan. I kind of wanted it to have a bit of a comic-book-y feel."
Means to an End
The creative partnership proved comfortable for both actors. Using McMillian's outline, they assigned themselves alternating scenes to write privately, then reviewed each other's work. One writing challenge was finding the right ending—something that remained elusive even into the editing process. At one point, the film had a much more complex conclusion. But the final cut uses "the most simple version that we had," according to McMillian. "It was a good lesson in economic filmmaking."
From day one, the nascent filmmakers knew that Scott would direct the film. But they left open the question of which (if either) of them would portray the title character. At one point, Scott asked McMillian to take the role. Later, Scott decided he wanted to play Glock himself. McMillian subsequently took on the "small, but in my mind, pivotal" role of another spy called Smith & Wesson. Notes McMillian, "When I show people the film, they're like, 'You made a short and you only gave yourself one line?' But I was actually okay with it, 'cause I was really interested in playing the role of producer and writer on this one."
Originally, the budget for the film was modest, according to Scott. "We thought we were just going to make this thing for $5,000. Michael will contribute $2,500 and I'll contribute $2,500, and we'll make this really small thing." But soon other actor friends agreed to play supporting roles, and the duo began to think bigger. They enlisted as producer McMillian's longtime friend Katherine Cunningham-Eves; she helped draw up a budget, hire crew members, and secure locations. Scott's friend Stephen Schlueter, meanwhile, joined up as cinematographer.
When it came to finding financial backing, fortune smiled. Scott first turned to someone he thought might recommend potential investors. The man surprised Scott by announcing that he was himself interested in investing.
Location, Location
…
Glock
was shot in Los Angeles over four days in June 2008, using a Panasonic HPX3000 camera. Most location sites were within or near Echo Park. With many of the participants donating their time and resources to the project, scheduling proved especially challenging. "The city said, 'No, you can't shoot in Echo Park on a weekend,' " Scott notes. "And so we had to change our whole schedule around at the last minute. It was tricky. We put money into some of those locations, that's for sure."
Scenes in Glock's residence were shot in an apartment Cunningham-Eves was subletting to an actor. "His kitchen was bright lime green," remembers Scott. "It was interesting. But we just couldn't shoot it, because everybody's faces would be green. We repainted his kitchen; we were down there a couple of nights doing that. And we put a ceiling fan in. We really hooked this guy up—with no charge."
Scott relished taking on the job of director. He had previously directed for the stage in New York City—an experience that kept him mindful of the need for smart casting choices. But he also drew on the practical knowledge he'd accumulated as a film actor: "I've been on a lot of sets, and I've always asked a lot of questions about every single department—to the point of probably annoying a lot of people."
During postproduction, Scott worked closely with film editors Jason Gallagher (his brother-in-law) and Lawrence Jordan. And he called on composer Michael Giacchino for the score; Giacchino had been using Scott's garage as a studio. Says Scott, "He's been composing some huge movies in my garage. He's done
Star Trek
in there and the next Pixar movie [
Up
]. And
Glock
."
Onto the Next One
The filmmakers used Withoutabox, an online film-submission service, to apply to various festivals. While
Glock
was accepted to play at a number of venues (the first being the Santa Barbara Film Festival), there were also disappointments. "I thought, 'Well, I'll trade on that little bit of celebrity that I've got,' " says Scott. "And you know, there were festivals where I was rejected, and I was like, 'Oh, all right. That was big-headed of me.' " He feels particularly honored to have made the cut at Tribeca, as it was a crowded field.
Scott and McMillian hope to return to self-producing soon, although each has been busy lately acting for television: Scott on
Southland
, McMillian on
True Blood
. McMillian has several projects in the works as a writer. He has teamed with
Star
Trek's Zachary Quinto on a graphic novel he hopes will see life in other media. He has written a screenplay called
Sunset
, which he describes as a "Western horror period piece." He's also working on a third project, a feature that Cunningham-Eves will direct. Scott is once again "back to me and my big old empty head" but says he would perhaps want to direct a Raymond Chandler–style crime story.
His advice to other first-time writer-director-producers? "You just have to keep at it till it's done—that's the hardest thing. It's like saying you'll work out [versus] actually going to the gym and working out. They're two different things."