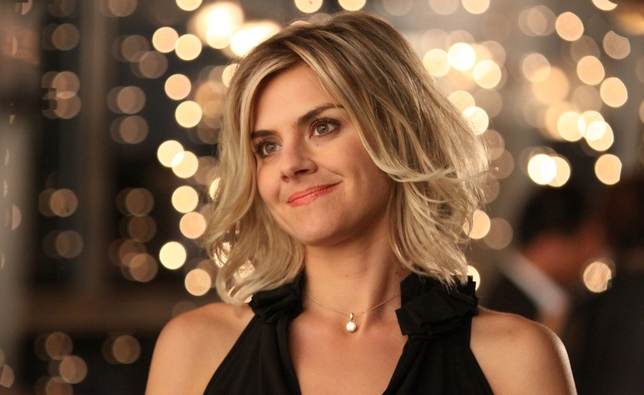 Regardless of what it says on her Wikipedia page, Eliza Coupe does not have a background in improv comedy. "It's funny that people say I studied at all these places because really, I never did," she says. "I paid to put up my one-woman show at ImprovOlympic, only rehearsed a show at UCB, and only took one class at The Groundlings because I was told that I wasn't good!"
Whoever said that must be eating their words now, because Eliza Coupe has turned out to be one of the strongest comedic actresses working in television today. From her two-season turn as Dr. Denise Mahoney on "Scrubs" to her hysterical portrait of Jane Kerkovich-Williams on ABC's "Happy Endings," Coupe has stolen scenes by committing fully to outrageous characters with loveable personalities.
And she's not just doing that on the small screen. In her new film, "Shanghai Calling," Coupe plays Amanda, a relocation specialist helping powerhouse attorney Sam (Daniel Henney) make the transition from life in New York City to life in China.
Coupe chatted with us about "Happy Endings" and what she's learned about improvisation through the years.
We've bucked the myth about your improv background, but the "Happy Endings" cast is known for doing a lot of improv on set. How does that come into play when working on a scripted series?
Coupe: It's much easier improving off of something that's scripted. And we're lucky to improv off of our work because the writing is so exceptional. You can't improv off of bad writing. Then you have to actually create your objective, which is really hard to do in an element without the skeleton to go off of. With 'Happy Endings,' we all have our own storylines and arcs. If you improv off of random jokes, that's not going to stay in the cut. It's a 22-minute episode, and they have to stay on story. But if you improv off of the story and off of what your character's intentions and needs are, that's going to stay in because it's only going to drive home the point to the audience in a more comedic way.
Do you need to know the character inside and out to start that improv process, or is that something you explore early on?
Coupe: If I'm not clear with the character, I can't do anything with it. But once I get that character, the possibilities are endless. When you have such a defined character, I feel like I can actually read the phone book and make it funny.
How did you get to know Jane?
Coupe: I originally went in to meet with the producers about playing Alex. And they blindsided me about playing Jane. I was like, "In what world is the girl with tattoos all over her body, jean shorts, and studded boots supposed to play the conservative Jane?" It took me so long to find the character because I didn't want to play the typical nay-saying wife. That is not the character I wanted to put out into the world and promote.
"Happy Endings" has received a ton of critical praise. But viewership hasn't always followed. Is that frustrating?
Coupe: It's incredibly frustrating. We'll do a take and it'll be so good and the crew will be laughing and we'll all feel so proud and then we'll be like, "Yay no one is going to see that." "Yay we made that for no one!" "Yay that'll be so fun to show our kids one day and say we made this show that didn't make it!"
Jane and Brad are a rare couple in television, not only because they're interracial, but also because they're hot for one another! And they don't seem bound by this pressure to have kids.
Coupe: That really comes from Damon [Wayans] and I. We wanted so badly to make these characters unique. We decided early on that every chance they get, they want to make out. And we were like, "No kids! Kids kill a show!" It's like a fun concept when the character is pregnant, but then if a show runs for a while, I'm sorry but it get's annoying when it starts to talk. You get a child actor in there, and unless that child actor is freakin' awesome, it's going to be annoying.
Yet in your new movie, "Shanghai Calling," you play a mom!
Coupe: I was nervous about that because honestly, I'm not that great with kids. But the actress who played my daughter Katie (Gillian Renee Rexach) was so great. First of all, she was fluent in Chinese, which made us all look bad. Working with her helped tremendously.
You didn't speak Chinese before the film?
Coupe: Not at all. And I only had two weeks to learn it! I had this incredible Chinese teacher, Yang-Yang, and took lessons with him until I got on the plane. And then when I was in China, I was learning Chinese with a teacher who was in L.A. via Skype. It was madness.
Two weeks? That's a tight turnaround!
Coupe: Well I was on an audition for a different movie actually. And I thought I did a horrible job at the audition. I walked out of there and called my manager and was like, 'We're not getting that one.' And literally two weeks later, that casting manager contacted us because someone had dropped out of 'Shanghai Calling.' So they send the script and offered it to me with one caveat: I had to learn Chinese and be in Shanghai in two weeks.
So that's two parts you got you weren't planning on getting during auditions. Do you wish you knew things like this would happen when you were first starting out?
Coupe: I wish I knew that when I go in for an audition and I don't get the part, it actually doesn't have to do with me on a personal level. When I first started, I'd get so in my head about the dumbest shit. Maybe it's not the right look and maybe it's not the right fit, but that doesn't mean I'm not a good actor. As you move on, you learn that if you fit for their project, you fit for their project. And if you don't, it's not you – it's them.
"Happy Endings" airs Fridays at 9/8c on ABC
"Shanghai Calling" opens Friday, February 15 in Los Angeles