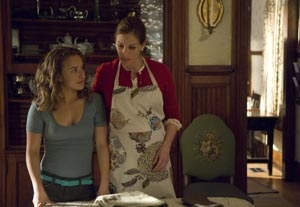 Hayden Panettiere
began her acting career before her first birthday, so it's no surprise that she doesn't remember a time when it wasn't part of her life. Since her first job, the talented 22-year-old has done commercials, soap operas, voiceovers, television, and films. For Panettiere, that variety is one of the best things about acting. "I love being able to do all different kinds of things at all times and having all different tones because that's genuinely what happens in life," she says.
Growing up, Panettiere didn't realize that acting and going to school wasn't what most kids her age were doing until about first grade. Acting was the only life she knew, and she fit right in on set.  But, she says, "I always racked my brains going, 'Why can I fit in with adults and this sort of life, yet I can't get along with kids my own age?' " Other child actors she knew were in performing arts schools, but Panettiere attended a mainstream school. She didn't take acting lessons; her mom was her coach. She was lucky to book a role on a soap opera early on, which, she says, "was amazing training when it comes to lines and dealing with difficult subject matter." As she got older, a challenge of acting became trusting herself: "There's a certain freedom I had when I was younger, and I didn't second-guess myself nearly as much, and I didn't listen to myself and criticize myself as much. It was just genuine the way it came out. And there was no worry about that. And as I've gotten older, I've had to try not to second-guess myself and go off instinct and trust myself more."
Panettiere says growing up while pursuing an acting career was difficult at times. She notes, "Growing up is all about finding yourself and figuring out who you are and what you like, and because I got to try on all these different characters and these different aspects, they became very different aspects of my personality, and it became a little bit difficult for me to describe myself as a person because I knew that I had the ability to be all these different things but didn't know which one I genuinely was." Once she stopped trying to define herself and just let the different aspects of her personality come out naturally, things got easier.
Her approach to acting is to remain open and "always be willing to change and learn something new." She says after years of trying to figure out what makes an actor a success and trying to emulate other actors, she has realized "at the end of the day that there is no exact formula, and as an individual the most important thing is not try to emulate anyone else but to just stick to who you are and know that it's okay to be different."
Remembering the 'Titans' and 'Malcolm'
With a résumé of so many varied roles, Panettiere says it would be hard to pick a favorite, but "the whole experience of 'Remember the Titans' has always been one that's been very difficult to beat. It's really hard to top, and it's something that you know you'll never have another experience like it." Another memorable experience was playing a small role on "Malcolm in the Middle." She says, "It was so significant to me because the character was one that you would never ever thought that I could play. Bryan Cranston happened to be directing that first episode that that character was in, and he said, 'You are completely wrong for this, but we're going to find a way to do it,' and I got to dress up and tease my hair and put on glasses and just really create a character."
Although one of the things she loves about acting is creating characters, she also values the opportunity to work with actors she respects. "The idea of having the chance of being able to act across from these actors that you have looked up to your entire life is just something that's very difficult to pass up," she says.
Panettiere joins a stellar cast in her latest film to be released, "
Fireflies in the Garden
." She loved the idea of "going from a huge production like 'Heroes' and a very specific character to a character-based independent drama." Panettiere plays the younger version of Emily Watson's character, Jane, during a pivotal summer in the character's life. Playing the younger version of a character was fascinating because "you look at your mom and you go, I know her as a mom, but what was she like when she was younger? [It was] really interesting to see this wild child to a certain degree, this reckless young girl who used to go fishing with firecrackers, grow into this mature mother and adult figure." Panettiere says being on set watching actors of that caliber in their zone and going through their process was invaluable: "You grow and learn and change whenever you're around people of that cachet who are so good at what they do, and sometimes it's difficult to put your finger on exactly what it is that you take away from them, but you do evolve."
Panettiere may be most recognizable as a cheerleader. She's played one more than once ("Bring It On: All or Nothing") but is probably best known for her time as Claire Bennet on NBC's "Heroes." The show's slogan in the first season, "Save the Cheerleader, Save the World," has stuck with Panettiere—she is now on a mission to save the planet. Despite her young age, Panettiere has been working with the
Whaleman Foundation
for seven years and is its international spokesperson. Panettiere says she has always loved animals, but "because I've always been working and I've always been acting, I didn't always have that chance to explore other things and who I was as a person and what interests I have outside of acting. But animals are a huge part of my heart. And nature, and that's something that I'm going to try to get more involved in."
Panettiere is graduating from cheerleader to wife in her next movie, "Over the Wall," with Melissa Leo, where she will play Freddy Rodríguez's wife. Although she is excited to play older characters, she realizes that once she ages out of the teenage roles, she won't be able to go back, so she's not in a rush. "I am anxious to continue working and to play new roles but to appreciate my age and other aspects of life and to not rush it and to just enjoy every moment and opportunity that I'm given."