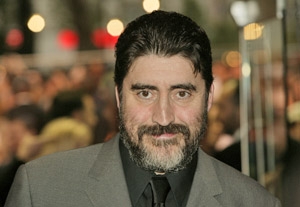 Alfred Molina never seems to stop. Since his film debut in "Raiders of the Lost Ark" as the devious guide Sapito ("Throw me the idol; I'll throw you the whip!") Molina has been ratcheting up credits on stage and screen. He's been the romantic lead ("The Perez Family," "Frida") and the villain ("Dudley Do Right," "Spider-Man 2"), and has even stolen an entire film with a single scene more than once ("Boogie Nights," "Magnolia"). Along the way, he's managed to turn in heralded stage performances, earning Tony nominations for playing Tevye in "Fiddler on the Roof" and Yvan in "Art." He has no fewer than five movies scheduled for release in 2010, including a role opposite Jake Gyllenhaal in the epic "Prince of Persia," opening in May.
Currently, Molina can be seen in "An Education," playing Jack, the well-meaning father of Jenny (Carey Mulligan), a schoolgirl in 1960s England. On the cusp of turning 17, Jenny finds herself in an exotic, exciting relationship with a much older man, David (Peter Sarsgaard). Rather than discourage the relationship, Jack takes a liking to David, and supports the pair.
But now Molina is earning raves portraying artist Mark Rothko in "Red," on stage at the Donmar Warehouse in London through Feb. 6. Following a performance of the two-hander by "Speaking in Tongues" playwright John Logan, Molina took time to talk to Back Stage about his complex characters, playing the villain, and a life in the theater.
Back Stage
: Your character Jack in "An Education" is fascinating. He has some questionable actions and is sort of bumbling, but there is no doubt that he loves his daughter.
Alfred Molina
: I hope that came across, because that man is very much a product of his time. I was only 8 in the year that film is set, but I knew men like that. They were men who came out of the war with great expectations of their children. They fought a war to come back as heroes, and what they came back to was a little disappointing. So they tended to put all their energies into their children.

Back Stage
: Did you do much research for the role?
Molina
: I didn't have much time on this only because I had just finished a job. Being English and having an innate understanding of the class system and the nuances that go with it, I had a pretty good idea of where the character was at. As I said, these people are driven by a great need to see their children do better than they did. It's also a drive that you find in immigrant families. My parents were immigrants, and they focused a great deal on education as far as my brother and I were concerned. So there wasn't a great deal of research that needed to be done. If you're playing a character who actually existed, there's a certain responsibility to do your homework and not misrepresent someone. But when it's a completely fictional character, I think a lot of it has to do with using your imagination.
Back Stage
: Was it also appealing to get to play a role in your natural accent?

Molina
: Yeah, it's been a while since I played an English character—that was one of the big attractions. Taking the role was a confluence of things both creative and practical. It was a nice script and a lovely role, working with a great young cast. That was very attractive. And also my second grandchild had just arrived, so I was very happy to be around for her. It was a perfect combination of creativity and sentimentality coming together.
Back Stage
: The director, Lone Scherfig, isn't British. Did you find that unusual?

Molina
: No, not at all. I've always thought that a foreign eye on a situation or particular landscape often reveals things that we perhaps might overlook or take for granted. Some of the great American movies in the last 20 or 30 years have been directed by foreign directors; things like "Midnight Cowboy" or "Coal Miner's Daughter" were directed by English directors. Ang Lee made "The Ice Storm," a superb analysis of middle-class America. And then Sam Mendes with "American Beauty." I think having a director who isn't part of that world very often allows them to look at that world in a very fresh and unbiased way because they don't have any of the usual axes to grind.
Back Stage
: Some people have questioned why these parents let their daughter run around with an older man. Did you ever have trouble justifying his behavior?

Molina
: I've never felt the need to justify what characters do. I think characters do what characters do; it's not for us to second-guess what they should or shouldn't do. I think in that way lies a great deal of rather dreary writing. You could question the actions of Willy Loman or Eddie Carbone or any great role in classical theater. If characters did what we think they should do, we'd have a rather unimaginative and dreary landscape to work in. It's up to audiences to either go along on the journey or not.
Back Stage
: What's been the hardest character for you to play?
Molina
: I think the hard ones are always the ones furthest away from you, the ones least likely to be corralled into your comfort zone. You have to strive to take yourself to the role. It's very tempting, sometimes, to drag the character to you, to make them somehow a better or more interesting version of yourself. But the real creative meat is when you can have the time and nerve to take yourself to the character and, in a sense, disappear into that. But creatively, it's much more satisfying.
Back Stage
: So someone like Dr. Octopus in "Spider-Man 2" is probably pretty far away from you, I'm guessing?
Molina
: Strangely enough, that was probably one of the easier roles in a way because that was purely imagination. It was a wonderful concoction of imaginative thinking on the part of the creators. And when you're playing the villain in those kind of films, you have so much freedom in what you can create. The great joy of playing villains in those movies is you can be as inventive as you like. If you're the hero, the audience has an extraordinary amount of expectations, and that can be limiting.
Back Stage
: Do you still audition?

Molina
: I auditioned for "Spider-Man 2," but apart from that, I haven't auditioned for a while. I guess it's because I've been acting for 35 years and as far as film is concerned, there's a lot of stuff out there. So I think if people want to find out if I can act or not, they can check that out.
Back Stage
: But you're such a chameleon, they might not recognize you from role to role.
Molina
: That's the joy of being a character actor: You can disappear and have some fun while you're at it.
Back Stage
: There are roles you've played more than once: You've been in "The Cherry Orchard" three times, twice playing Lopakhin. What made you want to revisit the play and the role?
Molina
: It's a great part. A fantastic part. And when you get a chance to replay a character you've done before with a different director, a different production, a different approach, it's like discovering the play again. The director's coming in with a different eye and you're working with different actors, so everyone's coming to the party with a new sensibility. The mistake would be in trying to re-create what you did the first time. You have to come at it like it is the first time.

Back Stage
: You've done film, theater, television. Do you have a favorite medium?
Molina
: I love film, and it's been my main employment over the years, although I started as a theater actor and I go back every couple years. I try to keep a reasonable balance between the two. But as most actors will tell you, the great tragedy about the theater is that it doesn't pay very well. So there are very few actors that can make a living exclusively at theater. I know I would spend more time in the theater if I could. We make films and television to in a sense subsidize this rather capricious habit that we have. Film is my wife and theater is the mistress that keeps calling me back. It's like a drug; it's this habit you can't quite kick. But what I've found over the years is that both disciplines feed each other; they're not mutually exclusive. I think it used to seem they were. I can remember, when I first came to America, my agent asked me what I wanted to do, and I said, "I'd love to do film and television, but I want to keep my theater work up." And he said: "Theater? Why advertise the fact that you're out of work?" In those days, 30 years ago, there was that prejudice. But now, that's changed. It's a much more symbiotic relationship.
Back Stage
: You're currently appearing in "Red" at the Donmar Warehouse. Any chance that show will transition to Broadway?
Molina
: Well, there's talk, but there's always talk. That's the cheapest thing in our business: talk. But it looks possible. There's certainly a very strong and consistent link between the Donmar and Broadway.
Back Stage
: You have a long association with the Donmar, don't you?
Molina
: Yes, I first worked there in 1977 when it was the RSC experimental house in London. Then I went back in 1982 to do a musical, and that's where I met my wife.
Back Stage
: What show was that?
Molina
: "Destry Rides Again." There was a vogue at the time for reviving American musicals that hadn't quite been the huge successes they deserved to be. If you saw the recent production of "Sweeney Todd" where all the actors played instruments, we did a similar thing with "Destry Rides Again" where the actors were the band. When "Sweeney" was out, it rather pissed me off at the time, people kept saying, "This is so inventive, such a radical way of doing a musical!" I remember thinking, "Jesus Christ, I did that 25 years ago." There's nothing new under the sun. Of course, ours had more to do with necessity rather than artistic choice; we just couldn't afford a band.
Back Stage
: What are the advantages of being married to an actor? Is there any competition?
Molina
: Well, we don't really compete for the same roles. [Laughs.] Being married to an actor is a nice support system. We can appreciate whatever the other one is having to deal with. What unites this wonderful tribe that I'm in is we all have the same preoccupations and the same concerns and anxieties and failings. We can sympathize.
Back Stage
: What sort of advice do you give to aspiring actors?

Molina
: I teach now, and students often want to know the key or some formula that will unlock some secret. I go to great lengths to emphasize that I don't think there are any secrets and I don't think there is a formula. I think all there is, is work. Work and dedication and focus. That's all you can do. The idea of planning a career is also a misnomer. The way I see it, your career is what's behind you; you look back on a career. You can't forecast a career. Especially if you're an actor: You do the next job that comes along, most of the time. The only correct theory I've ever applied is to just keep working. Sometimes you'll do a job that is creatively satisfying. Sometimes you might do a job just for the money. You might do a job just because you can't bear the idea of being out of work, so you'll do any old crap to just keep working in the hopes you might learn something. Whatever reason, it's valid. And just keep working. There are only two kinds of actors in my view: those who want to do it and those who need to do it. You find out very, very quickly which one you are.