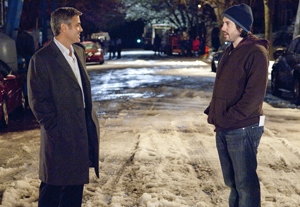 Jason Reitman has one piece of advice for actors who come in to audition for him: "Don't act." This may sound contradictory, but Reitman is a strong believer in being yourself. "You'll either be naturally right for the part or not," he says. "The last thing I ever want to do is see some actor play something that's the antithesis of who they are—even though that's why some people are drawn to the job of acting. I like actors to go through a sort of self-examination. That doesn't mean you have to be exactly the character you're playing, but there has to be a part of you that identifies with that character."
This casting technique has served the writer-director well, as Reitman, with three features to his credit, belongs to an elite club of filmmakers who are batting a thousand. After cutting his teeth on acclaimed short films and commercials, Reitman made a splash with his 2005 feature, "Thank You for Smoking." He followed that with the Oscar-winning "Juno," which introduced screenwriter Diablo Cody to the world. And now he has helmed his most mature and accomplished film yet, "Up in the Air," a timely meditation on the state of the economy and one man's reluctance to fully connect with his fellow human beings.
But such a description doesn't reveal just how smart and funny "Up in the Air" is. George Clooney, in one of his best performances to date, plays Ryan Bingham, a successful corporate downsizer—in other words, he fires people. Ryan takes pride in his work, telling himself he's devastating people with dignity, and loves living in hotel rooms and airport lounges across the country. But his life is changed by three intersecting events. First, he meets the female him: a frequent flyer and unabashed seductress named Alex (Vera Farmiga). Then, he's saddled with showing ambitious rookie Natalie (Anna Kendrick) the ropes. Finally, he has to reconnect with his sisters (Amy Morton and Melanie Lynskey) at the latter's wedding to the sweet and simple Jim (Danny McBride).
Reitman, who wrote "Up in the Air" with Sheldon Turner, stumbled upon the book of the same name by Walter Kirn seven years ago. "No one would make 'Thank You for Smoking,' " Reitman recalls. "So I was looking for other stories, and I found this at a bookstore. I wrote on it for six years." Originally, Reitman imagined the tone being more humorous. "I think it could be more of a satire, like 'Thank You for Smoking,' about a guy who fires people," Reitman admits. "But as I wrote it, my own life changed and the economy changed, and this film took on a little more gravity. There was this evolution: I got married; I became a dad and got a mortgage. The economy began to fail. All of a sudden, the movie was different."
Actors in Mind
Reitman frequently writes with actors in mind. He says he wrote specifically for eight of the actors in "Up in the Air." "It's much easier for me to write when I have the actor's voice in mind," he notes. After seeing Morton on stage in her Tony-nominated turn in "August: Osage County," he knew she was "perfect" for the part of the sister. He saw Kendrick's indie hit "Rocket Science" and was familiar with Farmiga's work and penned their roles for them. McBride's film debut in "All the Real Girls"—not his recent comedic turns—convinced Reitman the actor was his Jim. "What an incredibly unique voice, and talk about authenticity," Reitman raves. "He just comes off 100 percent real."
Reitman also wrote the opening scene—in which we see Ryan firing a stunned employee—specifically for comic Zach Galifianakis as the employee. "When I wrote it, nobody knew who he was," Reitman reveals. "Then 'The Hangover' came out and ruined that. Now people look for the comedy in that scene, and it was never intended to be comedic." Reitman was a fan of Galifianakis from his standup and online work and knew instinctively the actor could pull off a dramatic role. "Comedy is the hardest thing to do," Reitman explains. "I more often find comedians who are capable of doing dramatic scenes than dramatists who are capable of comedy."
And then there's Reitman's MVP: J.K. Simmons, who is heartbreaking in a scene as one of Ryan's victims. Reitman has cast Simmons in every one of his films—including "Jennifer's Body," which he produced. "He was a brutal boss in 'Thank You for Smoking' and a tough but endearing father in 'Juno,' and now he kind of plays the face of this recession," Reitman says. "No matter what I tag him with, he's able to do it. He's one of the greatest tools in the toolbox. Upon first working with him, I really liked the guy, and I noticed how immediately an audience makes a relationship with him. They see him and they just know him, instinctually." Go so far as to suggest Simmons is his muse, and Reitman laughs. "Hitchcock and Woody Allen had all these beautiful women, and my muse is J.K. Simmons. I can live with that."
Bringing Themselves
Reitman reiterates that he wants his actors to be as real as possible, though that doesn't mean they have to be exactly like their characters. He points to Kendrick as an example. "Anna is a girl who is too smart for the room, who is frustrated by her own brilliance, who is hyperarticulate for her age," Reitman notes. "But Anna's not as blind as Natalie; she's much more self-aware. But she can at least identify with getting out of school and beginning to realize life is different from what you thought." He looks for performers to bring part of themselves to the set. "There are actors and directors who love to use methods and try things that are just completely not part of their human experience, but that just doesn't interest me," Reitman explains. "I feel like I'm dealing with incredibly personal stuff from my own life when I direct, and I want my actors to be doing the same."
At the end of the day, Reitman says, directing is reacting. It's one of the reasons he prefers writing adaptations rather than original scripts. "I'm a better creative person when I'm reacting to something," he says. "You're watching a performance, you're reading a script, you're looking at an edit, you're listening to a song, you're looking at a piece of color or production design and reacting to whether it's right or wrong. If it's right, great. If it's wrong, your skill as a director is measured by how you make it right. That's the whole gig summed up."