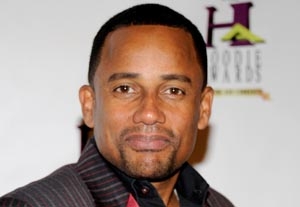 The third time was the charm for Hill Harper. After appearing in two short-lived CBS series, "City of Angels" and "The Handler," he landed the role of Dr. Sheldon Hawkes on the network's popular "
CSI: NY
." In addition to returning for his eighth season of forensics, Harper is looking forward to the release of his fourth book, "
The Wealth Cure: Putting Money in Its Place
."
His journey to an acting career wasn't a straight path, but Harper believes in learning and expanding one's knowledge, so he values all his education. "I studied theater in college, and I absolutely knew that I loved acting and I knew that I loved theater," he says. But he didn't know anyone in the entertainment industry, so he didn't know how to turn that love into a career. He loved education as well, so he continued his studies, eventually earning his law degree from Harvard and a master's degree from Harvard's Kennedy School of Government. But he didn't stop acting.
"You've got to act and train and take class," Harper says. "There are so many actors that I meet that don't act enough. Definitely take class, definitely train—that's the most important thing you do. Build your craft. Become better. I would say do your own thing as well. Take risks. Write your own material. Perform that. Create your own characters. All of that is out there for you."
It's All About the Roles
"Roles make the actor," Harper says. One challenging role he's most proud of is Alex Waters in "The Visit," a film based on the true story of a convict with AIDS trying to get released so he can die with his family. To meet the challenge, Harper began researching. "I think research is the only way, for me at least, that you get there," he says. "And it gives you wonderful ideas. You can use the information you get from research creatively and incorporate it into your character to give you much more of a layered performance." He notes that unless you're playing an extraterrestrial, there's always someone to interview to inform your portrayal.
Another role Harper loved was Darnell on "The Handler," because he got to go undercover in a different persona every episode. "It gave me a real opportunity to shine, because I got to play so many characters," he says. The philosophy of embracing different roles carries over to his offscreen life: "I always say that one of the most destructive sayings that got popular [is] when people say, 'Don't be a jack-of-all-trades and a master of none.' I think that's so false. I believe we all have the capacity to be masters of many things and there's nothing that we can't do. You can be a great actor and also be a great writer. There's so many things that all of us have the capacity to do. But somehow life tries to convince us that we'd be lucky to do even one thing well, and I disagree. I think so many of us, everyone who's reading this right now, has the capacity to do great things in multiple areas of their lives, but they have to take risk and also train and learn in those areas."
Harper's career has taken him in many directions, not all acting-related, and he recognizes the importance of learning from experiences. One audition decision he regrets is choosing to leave a hard-won recurring role on "Married…With Children" to screen-test with William Hurt for the movie "Smoke." Harper didn't book that role and says, "I'll never forget that and the lesson I learned from it, and also the pain, because it was a very painful lesson. But rejection is part of the actor's journey, and I've always said that if you don't like or can't handle experiencing rejection, then don't become an actor, because we get rejected so much."
Write Your Future
Because of his education, Harper was asked to give motivational talks at middle schools, high schools, and colleges. That experience led him to begin writing and to create
Manifest Your Destiny
, a nonprofit empowerment program for youth. While giving those talks, he would often meet young people who wanted his advice. When the number of questions and letters became overwhelming, Harper decided to write a book to address them: "Letters to a Young Brother: Manifest Your Destiny." He wasn't even sure the book would be published, so he was thrilled when it made the New York Times bestseller list and the American Library Association's list of the best books for young adults in 2007.
His most recent book was also inspired by the feedback he was getting from his motivational talks: "People kept saying things like, 'I want to do this, but I can't afford it.' " So he decided to write a book to take away that excuse and teach people how to use money as a tool to create the life they want. As Harper began writing, the book evolved into something bigger. "When I started writing the book," he says, "I thought it was going to be a straight money finance book and redefining what money is—it's a tool, not a result—but then I was diagnosed with thyroid cancer." The book, which provides easy-to-understand financial tips, also takes readers on Harper's journey as he deals with his diagnosis and surgery.
He acknowledges that it was difficult sharing something so personal and scary, but "I felt like if I'm asking people to take a look in the mirror at themselves and be truly authentic and honest, as the writer I have to be willing to do the same thing or else it's false. And that's one thing that I pride myself about in my books, that they definitely come from a true place and I'm willing to be just as vulnerable as I'm asking the reader to be."
As an actor, Harper also understands the importance of knowing how to manage your money. "As artists, we really need to understand how to use the tool of money and how to save, because there will be times where we're making a lot and there will be other times when we're more lean, and one lesson I've learned is that if you want to keep your artistic freedom, you want to have that tool of money, because you don't want to be put in a situation where you're making artistic choices about your career and your life because of money. It's an important lesson to learn, an important thing to think about."
Harper writes about setting goals, and he sets high ones for himself. Though his previous books have been New York Times bestsellers, for this one his goal is to make it to the No. 1 slot. He says, "I always want to feel like I'm progressing."
Outtakes
- Recently directed a short film, "The Truth," which will premiere at the Chicago International Film Festival this fall
- Has been honored with six NAACP Image Awards
- Is interested in expanding his writing career to fiction, especially children's books
- Invites readers to follow him on Twitter at twitter.com/hillharper