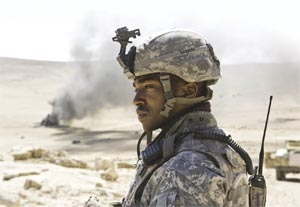 Anthony Mackie isn't one to mince words. He will openly tell you he's not a fan of Los Angeles: "I love the East Coast. I love the rude people, I love the diverse food, I love the four seasons—and I don't mean the hotel." He describes his four years studying acting at Juilliard thusly: "Two years of bliss, one year of hell, and one year of 'fuck you.' " And after understudying Don Cheadle in the play
Topdog/Underdog
, he says he left when the show moved to Broadway and Cheadle's role was filled by Mos Def because "I'm not understudying a rapper. I went to Juilliard. You wouldn't ask Jeffrey Wright to understudy Ice Cube."
These days, Mackie isn't anyone's understudy. After roles in
8 Mile
and
Half Nelson
, he started off the year portraying Tupac Shakur for a second time—the first was in the Off-Broadway play
Up Against the Wind
—in the biopic
Notorious
. Next, Mackie appears as Sergeant J.T. Sanborn in
The Hurt Locker
, which goes into limited release June 19. The film, directed by Kathryn Bigelow (
Near Dark, Point Break
), is a tense drama centering on an elite Army squad in Iraq that disarms and disposes of explosive devices. When the squad is taken over by a new staff sergeant, played by Jeremy Renner, Sanborn finds himself at odds with the seemingly cavalier attitude of his new boss. Written by Mark Boal, a journalist who was embedded with bomb squads in Iraq,
The Hurt Locker
first began earning raves on the festival circuit last year and this year scored Independent Spirit Award nominations for Renner and Mackie.
Still, there's no danger of Mackie going Hollywood. The one studio picture on his résumé—last year's Shia LeBeouf thriller
Eagle Eye
—almost made Mackie quit the business entirely. "I'd been doing plays and independent movies, and it was my first big-budget experience, and I saw how people's egos could get in the way," he recalls. "I saw so many people in the business who didn't care, because the business isn't run by movie buffs—it's run by MBAs. And the way Harvard destroyed the financial market, it's now destroying Hollywood." When shooting wrapped, Mackie took a break from the business and went home to New Orleans, where he did construction work. 
Star Power
Mackie was born and raised in New Orleans, where he admits he was "meddlesome." He notes, "In the fourth grade, instead of putting me on Ritalin, they had me audition for the afterschool program. I've been doing it ever since." As a teenager, he had his own public access show called
PBT
, which stood for Positive Black Talk. "It was just a 15-year-old black dude acting a fool," he says of the early endeavor.
At 17, he moved to New York to attend Juilliard, where he was at first willing to be molded—thus the first two years of bliss. But by his third year, Mackie says, he felt that some people took advantage of his good nature. "I wasn't going to let anyone push me around and started doing things the way I wanted to," he says. By his senior year, he was appearing Off-Broadway in
Up Against the Wind
, which had originated at Juilliard, and found he was garnering attention. "Suddenly, I was the prize pupil, even though I was the same person from two years earlier," he notes. "So I was saying, 'Fuck you,' to everything. I graduated, and I've been saying, 'Fuck you,' ever since."
Mackie says this matter-of-factly, without a trace of bitterness, but the attitude has served him well. After graduation, he was about to work on a play in Washington, D.C., when he asked for a couple of days off from rehearsal to audition for a big movie. "The play's director said, 'Well, now's the time you have to decide if you're going to be a real actor or if you're going to be a movie star,' " Mackie recalls. "Meanwhile, Kelly McGillis was starring in his play. So I didn't do the play. I didn't get the movie, either, but I got
8 Mile
, and it just snowballed from there."
Even before
8 Mile
, Mackie had been cast in an indie feature called
Brother to Brother
, in which he played a homeless gay teenager. The performance earned him his first Independent Spirit Award nomination. He says it's his willingness to take such roles rather than "money jobs" that has helped him work consistently. For
Half Nelson
, in which he played a drug dealer who calls out Ryan Gosling's addict schoolteacher on his hypocrisy, Mackie received $35 a day. "I like to consider myself the discount Don Cheadle," Mackie jokes.
Danger Zone
Bigelow was originally interested in Mackie on
The Hurt Locker
for the role of Specialist Owen Eldridge (played by Brian Geraghty, with whom Mackie co-starred in
We Are Marshall
), the more sensitive member of the squad. But upon reading Boal's script, Mackie knew he was interested in Sanborn. "I didn't need to be the lead of the movie; I don't care about that first-billing bullshit," he says. "Sanborn was, to me, the most dynamic character. I felt he had the arc of simple humanity. That was something I felt I hadn't been able to do and, as a young black actor, you hardly ever get that opportunity." Mackie met with Bigelow in L.A. and pitched her the idea. "By 'pitched' I mean 'begged' her," Mackie says.
The shoot, which often required the actors to wear fatigues and 20 pounds of Kevlar in 120-degree heat, was by all accounts a grueling experience. "We were really in it, three miles from the Iraqi border. We weren't even acting most of the time," he notes, adding, "But it was a great experience I wouldn't trade for anything."
If he has one concern about the film, it's that people will view
The Hurt Locker
as a war movie rather than as a tense thriller and a gripping drama about three individuals in extraordinary circumstances. "I loved Mark's script so much because it reminds us these people are mothers and fathers, sons and daughters," Mackie says. "He paid such homage to the people who are keeping us safe."