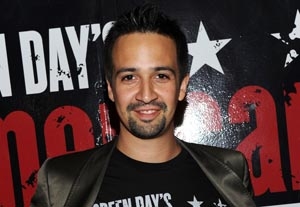 Though Lin-Manuel Miranda wrote and starred in the Tony Award–winning musical "In the Heights," it's the small things that can trip him up. Right now he's having trouble editing his program bio, which he hasn't touched in two years, for the
L.A. run of the show
, at the Pantages Theatre starting June 22. By then, he'll have his bio finished. "Luckily, I have a base to work from," he says.
The show, which combines different musical styles, including hip-hop and salsa, centers on three days in the lives of residents of the Dominican-American neighborhood of Washington Heights in Manhattan. In addition to winning the 2008 Tony for best musical, "In the Heights" took the Tony for Miranda's original score. Upon accepting his award, he gave a
memorable speech
—in rhyming couplets—that should be required viewing for all future nominees.
Most recently, Miranda appeared opposite Hugh Laurie on the Fox drama "House" as the grouchy doctor's mental-institution roommate.
Back Stage
: Do you have any concerns about how the material will play in Los Angeles?
Lin-Manuel Miranda:
I've seen it play in Wisconsin; I've seen it play in Buffalo. What's really gratifying is when you have a run on Broadway, people come from all over the world to New York and see it. The story I was hearing from people, Latino or not, young and old, wasn't: "Hey, this is weird and exotic." It was always: "That was my aunt in that hair salon. That's my grandmother up there." I've found the characters and the struggles they're going through are incredibly relatable. So I wasn't too concerned about taking it on tour.
Back Stage:
You wrote your first incarnation of "In the Heights" in college. How has it developed over the years?
Miranda:
I was 19 when I started writing it, so it's been over 10 years since it first popped in my head, and it's changed a lot. The first incarnation is a play I wrote for college students, and I knew my audience, so there were a lot more four-letter words; there was more of a love triangle than the show you see now. But what has persisted through every incarnation is the mix of Latin and hip-hop music, which reflects the music we grew up with. And many of the characters have survived.
Back Stage
: You appeared in both the season premiere and finale of "House." Was the role written for you?
Miranda
: It was one of those rare, miracle roles, where Katie Jacobs, the executive producer, had seen me in the show. The way she tells it, when they knew they were sending House to a mental institution, they thought of me. So they actually wrote the part for me; she showed the writers some clips of me on YouTube, and they wrote it around my manic energy. When they called me, I went to L.A. sight unseen—I hadn't read the script. I'm just such a huge fan of that show, and I trusted them to do something fun with me, and boy, did they ever!
Back Stage:
That was your first major TV experience, correct?
Miranda:
Yes. We basically made a movie; that season premiere is a two-hour movie. And we did what no show, including "House," does, which is we rehearsed for a week. So for me, who had very little TV experience other than playing a bellboy on "The Sopranos" once, it was such a great baby step into the world of TV acting, because I got to rehearse with Hugh and everyone for an entire week.
Back Stage
: What's the status of the "In the Heights" film?
Miranda:
We're still in script phase; I'm working on some new music for it. So we're not at the filming stage yet. That will be my day job while I'm in L.A.
Back Stage:
What are your major concerns in adapting a musical for the screen?
Miranda:
Well, it's really threading a needle here, trying to make sure the show people love on stage survives to the screen intact, but also trying to make a good movie—and that does not necessarily mean a faithful translation. So we're really trying to thread the line in terms of making sure the movie works on its own terms, but still retain the flavor of what people fell in love with on Broadway. And it's not easy. And that's why I'm in it way deeper than most composers usually are. Usually you sell the rights, you write a new song for Oscar consideration, and you let them do what they want. I'm really up to my elbows in it. So hopefully that will be for the good of the film. I'm really excited by the team we have—Kenny Ortega is just fantastic and so passionate about the show.
Back Stage:
How did you decide on Kenny Ortega as your director?
Miranda
: Kenny Ortega has been choreographing my life since before I even knew who Kenny Ortega was. I was born in 1980. I grew up dancing to "Twist and Shout" from "Ferris Bueller," I grew up dancing to "Dirty Dancing," "Footloose"…these are all the shows I would put on for my parents without even knowing I was doing Kenny Ortega's choreography. And I don't think there is anyone who has more musical film experience than he does. The fact that he's Latino and feels such a connection to the material—it was just a matter of making sure he was available, and it's been a fantastic ride ever since.
Back Stage:
You had one of the best speeches ever at the Tonys. How prepared was it?
Miranda:
I would say half prepared. I think the best way to describe it is that my shower curtain got a way better speech than the Tony audience did. I am so superstitious about writing it down that I didn't want to; I just sort of had these couplets in my head and was sort of going over them in the hopes I would get to say them. You can actually see the moment where my prepared couplets leave my head, and it's right after the Chris Jackson line, and then my eyes start darting around desperately. So the first half is sort of prepared in my head; the Sondheim stuff came out of my butt—and I'm so grateful it did—and the last line was something I'd prepared for the flag in my pocket. But there's a whole middle in there where I really don't know what I'm saying, and I'm really glad it came out in order.
For more information on the show and to purchase Broadway or touring tickets, visit
www.intheheightsthemusical.com
.