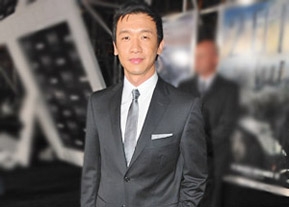 Most actors consider themselves lucky to be in one blockbuster. Chin Han will soon have two under his belt. Best known as the duplicitous Mr. Lau in "The Dark Knight," opposite mega-stars Christian Bale, Morgan Freeman, and the late Heath Ledger, Han is now co-starring in Roland Emmerich's apocalyptic disaster flick "2012," alongside John Cusack, Amanda Peet, Danny Glover, and Woody Harrelson. The Singapore-born Han is not exaggerating when he says, "It's been quite a ride."
After all, he didn't have much under his belt when director Christopher Nolan tapped him for "The Dark Knight," a career turning point if ever there was one. "I adore Chris," says Han. "He just jumped in and made a decision. I've done theater and television, but my movie credits were modest. He took a huge risk with me in a huge film. And my appearance in 'The Dark Knight' led to '2012.' "
Han is especially pleased that his "2012" onscreen alter ego is far removed from Mr. Lau, "who was playing a mental chess game," he says. "Tenzin, a Tibetan, is a reluctant hero. He is also more physical. You can't play a mental chess game with a tsunami. All you do is run."
Han says that even within the parameters of blockbusters, he looks for variety in his roles, especially if he's tackling them back to back. They must have an interesting arc and give him the chance "to hold up a mirror to myself and explore what I might or might not do in extraordinary circumstances. I like to explore different aspects of my own personality." In addition, the film—whatever the genre—has to succeed and have a level of authenticity on its own terms. "And that's true for a comic strip or disaster film," he comments.
He admits he is especially drawn to films that are visually intriguing and cut together in unexpected nonlinear ways. "Pulp Fiction" is an example. "It breaks down the norm of storytelling, which makes the actor work harder, and I think that's good." In theater, he's attracted to new plays and classics that have been "reinvigorated." He cites Patrick Stewart's "Macbeth," which Han saw in London several seasons back. "It was set in a tyrannical Eastern European country," he recalls.
Prior to his two Hollywood films, most of Han's credits were in Singapore, where he also produced and directed plays and musicals. His acting approach, culled from various teachers and directors, is a potpourri. "Initially, it was the Method, and I spent a lot of time getting into the character's psyche and creating his backstory," he says. "And then there came a point in my career when I couldn't push it any further in terms of psychological examination. I found working from the outside in was more visceral and immediate." He discovered, to his surprise, that a character's physicality—"his muscle memory"—informs his emotions and motivations. But Han's big acting revelation occurred as a director. "Talking with an actor for hours about his backstory can sometimes be counterproductive. Instead, just my saying, 'Stand upstage,' 'Speak slower,' or 'Speak with a higher pitch,' for some mystical reason brought a favorable result."
Hard Work and Serendipity
Han always had his sights set on an acting career and was well-known in his native country for his work on a daytime drama. However, after almost 100 episodes, the joy of acting began to wear thin. Han decided to take a break in 1996 and came to the United States to "see what L.A. had in store for me. I stayed a year and a half, and I took a screenwriting course at UCLA." He returned to Singapore and launched his own company, where he worked behind the scenes. For the next six years he did not think about acting at all. Then a friend, who also happened to be an agent, suggested he audition for the film "3 Needles," an AIDS drama that was being cast in Southeast Asia. Han read for the part and found he was co-starring with Lucy Liu, Chloe Sevigny, and Sandra Oh. During shooting he "realized how much fun it was to be in front of the camera again."
Now based in L.A., he can't help comparing the scale of moviemaking in Hollywood with Singapore. "In Singapore, the film industry is still very young," he observes. "It's not the same infrastructure. In Hollywood, there are just so many people involved in the process, it's mind-boggling. Suddenly you're dealing with managers, agents, publicists, entertainment attorneys, and even film distributors. You may have eight to 10 people working with you, and you're meeting with so many people at different levels. It's very exciting, but you get a sense of how involved and complex the whole structure is. You don't get that in Singapore, but then there's a lot more riding on what you do in Hollywood, especially on a big-budget movie."
In the States he also had to contend with being a minority actor. But he says he hasn't allowed being Asian to be a problem. He acknowledges his good fortune in having managers who are always on the lookout for interesting scripts and characters, which are not necessarily specifically Asian. "We then try to convince the powers that be that they should give me a shot at it. The rest is up to me."
His goal right now is to explore genres outside the action-adventure realm, such as a romantic comedy. There are also a number of directors he'd like to work with, including Chinese director Zhang Yimou, Lars von Trier, David Fincher, Ridley Scott, and Steven Spielberg.
Asked what advice he'd give young actors, he says, "Be stubborn in terms of pursuing your craft and not backing down from a challenge." He believes it's essential "to keep your instrument ready and sharp, which can mean regularly getting together with friends to read new scripts, being physically fit, and learning new skills such as accents or kickboxing. An actor can do a lot to empower himself. Work hard and keep getting back up in the saddle, and one day you'll find yourself riding off into the sunset."