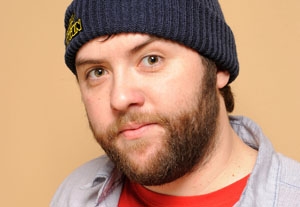 If nothing else, "
Hobo With a Shotgun
" certainly delivers on the promise of its title. The low-budget, ultra-gory action flick, hitting theaters this weekend, is the brainchild of filmmaker
Jason Eisener
and stars 1980s action hero Rutger Hauer as a homeless man who just wants to buy a lawnmower and start a business. He's thwarted by some nasty criminal types who run their town with violent glee. Below, some key things to know about the no-holds-barred filmmaker:
1. He knows his way around a blood pack.
Eisener studied film at Nova Scotia Community College, and his first short film upon graduation was "The Teeth Beneath," about a man-eating bunny. He followed that with his acclaimed 2008 short "
Treevenge
," which shows what happens when Christmas trees decide to turn the tables on humans and exact bloody revenge. Like "Hobo," both feature excessive amounts of blood. But both also played well on the festival circuit, and gave Eisener the opportunity to connect with others in the film industry.
2. "Hobo" began its life as a trailer.
Upon the release of the Quentin Tarantinto–Robert Rodriguez double feature "Grindhouse" in 2007, a contest was held inviting fans to create phony trailers for grindhouse movies. "Once we heard about the contest, we only had two weeks to shit it and get it submitted," Eisener recalls. Eisener and his friends John Davies and Rob Cotterill (who co-wrote the feature with Eisener) threw together the story of a hobo out for revenge and shot it for about $100 on a mini-DV camera. At the South by Southwest premiere of "Grindhouse," their short was announced as the winner. The original trailer, still available
online
, ended up playing at several theaters with "Grindhouse" and is featured on the Blu-ray release.
3. The original hobo was a far cry from Rutger Hauer.
Eisener was working at a comic book shop in his native Nova Scotia, where he met a frequent customer named David Brunt. "He heard me talking to someone on the phone about 'The Teeth Beneath' and started saying I should put him in my movies," Eisener recalls. Eisener describes Brunt as a loner type with a colorful history. Among the revealing facts: He spends a lot of time on the street; he was hit by an 18-wheeler when he was 20; and he has stacks and stacks of books about grizzly bears. "He's not an actor; he had never acted a day before in his life. What you see on the screen in that original trailer is for real. It's basically David, all worked up."
4. Hauer was the first choice for the role.
Though Brunt appears as a corrupt cop in the feature of "Hobo," Eisener realized he wouldn't be able to reprise the title character. "There were times where David would need 30 takes. And there's no way you can do that on a feature film, unless you're Stanley Kubrick." In addition, his injury required him to take frequent breaks. Eisener sat down with Davies and Cotterill and began spitballing names for their lead. "Rutger Hauer was at the top of that list. For me and John, he's been our favorite actor since we were kids," Eisener says, adding that they weren't optimistic about landing Hauer. "We thought, 'There's no way this will ever, ever happen, but at least it will give people an idea as to who we're going for.' " As it turned out, the two hobos hit it off. "You can see a lot of David's mannerisms in Rutger's performance," Eisener notes. "And Dave referred to Rutger as the brother he never had."
5. "Hobo" is a throwback to Eisener's childhood.
Eisener says he and Davies grew up "basically raiding pawn shops for VHS tapes" and worshipping exploitation films with titles like "Dead-End Drive In." During the summer, he estimates they watched about five films a day. "So when the 'Grindhouse' contest came up, we were pretty set—we knew the genre," Eisener says. He names Walter Hill's 1979 cult film "The Warriors" as his all-time favorite. "That movie just flipped my world upside down. It showed me how cool a movie could be and made me want to do what [Hill] did. So you can see a lot of 'The Warriors' in 'Hobo.' "