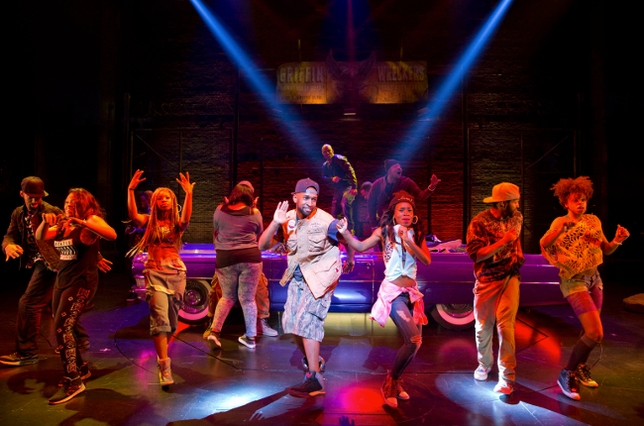 When news hit that a "Tupac musical" was in the works, theatergoers were downright skeptical. The pieces didn't seem to fit: Broadway hosting the music of a gangster rapper gunned down at 25? Gang violence and East Coast–West Coast rivalry are the images that have stayed with those who only casually know of Pac, but for fans of his music, songs such as "Changes," "Dear Mama," "Thugz Mansion," and "California Love" remain cherished, poetic tracks from a prolific artist who sold over 77 million records worldwide.
"Tupac's writing is naturally theatrical," says Kenny Leon, the Tony-winning director of "Holler If Ya Hear Me." "He has character and passion, and all of that is in his songs in such an organic way, so to bring it to the stage wasn't as difficult as it seems. It is going to be difficult to say to young people who have never been to Broadway, 'This is where you can go and hear your voice.' And it's going to be difficult to say to the traditional audience, 'This is just like any other Broadway show.' "
"Holler If Ya Hear Me," now playing at Broadway's Palace Theatre, appropriates Tupac's words and seamlessly weaves them into the nonautobiographical story of John, played by actor-poet-rapper Saul Williams. After a long stint in prison, John returns with a simple desire: to make enough money to eat and pay his rent. The conflict lies in his old friend Vertus (Christopher Jackson) and the rest of his neighborhood block who are still caught up in the game of the streets.
The subject matter might draw comparisons to "In the Heights," but "Holler" brings an element of rawness missing from the Lin-Manuel Miranda musical about Dominicans living in Washington Heights. The anger and frustration of "Holler" is palpable as the show teases out themes of friendship, second chances, and real hip-hop culture. "I'm pretty tough about what is truthful and what is authentic," says Leon, who made his actors do pushups when one broke character. "I guess in all my shows I'm the judge of what is truthful and honest, but I'm always trying to build the production around the actors I have cast."
Leon says casting was a challenge. "I needed a little bit of krumping here, a little dance here, a little bit of singing here, a little bit of acting here." The final company spans the range of Broadway experience, from vets like Tony winner Tonya Pinkins and Saycon Sengbloh ("Motown The Musical") to Williams, who's making his Broadway debut with a show that hits home. "Broadway is just discovering Pac—not us," he says, laughing. "We're just welcoming people into the sanctuary, so to speak."
Williams, who's been training as an actor since he was a child, says that when he was attending NYU's graduate acting program he would transcribe rap lyrics to create contemporary monologues. "What pissed me off was I remember specifically studying Shakespeare with Deb Hecht over at NYU, and we were all in awe of Shakespeare and what he put into the English language," he says. "I remember hearing some of the other students saying, 'Oh my God, this will never happen again.' And I used to arrive to class early and write, like, Wu-Tang, Rakim, and Pharoahe Monch lyrics on the board, and encourage the kids and the teachers to read them."
Years later, Williams, together with the "Holler" team, offers the same encouragement, hoping to reach "all kids and people from all backgrounds." The motive inspired student-priced tickets and lower price points on some regular tickets. But there's also the hope that it extends beyond Broadway; if not with the production itself, then with the ideas and people it puts forward. "When a student in Iowa or Texas walks into their classroom with a Tupac T-shirt," says Williams, "instead of the teacher grimacing, the teacher may now go, 'Oh, I've heard about this guy. Maybe I'll go check him out when I get home tonight.' And maybe the teacher and the student will have something to connect on."
Inspired by this post? Check out our musical theater audition listings!