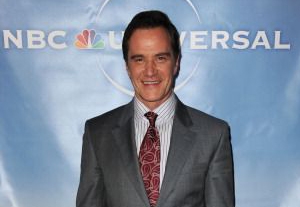 Tim DeKay has played such varied roles as Bizarro Jerry on "Seinfeld" and the disabled carnival co-manager on HBO's "Carnivàle." Now the veteran actor returns as FBI agent Peter Burke on USA's "White Collar." But it's impossible to pigeonhole DeKay. As his long list of credits shows, he's quite the chameleon, but his role on "White Collar" as an FBI agent who is also a reluctant confidant to con man Neal Caffrey (Matt Bomer) may be the closest onscreen incarnation of his real self. To those waiting for a resolution to the series-long music-box story line, he offers this reassuring tidbit: "To pardon the pun, it will be closed by the end of the season."
DeKay recently spoke with Back Stage, discussing such topics as his long career, his philosophy on acting, and the possibility of directing an episode of "White Collar."
Back Stage:
You've played a doctor on "Party of Five," a reverend on "Everwood," a husband struggling with intimacy on "Tell Me You Love Me," and now "White Collar." In retrospect, did your career choices stem from where you were at that particular point in your life?
Tim DeKay:
That's a good question. I think partly, the roles that we get as actors, part of landing a role, is informed by what we're going through in our life. And that may not necessarily mean that if you were going through a tough time, you'll get tough roles. It could be just the opposite. You [could be] having a tough time in your life and you're answering what you love about acting by doing roles that are very joyous, and vice versa. As far as what I was planning to do, what roles I hoped I would get, it really came down to: I would just throw it out there and audition for whatever roles my manager and my agent thought would be good, and whichever one stuck, that's the one I did.
Back Stage:
Are you picky about accepting roles?
DeKay:
I can't say yes to everything, but I love to act, and if the role is anywhere near the world that I could perform in, I will do it. I think—and I can't speak for everybody—sometimes actors say they're "choosy" with roles because they're afraid to go on the audition. And I know I've been guilty of that myself. Yes, you have to think of your career, you have to think of how the industry views you, and you certainly don't want to be typecast, but part of me says, "Just go act. Just pick a role. You'll know which role you don't want." If you start to find yourself saying no to a lot of auditions, there might be something else that's speaking to you that's fear, more than being overly choosy.
Back Stage:
Was the audition process for "White Collar" easier for you, having been on so many shows and films?
DeKay
: It is now, yes. There are certainly steps that I don't have to take anymore when I audition, and also there are times when roles are offered to me. If it's a big feature film, not a lot of times are roles offered to somebody like me, but if it's television, I'm fortunate enough to get them.

Back Stage:
Having been on some heavy dramas, did your approach change when you slipped into the character of Peter?
DeKay:
It did. That came from from [creator] Jeff Eastin's writing. What came out to me in the script more than anything was the intelligence and the heart—and I should probably add humor to that, as well. I felt that that was the essence to the show and the key to its success would be to make sure that the audience knows that [Neal and Peter] like each other. When it comes down to it, they may not want to admit it right away, but these two guys like each other.
Back Stage
: Peter did catch Neal in the past and now they're working together.
DeKay:
I think the other would honestly jump in front of a bullet to save the other. Just like in any relationship, it's compartmentalized. There are parts of their relationship where they still don't trust each other.

Back Stage:
The relationship between Peter and his wife, Elizabeth [Tiffani Thiessen], took a back seat in the first half of this season. Will we see more of their home life?
DeKay:
We will get back to their home life and I think we'll get back to it even more in Season 3. In fact, Elizabeth helps out with some of the cases.

Back Stage
: Was there a moment in "White Collar" that defined Peter in the sense of who he was and what he wanted to achieve?
DeKay
: There's a scene in the pilot where Neal reminds Peter that his anniversary is coming up. It just crushes Peter because he loves Elizabeth more than anything, but yet he gets lost in his work and he sometimes forgets to do those kinds of things. I think it's there where you're able to see how these two can really help each other, because Neal helps Peter with his relationship with Elizabeth and that then seems to inform me as to where Peter's mind is.
Back Stage:
In the winter premiere, Peter gets caught on the wrong side of the investigation. Did that change his perspective on criminals and what they go through?
DeKay:
It did. In the first half of the second season, Peter feels duped by the FBI in general and he's always been a loyal company man, and that ideology was taken from under his feet. So he's dealing with the fact that the FBI is not always a perfect world. In the second half of this season, something happens where Peter is really put on the other side—a number of times. The thing about Peter is that, yes, he's a company man and he believes in the FBI. But above that, he believes in what's right and may not always—at the time—agree with FBI protocol, but in the end, it's the right thing to do.
Back Stage:
Next is the flashback episode where we see how Neal and Peter first met. What was Peter like back then?
DeKay:
Peter had longer hair and—as one reporter or blogger put it—we're back to "Magnum" Peter Burke. [Laughs.] I'm so glad that we don't have to do the mustache in the present tense. Elizabeth was probably the one who prompted him to grow it and she's the one who prompts him to stop growing it.
Back Stage:
You've directed before. Would you try your hand at directing an episode of "White Collar"?
DeKay:
I would. That's in the plans, I hope. Fortunately, when you're on a show, if you're able to direct that show, you have crew that you've gotten to know so well, like a DP in Russell Fine, and it becomes much more of a group effort than you completely taking charge as the director. It's a safe environment to be able to direct on a series that you've been starring in.