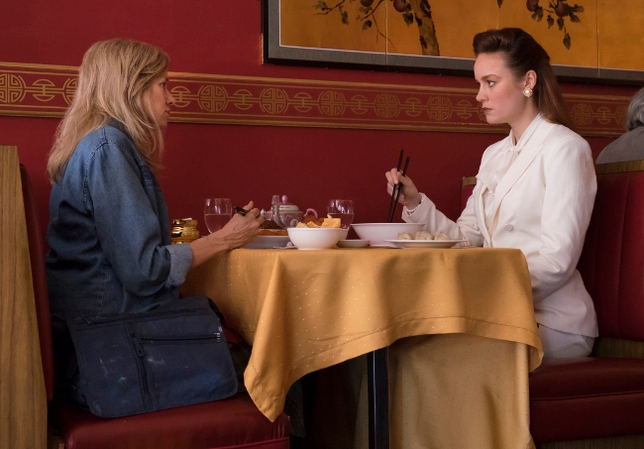 If there's one skill present throughout Destin Daniel Cretton's catalog, it's the 38-year-old filmmaker's ability to turn a hyperspecific experience into a universally relatable lesson. He did it with the 2013 drama "Short Term 12," using a foster home supervisor for at-risk teens to toast the vitality of uncertainty, and now he does it again with "The Glass Castle," an adaptation of Jeannette Walls' best-selling 2005 memoir about her dysfunctional parents and unconventional upbringing. Cretton cast a starry trio—Brie Larson as Walls; Woody Harrelson as her father, Rex; and Naomi Watts as her mother, Rose Mary—who together juggle nine child actors, as well as the actors who portrayed their adult roles.
Narrowing down the book's events to make the film was neither quick nor easy. What stuck out, however, was the self-reflective process of filtering through and redefining childhood memories in your mid-20s. So Cretton focused on the book's most prominent example of that: Jeannette's relationship with her father. "I think a lot of people have someone in their life whom Rex reminds them of," says Cretton. "[Jeannette] doesn't need to forgive him. She just needed to accept that he, like her mom, was damaged." Similarly, Cretton says that once he learned to see his own relatives as whole individuals, it became easier to have empathy for the way they react to the world. He then employed that personal insight in the film.
To establish a deep family dynamic among his ensemble, Cretton organized social events while shooting, from coordinating an Escape the Room venture to picnics with the kids. Not unlike Larson's relationship with actor Jacob Tremblay on the set of "Room," Cretton says the Oscar winner played a huge role in making her child co-stars comfortable. "A lot of the games allowed a type of silliness to come out, which I think helped the younger actors feel more free," he says. "That's the type of thing you can't orchestrate." But the children offered a trick of their own, too: "Kids bring a joy and innocence to a film set that is pretty contagious. It's a nice reminder on a set where things can get stressful, because that's all we're doing: playing make-believe."
Harrelson also built a surprising relationship with his kid co-stars. "If Woody was on set, little Jeannette [actor Chandler Head] was always asking where he was. She loved him so much," Cretton recalls. It made the two actors' shared flashbacks in the film feel that much more authentic.
READ: 2 Simple Exercises for Authentic Performances
Authenticity was further brought to the screen by each actor's individual choices. Watts, for instance, practiced steadfast, calming body language, exuding a mother's natural urge to support the family while fear lingers in her eyes. "She really did study her body language, the way she talks, and her philosophy on life, which is this extraordinary positivity in the face of extremely difficult circumstances," Cretton says of Watts' preparation to play Rose Mary. The cast would also check in with one another on set. "I think all the actors were so collaborative, smart, and easy to work with that when we went into a scene, if things weren't feeling authentic, we could all feel it. We would stop and discuss. Sometimes that direction came from me, sometimes it came from them, but one of us would voice it and then try a new way to make it feel right."
The way in which Cretton collaborates with—not just directs—his actors is ultimately what pushes "The Glass Castle" from the personal to the universal. He says that being "soaked in this book" and its adaptation reminded him (and now audiences) that "as good or bad as your past is, it can still be a positive thing for you depending on how you accept it." Cretton and his "Glass Castle" illustrate that better than any string of words can.
Are you ready to bring authenticity to the big screen? Check out Backstage's film audition listings!