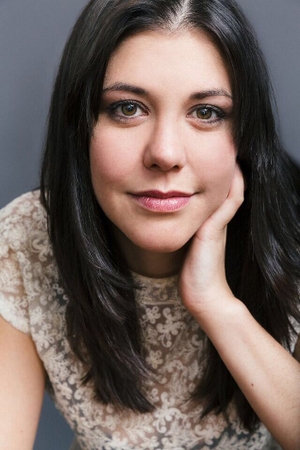 One of 2015's most acclaimed Off-Broadway offerings, "Small Mouth Sounds," is currently on a revitalized 14-week run at the Pershing Square Signature Center until Sept. 25. Zoë Winters ("Red Speedo") stars as Alicia, a troubled woman in search of a change.
On 'Small Mouth Sounds.'
"The play takes place at a silent retreat, and it follows the story of six individuals going through the ups and downs of life. Everyone's showing up with a desire for change and a need for change. That's at the forefront of their experience. There's this very active and desperate need for their life to be going differently than it is."
On getting cast in a nearly silent play.
"The script is very much a script, and I think for people who come and see the play, that could be misleading because there's no dialogue so you're kind of wondering what was on the page. But [playwright] Bess [Wohl] has been extremely detailed and sensitive with laying out all the information. I felt very taken care of as far as who these people were, what they wanted, what their history was, and why they've shown up here."
READ: "Bring Your Passion to Other Aspects of Your Life"
On audience reception.
"Because you're not getting all the details, I think people come in and they fill in their own stories to a certain degree. A lot of people have said they leave feeling like they've been at a silent retreat and that they've gone through it with us…. It's a really funny play, and then it goes to a really deep and cathartic place, and the audience totally goes with it."
On having fun in the audition room.
"I think auditioning can be fun. It's your time to take the room and try to shift the energy and try to make something exciting happen and make everybody feel like things are possible."
On auditioning for 'Small Mouth Sounds.'
"I'll tell you the story for this audition: So this audition was the first scene, and [my character comes] in a little bit late and everybody's looking at me and the teacher is pausing for me to get settled. And then he says some words about how this entire week, we're going to be observing silence. The script was very clear, but it's also an audition, so I feel like there's room to give them a theatrical experience…so I recorded myself saying, 'Take birth control,' [and] I could use it as an alarm sound. And so I went into the audition and I set my alarm for two minutes, thinking that's how long the audition would take. And somehow it just worked out great, and right when the teacher said that we'll be observing silence, my alarm, thankfully, went off. 'Take birth control, take birth control.' It was great."
Want to star in an Off-Broadway show? Check out our New York City audition listings!