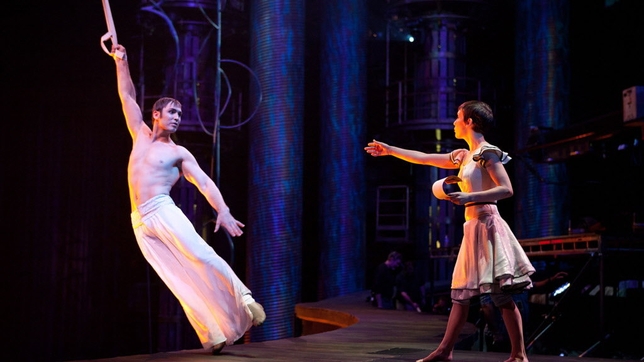 When Cirque du Soleil first approached Andrew Adamson to bring its stage shows to the big screen, the Academy Award-nominated director of "Shrek" and "The Lion, the Witch, and the Wardrobe" admits he was hesitant to pursue the project.

"I was a little concerned at first, because I didn't know whether it would translate well from stage to screen," says Adamson, an avowed Cirque fan. "It's such an art form in its own right. I didn't want to be the person to do that badly, so I had to give it some serious thought. If you just filmed the show and put it on the screen exactly as it existed in the theater, I don't think it would draw you in in the same way."

So to take viewers into the worlds of the stage productions in a new way that would be unique for film, Adamson envisioned a narrative about a young woman (Erica Linz) who becomes enamored with an aerialist (Igor Zaripov) and follows him through a series of dreamlike landscapes trying to find him. The result is a greatest-hits collection that weaves together acts from seven of Cirque's Las Vegas creations—"O," "Mystère," "Kà," "Love," "Zumanity," "Viva Elvis," and "Criss Angel Believe"—captured in 3D in "Cirque du Soleil: Worlds Away," now in theaters.

"We needed to find a way in, and that involved a story that had a little bit more of a narrative, and had a bit more of an emotional arc to it and characters that we could relate to," Adamson says. "The film was created in a similar way to workshopping a Cirque show, to be honest. We sort of developed the story and the methodology as we went along."

Adamson and executive producer James Cameron took advantage of 3D technology, slow motion, and underwater cameras to show Cirque du Soleil's acrobats and aerialists in ways theater audiences could never experience. Most importantly, they were able to get up close to the performers in the middle of the onstage action, offering angles that would be impossible to see from your seat in Vegas.

"Because in the shows we would shoot three or four times, with up to 11 cameras running at a time, we do enable the audience to in effect sit in any number of different seats," Adamson says. "They can be sitting in the back row watching it, then they can watch it from the front row, and then they can watch it from the stage. So with any act, you get to move around and see it from the best vantage point for that moment."

A new aerial "love dance" was designed and choreographed specifically for the film, but most of the performances are excerpted from the stage versions. That's because Cirque du Soleil's circus acts feature such dangerous, death-defying stunts, Adamson had to defer to the performers and stage crew to determine where to put the cameras and how to shoot the action.

"That was one aspect that was very different from traditional filmmaking," Adamson says. "They knew what they were doing, and we had to rehearse to keep up with them. In terms of an actual shooting process, it was the inverse of how it normally works." He laughs and says, "I call this one of the biggest experimental films ever made. It ended up being approached that way because it was something that hadn't really been done before. Initially they were quite afraid of us getting on the stages, because of the safety restrictions."

Adamson wanted to make sure movie audiences would understand the danger of every onscreen movement, too. "That's why I didn't do any wire removal or get rid of harnesses [in post-production]," he says. "If there was a harness there, then you see the harness. If there wasn't a harness, then you don't see it, and therefore you know it's more dangerous at that point. When you see this little girl hanging by one leg 40 feet in the air with nothing underneath her, you know that it's dangerous because we haven't tricked you at any of the stages leading up to that."

"Cirque du Soleil: Worlds Away" is in theaters Friday, Dec. 21.