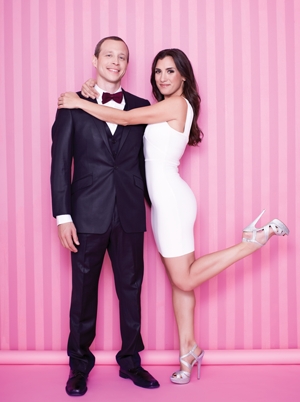 Micah Hauptman + Annika Marks
Micah Hauptman and Annika Marks are celebrating a fantastic year. In May, the couple of three years got engaged. A few months later, Marks was seen onscreen in her first major film role in "The Sessions," opposite Oscar nominee John Hawkes. And just last month, Hauptman starred alongside Jason Statham and Jennifer Lopez in his biggest role to date in the action thriller "Parker." After years of struggling to break through as actors, doing TV guest spots and theater, the pair find themselves enjoying red carpets and interview requests—and it's made all the sweeter by the fact that they're able to enjoy it together Says Hauptman, "To be honest, I think I'm more excited about her successes than my own. And I'm really excited by my own!" Adds Marks with a laugh, "The actors that celebrate themselves are obnoxious. But it's so fun to celebrate the person you're in love with."
It may or may not be a coincidence that things began to change in both their careers when they first met at an audition for an AFI short film called "The Mushroom Sessions." The 25-minute movie focuses on a couple who go camping in an effort to repair their relationship. They wind up doing mushrooms, and secrets and long-buried feelings are revealed
throughout the night. "I feel like we got to have the worst breakup ever on film before we became a couple in real life," says Marks. "So we were like, 'Let's never let that happen.' "
The short went on to garner both actors a lot of attention. "It was the thing that finally got us started in terms of people wanting to meet with us," says Hauptman. Marks ended up signing with Hauptman's managers. Marks, who says she had always been "the happiest unsuccessful actor ever" doing 99-seat theater and producing short films, agrees, noting, "Something shifted after doing that short and meeting Micah."
Both dated other actors before but say they never found such a collaborative relationship. "Dating a non-actor is tough, not just for you but for them," Marks says. "What's great is we can work together on scenes, we can read scripts and pass them back and forth, we can be each other's scene partners." In fact, both were called in to audition for "The Sessions," and each took turns reading Hawkes' role for the other. They even went to their audition together. "I went in, and it was probably one of the worst auditions I've ever had," Hauptman says. "I was terrible. I came out, and Annika went in and had the best audition ever."
Shortly after Marks shot her breakthrough role in the film, Hauptman was surprised to find himself landing a sizable role in "Parker" as a colorful hit man. "Honestly, I think they offered it to a star who turned it down," he says. "I auditioned for director Taylor Hackford, and he really stuck with me through the whole process."
Next up, the pair hope to work together. Both are writers and producers and are producing a film based on Tim McNeil's play "Anything." And they hope to write something for them to do together. "We have a real mutual admiration for each other and each other's work," Hauptman says. "We're not competitive in the least, and we love celebrating each other." Adds Marks, "We're incredibly lucky to be in the same place at the same time. We both struggled for years, and it's amazing to be side by side, going through PR for our first big films. It truly feels like a team effort."
Ryan Spahn + Michael Urie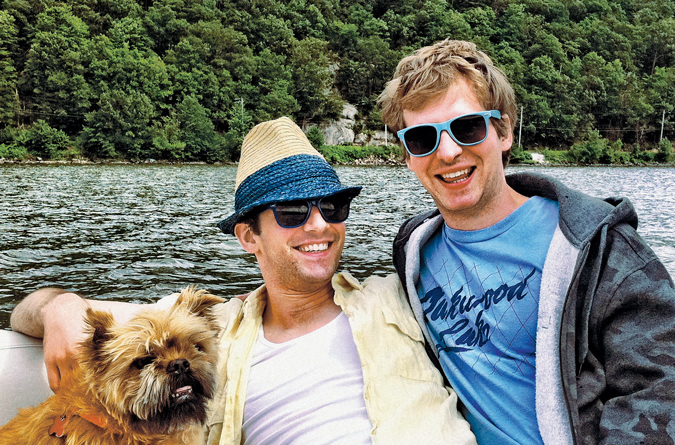 For actors, art often imitates life. For Ryan Spahn and Michael Urie, their life has begun to imitate their art. The pair just returned from the Slamdance Film Festival, where they premiered "He's Way More Famous Than You," in which the real-life couple of four years star as a couple onscreen. But they are involved behind the scenes as well; Spahn co-wrote the script with Halley Feiffer, and the film marks Urie's feature directorial debut.
The comedy centers on an actor (Feiffer) who endures multiple humiliations to get her movie made, dragging along her brother (Spahn) and his boyfriend (Urie). All the actors use their real first names, and one scene even details Feiffer and Spahn trying to convince Urie to direct their movie. Spahn admits that the film began to mirror real life during the writing process. "While working on the script, we started to realize how meta it was, that we were all playing versions of ourselves," he says. "I knew Michael had been wanting to direct a feature, and we approached him with the idea. It played out very much the way it does in the movie, with him kind of caught off guard."
Urie, best known for four seasons of stealing scenes as devious but lovable Marc St. James on "Ugly Betty," had previously directed staged readings and a documentary called "Thank You for Judging" and had long wanted to make a feature film. "Ryan really made it possible for me to start directing with this movie," Urie says. "They wrote something great and had the vote of confidence to use me. I really owe any directing career I have and will have to Ryan and Halley." For his part, Spahn notes Urie was the perfect man for the job. "He's an amazing director," says Spahn. "Michael creates an encouraging atmosphere where people are allowed to play around. Nothing is discouraged. It's called a play because you should feel like you're playing, and that's how it feels when we're working together."
The pair initially met years ago through a mutual friend, when both were living in Los Angeles, and planned to go on a date. Urie had to cancel at the last second when a friend suddenly passed away, and the two spent the next couple years meaning to get together. But Urie was busy with "Ugly Betty," and Spahn made the move to New York for a change of scenery. When "Ugly Betty" moved to New York in 2008, they reconnected through another mutual friend and have been together ever since. Urie even encouraged Spahn to attend Juilliard, Urie's alma mater, where Spahn is currently a BFA drama student.
As actors, they previously starred together in the play "Tape" at the Vineyard Playhouse in 2011, an intense show in which they played high school friends who meet up years later. "It's very dark and tough," says Urie. "It wasn't a romantic play, and it certainly wasn't romantic for us to do together. It's written very conversationally, and the lines are hard to memorize, which was tough for us. We were playing these aggressive characters fighting with each other for 70 minutes, and then we would go home and learn our lines and fight about that." Still, it was a positive experience for both, and mere weeks after finishing the play, "He's Way More Famous Than You" got the green light.
The duo have since been collaborators in two other films, both in postproduction; Spahn wrote and appears in "Grantham & Rose," which Urie produced, and produced and stars in the short "The Hyperglot," which Urie directed. And "He's Way More Famous Than You" will have a VOD and theatrical release in the spring. Overall, both say, working together has been remarkably smooth. "The biggest challenge is to have a home life when you're working on something because work inevitably comes home with you," says Urie. "Working on the film took up everything. But it was such a dream come true for both of us, most of the time was just pure joy."
Stuart Gordon + Carolyn Purdy-Gordon
Stuart Gordon has killed his wife so many times, he can't remember them all. "Oh, I've lost count," says the writer-director of such horror classics as "Re-Animator" and "Dolls." He adds, "It's been at least half a dozen times. Then I did a movie where I didn't kill her, and she was like, 'Don't you love me anymore?' " His wife of 44 years and mother of his three children, actor Carolyn Purdy-Gordon, says she doesn't mind the grisly demises in her husband's films. "You get a lot of attention when you have a death scene," she says. "Everyone is really nice to you on that day!"
The Gordons have been together since 1965, when both were 18-year-old freshmen at the University of Wisconsin. Of course, they met in a way that would befit a Hollywood movie. "I drunk-dialed her," Gordon says. "It was the first time I'd ever gotten drunk, and I dialed a number at random on the campus telex system." The next day, Gordon called to apologize, and the two began talking. In many ways, they have never stopped. After a few weeks of phone conversations, they made plans to meet: The first time, Purdy-Gordon got cold feet; the second time Gordon stood her up as payback. One day, the two were talking and Gordon told her to come downstairs to the lobby of her dorm, where he was calling her from. On meeting, the two became completely tongue-tied.
Purdy-Gordon was a nursing student with no artistic aspirations, while Gordon was interested in filmmaking, but the one film class was already full. Instead, he became a theater major and began what would become a trend of controversy with his first play, "The Game Show," in which audience members were locked inside a theater and made to think they were in danger. When the show was produced in Chicago, Gordon says, "I got the best review of any show I've ever done. It said, 'This is the most exciting theater I've ever seen, and it should be closed immediately.' " Also not a fan: Purdy-Gordon, who broke up with him over the show. To this day, she says, "we just don't talk about it."
Because she had dance training, Purdy-Gordon first worked with Gordon on a 1968 version of "Peter Pan" designed to protest the Vietnam War—the pair were arrested on obscenity charges. But it wasn't until they were married and running the Organic Theater Company in Chicago that Purdy-Gordon discovered her love of acting. An actor had to drop out of a production of "The Odyssey" at the last minute, and Purdy-Gordon took over because she knew the lines. "I think I was hooked the first time I got applause," she says with a laugh. But Purdy-Gordon went on to be a star in a company that included the likes of Joe Mantegna and Dennis Franz, even originating the lead role of Deborah in the world premiere of David Mamet's "Sexual Perversity in Chicago."
Since Gordon became a filmmaker with the 1985 cult hit "Re-Animator," Purdy-Gordon has gone on to appear in most of his films, and he says he's working on a new one with a part for her. He is also working on a play, a dark comedy called "Death With Benefits," in which Purdy-Gordon will star. She has worked for other directors but says, "The most fun I have is working with him. I like the way he works and I understand it, for the most part." Echoes Gordon, "I love working with her too. I always know I can completely depend on her, and I like actors that are willing to take chances. And she's the bravest actress I know. Bravest woman I know, actually, to be living with me all these years."