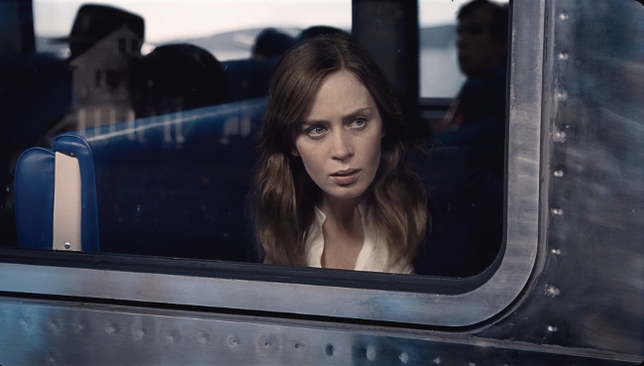 Tate Taylor has coined a new term for the genre of film between drama and thriller: a "driller."
"A lot of times in a thriller there's not room for depth of character," explains the writer-director. "It's emotion and it's a build. If you look at a lot of classic thrillers, like Hitchcock—who was just a master—the characters weren't really that deep. You knew there was an issue and they just had to make it out alive."
Not so with "The Girl on the Train" (in theaters Oct. 7), Taylor's buzzy new follow-up to his acclaimed "The Help" and "Get On Up." Adapted from Paula Hawkins' hit 2015 novel, the film stars Emily Blunt as the titular girl: Rachel, an alcoholic divorcée who develops an obsession with a couple she glimpses through her train window every day. When Dreamworks reached out to Taylor ("It's told from three women's point of view, and we had a pretty good run on 'The Help,' so I think they decided to call me up"), he discovered upon reading the book a true depth of character in its female narrators.
"I really liked exploring who these three broken women were and getting to know them," he remembers. "I liked a lot of the subject matter beyond the thriller aspects."
WATCH: "Emily Blunt Goes Off the Rails in 'The Girl on the Train' Trailer"
His job, then, was to straddle the line between gritty drama and pulpy thriller aesthetics, the latter of which he had little experience shooting. "We all kind of dove into the classics," says Taylor, who drew inspiration from dark erotic fantasies like "Body Double" while filming. "Shooting a thriller is visually a lot more technical than a straight-up drama. It's fun to think about how you frame something so the element of surprise is brought to the front."
All the while he found ways to ground the ambitious, thorny, and true-to-life source material from Hawkins. "This movie deals with alcoholism and addiction and loneliness and loss and settling. And you just can't gloss over those subjects."
Tackling those issues head-on was Taylor's fearless cast, including Rebecca Ferguson, Haley Bennett, Justin Theroux, Luke Evans, Allison Janney, and Lisa Kudrow. Led by Blunt, who unflinchingly exposes Rachel's basest impulses and wears them on her bedraggled face, the actors in "The Girl on the Train" collaborated closely with Taylor to deliver performances as thought-provoking as they are nail-bitingly tense—and did so during rehearsals full of improvisation.
READ: "Emily Blunt Takes Us 'Into the Woods' "
"When I have the rehearsal process, I have it in my home, and usually it's around food I prepare and we really talk about it," says Taylor. "Often as part of my writing process, we improv together. I act with them to come up with a natural way of saying something that complements the character they're developing.... Kind of like wanting to paint your house, putting up a paint swatch, then putting up another one and going, 'That didn't work.' " He and Blunt, he adds, built up an intimate trust even before stepping onto set.
"Emily was great, and I don't think she's worked with somebody as collaborative as I am," he says. "That's how I am with all actors. I attribute that to coming up through the Groundlings program and being an actor myself—being frustrated when I was told how to say a line and not miss a single word. I would think, they're missing out because I know how to make this better."
In fact, so central is Taylor's training to all facets of his career, his No. 1 piece of advice to any Hollywood-bound performer is to take improv classes. "Having a good understanding of improv makes you loose and gives you the ability to take direction better and not freeze up. If you're really good at improv, you're craving direction because you want to flex that muscle."
That looseness can benefit those behind the camera, too. When it comes to making adjustments or talking through moments that aren't working, directors who have worked in improvisation tend to communicate more effectively. "A lot of directors don't understand acting and the emotional torture we put ourselves through," Taylor says with a laugh. "Whether it's acting, writing, or directing, I really think you should train in improv."
Want to star in a buzzy dramatic thriller? Check out our film audition listings!