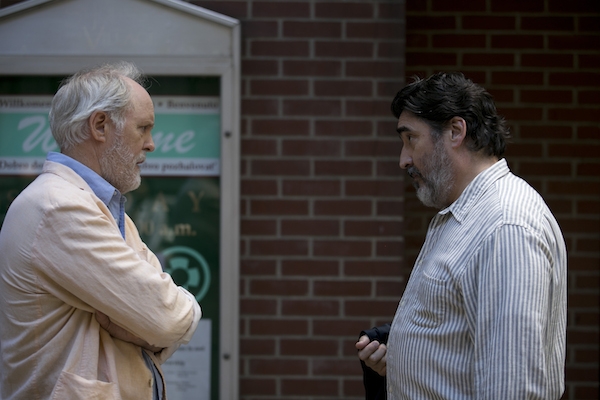 Written and directed by Ira Sachs, "Love Is Strange" needed a cast with the talent of his caliber to bring the drama to life.
"We were just looking for two talented actors to be honest," says the film's casting director, Avy Kaufman, who's worked with Sachs before ("Married Life," "Keep the Lights On"). "They're two exceptional actors and the chemistry is all up to them, and the chemistry was just beautiful."
Kaufman says this referring to the film's stars, Alfred Molina and John Lithgow. The two play life-long partners who are forced to sell their New York City apartment and move in with family and friends when George (Molina) is fired from his Catholic school teaching job after marrying Ben (Lithgow).
"Ira's a really beautiful writer," Kaufman says. "I mean, I never know what the film's gonna be like but the message is clear—the warm message and the opening up of life. He always has a story to tell so I was very excited to get the call and read the script."
That message was a sense of vulnerability, Sachs told Backstage. "Intimacy is something to be cherished and intimacy is not something to be afraid of," he says.
Kaufman had no troubles finding the right actors to bring Sachs' story to life. "The greatest thing is when all of a sudden everybody started accepting and it started becoming a real cast, a real show," she says, referring to the film's long roster of actors including Marisa Tomei, Cheyenne Jackson, Darren E. Burrows, Adriane Lenox, and others.
The roster proves you don't need a big budget to get big talent, even when it comes to the smaller parts played by some great New York stage actors: Jackson, Lenox, and Sebastian La Cause.
"When I walk into a low-budget film I know what I'm walking into and want to be clear to the agents and everyone else that this is what we can pay and this is the best we can do," explains Kaufman.
"I had a script that actors of the caliber were drawn to for reasons others than economic," adds Sachs. "I think that they saw, in the film, a kind of possibility for performance and story that they were thrilled to be involved with."
Want more? Check out "The 1 Thing That Fueled Ira Sachs' Romantic Drama 'Love Is Strange.' "