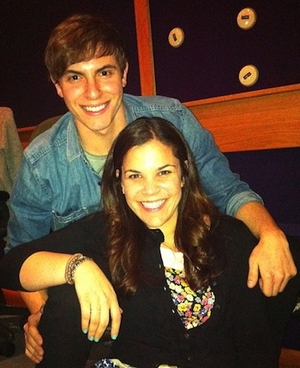 Originating a character is an actor's dream. However, after the show's run ends, the performance only lives on as a memory. Until the cast recording comes along, that is.
This season's Off-Broadway hit musical "Dogfight" had the opportunity to immortalize its score—by rising composing duo Benj Pasek and Justin's Paul—along with the performances, thanks to Sh-K-Boom Records. The label will release the album for digital download on Tuesday.
"Without an album, it's as if the show didn't exist," says Kurt Deustch, CEO of the label. "This show has so many songs that musical theater students or young actors are going to audition for summer theater or colleges with. It's about them."
Based on the 1991 film starring Lili Taylor and River Phoenix, "Dogfight," which is nominated for a Lucille Lortel, Drama League, and Outer Critics Circle awards for its run at Second Stage, tells the story of marine Eddie Birdlace and waitress Rose Fenny. The unlikely couple meet when Birdlace asks Rose to come with him to the dogfight—a competition for who can find the ugliest girl—and evolves into a heartfelt story.
We spent time in the studio with the creative team behind the musical and chatted with the show's leads, Derek Klena and Lindsay Mendez, about tips for performing in a vocal booth, how to create onstage chemistry, and what makes working on new musicals so special.
Keep It Intimate
Klena, who made his debut as a leading man in "Dogfight," finds recording an album to be more difficult than performing on stage. "Because you hear all your flaws and everything's so nit picky," he explains. "In the atmosphere of a show, it's a lot easier to get into your character and not really worry about how it's sounding and kind of just play it as it is. You've rehearsed it enough so that it's somewhat muscle memory vocally and you just act it. [In the studio] you have to have the same intensity and the same mindset as the character again but then you have to focus more on the vocals than you did before."
Make it Fresh
When asked if she feels any pressure immortalizing the role on the recording, Mendez quickly quips, "Well, not until you said that, but thank you so much!" Truth be told, she had never heard another actor sing any of Rose's songs before the production and still hasn't. "I feel pressure to do it justice, absolutely," she says. "But it's not hard to try to make it great because it is great. Because they've done all the work for me. They've written this beautiful character. And I just get to go out there and say the words and live in her body. It's actually really easy." Klena, who grew up idolizing the likes of Norbert Leo Butz and Raul Esparza, feels honored to be creating a performance that other actors will be looking to. "There's a couple special songs that you know people are going to do at every concert and cabaret and audition," he says. "It's fun to know that they're going to be listening to you and trying to replicate what you did and what you and the team created. To be a part of that creative process is awesome."
Be Confident
For Mendez—who is known for her powerhouse belt—"Dogfight" presented a new vocal challenge. "I'd never sung onstage like this before," she says of the show's nuanced tone and mixed range. She also had doubts about her ability to lead a show and was intimidated to work with director Joe Mantello. Those fears immediately subsided on the first day of rehearsal, and Mantello spent time in the studio with Mendez helping shape her performance for the album. Still, the journey that Rose takes is a tough one for any actor. "She goes through something really hard for any woman," explains Mendez, who is nominated for Outer Critics, Drama League, and Drama Desk awards for her performance. "You're in a show about men bringing ugly women to a party. Automatically when you tell people about the show they're like, 'Oh, but you're not ugly.' I started feeling really kind of terrible about myself for a while… It was a big journey for me but I learned so much from it and the validation of people loving the piece and understanding it and being heartbroken by it. This gave me a newfound confidence that if you're surrounded by amazing people, you have no choice but to get on board and try your best to stay up with them."
Collaborate With Your Co-Star
Klena and Mendez knew that the success of the show hinged on their characters' central relationship, and therefore, they spent a lot of time hanging out together and working the material. "I trust her with everything," Klena says of their relationship. And thanks to their successful run in the show, they've had the opportunity to continue working together on projects. "We get paired together in a lot of concerts and readings and such because people saw us in 'Dogfight' and they thought we were such a good match," says Mendez. "And we agree, we're like, 'Great, we'll take it!' We love to work together. We're vying to be the new Broadway sweethearts!"
Do Everything
Mendez is a bit of a songwriter's muse. She's worked with a slew of up-and-coming composers and songwriting teams such as Ryan Scott Oliver, Drew Gasparini, Tim Rosser and Charlie Sohne, and Pasek and Paul. While it might seem like she is everyone's go-to girl, Mendez began curating those relationships early on in her career and now gets to benefit from her longtime friends' successes. "Go to the colleges where there are new writers coming out and see if you can volunteer to be in a reading or a concert," Mendez advises actors. "Do everything for free. Doesn't matter; it's about making those connections with the writers and getting them to want to work with you and want to write for you and want to battle to keep you as they go down the line."