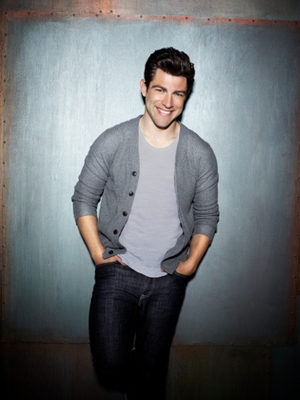 Schmidt once referred to himself as a "depraved freak" who wants to "wander into your Narnia of sexual terror and emerge like a freshly birthed calf."
Played by Max Greenfield, the perpetual filler of the "douchebag jar" has been the crass but lovable roommate on "New Girl" for three seasons. Greenfield was nominated for an Emmy Award for the first season and then for a Golden Globe in 2013, but it was the Teen Choice Awards that most aptly nominated him (two years in a row!): for male scene stealer.
For those not familiar with the entity that is Schmidt, he once pretended to be Mitt Romney's spawn to get laid (it didn't work); he incorporates the word "hashtag" into his regular vernacular; and he's a self-proclaimed goofball. He balances it all out with astute fashion sense and rare glimpses at his genuine feelings, but more times than not Schmidt's a bro's bro. And regardless of the ridiculous things constantly spewing from his mouth, audiences love him.
"As much as you're repulsed by him," says Greenfield, "you also kind of respect him because he's doing it well and kinda killing it."
Over the show's run, Greenfield and the "New Girl" writers have both reveled in Schmidt's silly side and revealed hidden depth.
"I think, at his core, he'll always be the same, but his overall motivation has changed," explains Greenfield. "You had this fun-loving character in the beginning who was very driven in terms of going after career and women" but falling in love with Jess' best friend Cece (Hannah Simone) was a "turning point in his life."
From Greenfield's perspective, Schmidt's narrative focuses on personal growth. "Now he has a bar that's been set in terms of being with a woman, and I think being with anybody else doesn't live up to what it was like when it was her. He experienced real heartbreak and hasn't fully recovered."
For the actor, "New Girl" allowed him to recover his career. When Schmidt first came around, Greenfield was nearing a breaking point, feeling he was going to have to choose between acting and his family. At the time, his wife was pregnant and his current gigs just weren't cutting it.
"You reach a point where you think, How long am I going to keep doing this? I didn't want to be the dad who's like, 'Honey, I have to go to this audition; it's an important guest star for "JAG," ' " he says. When he auditioned for "New Girl" he was sure he would be passed over.
"I was like, There's no way I'm going to get this," admits Greenfield. "I thought, They'll for sure get a name for this one, but I remember going in there and giving one of the best auditions I've ever given." His talent got him the role, but it probably helped that he took his shirt off in the audition room, nailing the essence of Schmidt from the get-go.
"My own personal sense of humor at times really takes over Schmidt, and sometimes it works and sometimes it's a little much, but for the most part if I continue doing that at least I'm making myself laugh," he says. "And therefore being in the head of Schmidt is not too difficult."
Like this article? Check out our interviews with other Emmy-worthy performers all week!