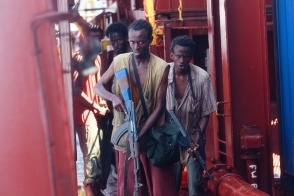 You wouldn't know that Somali pirate Muse in Paul Greengrass' "Captain Phillips" was Barkhad Abdi's film debut—he's both terrifying and sympathetic as the one in control, the one calling the shots and outmaneuvering Tom Hanks' titular captain. And awards organizations have noticed Abdi's stellar turn; among other accolades, he scored both SAG Award and Golden Globe nominations for supporting actor. We spoke to Abdi about how thankful he is he didn't leave the open casting call early.
I understand you were cast out of an open casting call in Minneapolis?
I went to an open casting call after I'd seen it on the local television, and it was a really huge crowd at the time. I wasn't there on time, so there were a lot of people in front of me. I was way at the end of the line. I was there for two or three hours. Actually, I was about to leave. [Laughs] I really thought I had no chance; I was just giving it a shot. But [the casting directors] just asked me simple questions at first and then after that they assigned me to a character. That's when they gave me a script to memorize, and when I came back the second day I got with my friends and we created a group and that's how we finished the audition.
When did you find out you were cast?
By the time we came to L.A., they had already cast all of us together—but we didn't know! Francine [Maisler], the casting director, took us to Shutters by Santa Monica and there we met [director] Paul Greengrass, and he told us after a little bit of talking. I really thought it was going to be more auditioning. The guys with me on the movie were all friends of mine, so it couldn't be better.
What was the first day on the set like?
Well, we went through training first, a lot of training. Fighting and climbing and weapons and swimming, for about a month and a half. We had to be comfortable enough for the part and just be native. Like really know how to swim. We had to be comfortable with the skiffs. I had to learn how to stand still in a moving skiff.
Once training ended, how did you and Paul create Muse together?
It was a different conversation depending on the scene we were doing that day. I would always try to make it as unique as it could be with the script. Paul was there to help me, day in and day out, whenever I messed up or couldn't get there. And before every scene, usually me and Paul and Tom would have a talk about the scene, how we were going to do it. And that first scene, that was the first time I saw him.
Wait, you didn't meet Tom Hanks until you filmed the scene where you take him hostage?
Yeah! Right after we did the training, we were all excited for meeting Tom, so Paul came to us and said, "You're not meeting Tom until the first scene of the movie." He wanted us to be the character and not show the fan side of us. That was the same scene we did the audition with, and that's when I realized I had to be my best.
So what was working with Tom Hanks like?
It wasn't easy, I tell you that. It was an honor to work with him. He's a humble, hard-working man and just a friendly guy. He takes what he's doing very seriously. He becomes the character so fast and so it was truly an honor.
And now you're being honored yourself with a SAG Awards and Golden Globe nominations!
I was not expecting this. I wanted to do the best I can and acting is something I love, but I wasn't sure if I was an actor. I wouldn't even watch the scenes right after we recorded; it was just working as hard as you can and if the director is fine with it, it must be right. It's surreal, man, it's just surreal. But I'm grateful for everything that's happened. I've been lucky to work with a great crew and Paul Greengrass, to me, is just the best director. Everyone I was working with was amazing. I'm truly blessed to have that as my first experience.