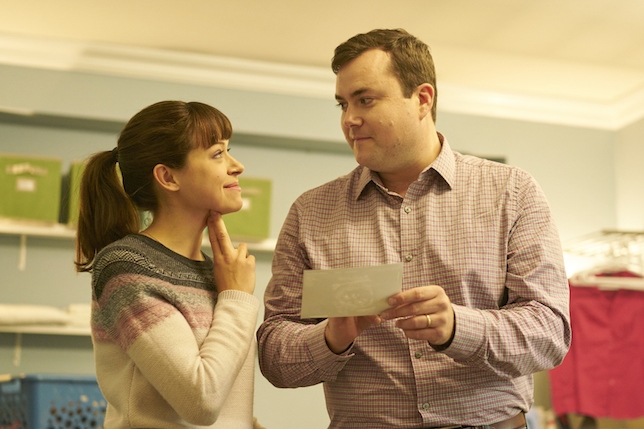 For the last five seasons, Kristian Bruun has played Donnie Hendrix on the hit series "Orphan Black," working alongside Tatiana Maslany's Alison, one of the show's many clones. But despite the triggers that send Alison and Donnie's relationship into rather interesting circumstances—drugs, manslaughter, the whole clone thing—the basis of Bruun's work was to portray a real relationship at the center of it all, with a stellar performer by his side.
As the BBC America series winds down and the ultimate fate of Alison and Donnie remains unknown (as of this article's run), Bruun, during a break in shooting the Sony Pictures TV detective procedural "Carter," discusses the ways to keep the power of improv and what to remember when the going gets tough.
How is it being on the other end of it and working alongside someone like Tatiana, playing multiple characters in a day?
It really threw me for a loop at first. Even talking with Tatiana on set one day when you drop by for a fitting and she's dressed up as Cosima or Rachel and you're like "What is going on? That's my friend in there!" I remember the first time I was acting with Helena. Tat and I love to improv but improving with Helena was the most unpredictable, wild, exciting thing I've ever done because you didn't know what was going to come out of her mouth and it was always completely unexpected. It forces you as an actor to keep on your toes, which is always such a great pleasure because you can never rest on your laurels. You have to keep up to Tat the whole time.
WATCH: 'Orphan Black' Bloopers With Tatiana Maslany
What advice do you have for actors about staying on their toes in those situations?
Anyone who says that you need to focus 100 percent on the scene at hand when you're acting is talking bunk, in my opinion. There are so many other factors you have to keep in mind: you have to focus on your scene partner a ton, but you've got 25 to 50 people standing around you in your eyeline when you're trying to deliver a heartfelt monologue, and you've got lights, and you've got to hit your marks here on this line, and hit another mark on the next line. You've got to make sure you're holding a gun up in the frame high enough. You've got so much stuff to process from take to take, plus as you get new direction, that you've got to think on your feet really quickly and manage a bunch of different tasks. The best training for that part of your brain is improv. It teaches you to listen and respond but it exercises how to build a story in your head while still hopefully outputting good acting work at the same time. That's one thing I worked with Tat—she's a brilliant improviser. We'd improvise for fun outside of work. It's the best training because you have to roll with so many punches being thrown at you and that skill is so easily overlooked by a lot of actors.
It's a testament to the inner writer in a lot of people, too. You have to tap into a narrative-driven part of your brain.
I think a lot of television and film productions are starting to loosen up with actors improving in scenes a little bit. You have the Duplass brothers and the mumblecore people creating these awesome films that are barely scripted but are also founded in improv. Even on "Orphan," there were scenes the writers would write for Tat and I where it would explain what happens and the director would be like, "There's a camera here and a camera here and you need to do these following things in the scene," and they would trust us with whatever we would say. It's a great honor for a writer to relinquish that power to an actor.
When it finally ends, how do you transition into the next project?
Coming off of a show is scary as hell. You get comfortable, which is a dangerous thing, to get comfortable with having a regular paycheck. You have to adjust back into the lifestyle you had before the show when you're trying to book day player roles. Hopefully you've got things saved up. I had a few months off and I booked "Carter," so I was really lucky. Even those three months, I was getting stressed.
One of the first things I did was find a new acting class that presented new challenges. You go back to being a working actor in the sense of you're working on your auditions constantly, you're working on sharpening your skills. You're doing everything you can do to make sure you're in shape for those auditions that come around and give you the opportunity to be on a series or a big movie.
READ: 6 Classes for Aspiring Actor-Writers
But you're also equipping yourself with the right skills and education.
Our business is so up and down in terms of work, even if I'm shooting a TV show for three or four months, depending on how big the role is, I may only be in a few days a week. Because you never know when your next job is going to be, you're constantly hustling for more and more work. Finding that next class to do when you hit a dry spell or writing or doing whatever it takes to exercise those storytelling muscles is crucial if you want to last because there's always going to be someone who's prettier than you or more handsome than you, who's more talented than you, who wants it more than you. You have to be prepared to go up against those people. If you're not doing your part to constantly improve yourself as an artist you're going to get weeded out.
How do you get through those rough days?
You're going to have the bad days. There's always challenges but working in film and TV is the ultimate test in patience. You have to remind yourself: I'm so lucky; just enjoy it. You pick and choose your battles. You can choose to be angry about something and let it go and keep working, or if it comes down to a storytelling point that makes the story more clear and better for the audience, then that's an important fight to go for.
The "Orphan Black" series finale airs Aug. 12 on BBC America.
Check out Backstage's TV audition listings!