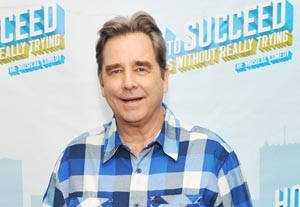 Perhaps it seems unexpected for Beau Bridges to be tackling a Broadway musical at this stage of his career, but for him it's the logical next step. He recently replaced John Larroquette as corporate bigwig J.B. Biggley in "How to Succeed in Business Without Really Trying" and will be on board through July 1. Though Bridges is best known for his extensive film and TV work, he points to his roster of theater credits on Broadway and in Los Angeles, including playing Sarah Brown's wise grandfather Arvide Abernathy in "Guys & Dolls" at the Hollywood Bowl in 2009, where he sang "More I Cannot Wish You."
Like any other project Bridges is attracted to, "How to Succeed" is a great story, he says. Further, "it's already up and running, so all I have to do is jump in," he continues. "How could I turn it down? I've always loved music, my family has been jamming for years, and as I watched my brother Jeff getting into music after starring in 'Crazy Heart,' I was inspired."
Bridges' career is on an upswing, not least thanks to his featured role as George Clooney's greedy hillbilly cousin in "The Descendants." But Bridges is especially excited about a play he has co-authored with his daughter, Emily, based on Richard Boleslavsky's 1933 book that Bridges' father, actor Lloyd Bridges, gave him when Beau was a youngster. It's titled, appropriately enough, "Acting: The First Six Lessons." "It's all about the Stanislavsky method and also the relationship between an acting teacher and his student, who he calls 'the creature.' " Bridges explains. The two-hander, which he and his daughter performed at Theatre West in 2010, has been published by Samuel French, and Bridges hopes to bring it to the East Coast.
Bridges is every bit the family man, has four sons and one daughter, and is proud of his legendary Hollywood heritage.
1. Water Everywhere.
Bridges admits that his father opened doors for him. "I was lucky to have a dad in the industry who got me my first job in the film 'Zamba,' when I was 6," he recalls. "Later I appeared in 'Sea Hunt,' and so did my brother." "Sea Hunt" was a popular TV adventure series that starred Lloyd Bridges and ran from 1958 to 1961. Lloyd was an enthusiastic actor and loved his profession, Bridges recalls. But he was no stage parent, and neither brother was initially that serious about acting. Indeed, Bridges was interested in sports; his sights set on a basketball career, he played at UCLA and later at the University of Hawaii, where he phased out his college education and turned his attention to surfing.
At the same time, he was landing spots on TV shows as he slowly moved back into the family business. But performing in the anti–Vietnam War play "Trial of the Catonsville Nine," by Daniel Berrigan, at the Mark Taper Forum, grabbed his attention and focused his efforts, partly because it spoke to his politics during those heady Vietnam years. "I recognized the entertainment aspect of stories, but every once in a while you get the chance to be in a play that talks about issues and that's exciting," he says.
2. The Family That Plays Together.
Looking back, he concedes, his family name may have magnified the scrutiny he received, but not much more than for anyone else who is doing relatively well. "It's a little unnerving to know people want to see you fail, but the positives far outweigh the negatives," Bridges says. "And the people who are scrutinizing me are giving me jobs. There are no jobs without an audience." Establishing his own artistic identity evolved naturally, he says, adding jealousy was never an issue in his close-knit clan. "I love working with my family," he says. "As Jeff and I got going, Dad would call and say, 'Anything for me?' There's never been a competitive aspect in our relationships. We enjoy watching each other's victories, and we're there for each other when one of us has a defeat." A personal and professional high point was appearing with his brother in "The Fabulous Baker Boys," and an ideal future project is its sequel, Bridges says. " 'The Fabulous Baker Boys Go to Kauai and Lie Around.' " He's only half-kidding.
3. Constantly Evolving.
Besides his father's tutelage, Bridges never studied acting formally. But then, Dad gave him the basics. "He told me, 'You want to tell the truth when you go out there. As long as it's your truth, it will seem like it's coming from a real place,' " Bridges remembers. "But every time I work, I'm learning." His ongoing relationship with Theatre West is a case in point. Whenever actors perform, their work is critiqued by colleagues. Bridges also cites the usefulness of David Ball's book, "Backwards & Forwards: A Technical Manual for Reading Plays." It has given him a new perspective on how to consider a play, its characters, and their relationships, he says.
Bridges is a man of many interests and keeps his options open. Consider how he launched his singing career. As he tells it, he had been privately writing songs for quite a while but had not thought much of it until his wife asked him to record the songs for her birthday. His walking buddy, the great trumpet player Arturo Sandoval, expressed interest, and the two recorded five songs in Sandoval's studio. Friends and family were enthusiastic, and now the songs are available online. Recording them played a role in his willingness to try his hand at a Broadway musical, he says. "The big challenge for me in the show is the dancing."
4. The Next Big Adventure.
Bridges refuses to reflect on what he might have done differently in his career. "I appreciate my life, my opportunities, and I want to look beyond the past and be excited about what's coming down," he says. "I'd like to realize the play with my daughter. That's where my head is." Transience makes the business exciting. "Little births, little deaths, and melancholy when it's over," he says. "You think you'll never work again, and along comes another venture around the bend."

"How to Succeed in Business Without Really Trying" is playing at the Al Hirschfeld Theatre, 302 W. 45th St., N.Y. (212) 239-6200. telecharge.com. howtosucceedbroadway.com.
Outtakes
Appeared on Broadway in William Inge's "Where's Daddy?" and Peter Ustinov's "Who's Who in Hell" and at the Geffen Playhouse in Jane Anderson's "Looking for Normal"
Has been featured in dozens of films, including "Norma Rae," "The Other Side of the Mountain," and "Sordid Lives"
Guest-starred on "Brothers & Sisters," "My Name Is Earl," "Desperate Housewives," and "The Closer"
Received 11 Emmy nominations; won Emmys for "The Positively True Adventures of the Alleged Texas Cheerleader-Murdering Mom," "The Second Civil War," and "Without Warning: The James Brady Story" also won Golden Globes for the latter two