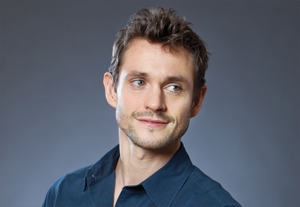 Hugh Dancy shrugs at the notion that he tends to share strong chemistry with his female co-stars.

"I think 'chemistry' is an overused phrase," the actor says. "It's hard to define, and it usually just involves good writing and good acting. I've certainly worked with people that I didn't feel any personal chemistry with whatsoever but that worked out very well onscreen." He adds, laughing, "And there are plenty of stories of people falling in love on movie sets and then producing absolutely abysmal films."

In fact, Dancy met his wife, Claire Danes ("Homeland"), in 2006 while filming "Evening." The actors were married in 2009.

If onscreen chemistry is mostly the result of hard work, as Dancy claims, then the actor is one of the hardest-working men in show business.

Whether wooing Anne Hathaway in "Ella Enchanted" or Isla Fisher in "Confessions of a Shopaholic," making the most of supporting roles in female-driven ensemble films such as "Martha Marcy May Marlene" and "Our Idiot Brother," or verbally sparring with Laura Linney in the Showtime series "The Big C," the charming Brit seems to surround himself with strong leading ladies.

That trend continues with his two latest roles—as a writer-director who finds himself in an unusual audition with a young actor (played by two-time Tony nominee Nina Arianda) in "Venus in Fur" on Broadway, and as the inventor of the vibrator (opposite Maggie Gyllenhaal and Felicity Jones) in the new film "Hysteria."

"You're trusting the person that casts you to cast the rest of the roles well," Dancy says. "In the past, I've gone and done an audition with somebody and not known them and just on the basis of the audition thought, 'Wow! That would be great. That would work really well.' " When asked for an example, he laughs and says, "No, actually they cast two other people!"

Hugh Dancy will appear on the cover of this week's issue of Back Stage, which hits newsstands on Thursday!

Daniel Lehman is a staff writer for Back Stage. Follow him on Twitter: @byDanLehman.