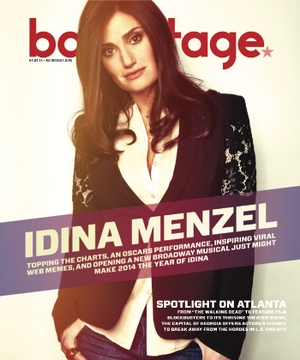 Idina Menzel graces our cover this week, and she chats with Backstage about her starring role in the upcoming "If/Then" as well as "Frozen" and the Oscars. Check out the full story here!
---
Idina Menzel on Playing Two Roles
In "If/Then," Idina Menzel plays one woman with two different life paths. In one, she's practical Beth; in the other, she's heartfelt Liz. So which does she relate to more and how does she delineate between the two women?
"I think of them as one woman, one soul affected by different circumstances," she explains. "It's been a challenge to play those roles; you don't want to dumb it down to opposites. Beth can be very vulnerable, although she's very strong-willed and ambitious. Liz can be a survivor and tough and also have her heart opened with love. It's all there, you just have to play the writing and the choices. I just let the writing take over and play what they've given me. Hopefully that changes my physicality, but I didn't start out trying to do anything. I didn't give one a limp and one an accent.
"In this show, it's so much about having the courage to start over, to make new choices, to look at your life and understand that everything, every choice you make, is at least preparing you in some way for another stage in your life. It doesn't matter if you believe that it happens fatefully or coincidentally or whatever. I am different at this time in my life than I was six months ago, 10 years ago—because of the circumstances. So my choices will be informed by that. I will grow and evolve as a woman that much more."