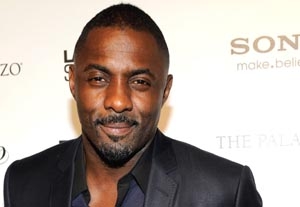 In this summer's new superhero-smackdown film "Thor," Idris Elba plays Heimdall, guardian of the gate to the magical realm of Asgard. In the Marvel comics that serve as the film's source material, Heimdall is white. Elba, of course, is black, and his casting prompted pre-premiere grumblings among fanboy purists—something he sounds tired of being asked about. "It is what it is," Elba says. "People are shallow."
Indeed they are. But like those fanboys, Elba—born, raised, and trained as an actor in London—grew up reading "The Mighty Thor" and other Marvel books. His casting as Heimdall, a god so formidable that even other Asgardians are reluctant to mess with him, fits nicely into a résumé filled with sophisticated badasses. Elba is best known for his work on HBO's "The Wire," in which he played Stringer Bell, a thinking man's gangster who memorably imposes Robert's Rules of Order on his crime-boss meetings.
The role prompted London's Daily Telegraph to dub the actor "The Coolest Man in the World" in its review last year of Elba's biggest post-"Wire" project, "Luther." In that six-part BBC series, the actor plays a brilliant-but-haunted police detective who spends his days and nights bringing killers to justice. For Elba, it was his first time playing the lead—and the fulfillment of a dream.
"I had wanted to be home to see some family, that sort of thing, so 'Luther' came in, and it was perfect timing," the actor says. "In England, which is quite a smaller market, if you can own a BBC show and be the top boy on that show, that's the pinnacle for every actor, whether theater or television."
Elba had to work his way up to top-boy status. After studying acting in school, he took a job at a Ford plant in England. It paid the bills but left little time for auditioning and honing the craft. Elba knew he would soon have to give up either acting or car making, but career salvation arrived in the form of a scholarship to the National Youth Music Theatre.
Elba left Ford and soon after traveled to New York—a brief trip that was a precursor to his later move to the United States. While reading a copy of Back Stage, he spotted an advertisement calling for "New York–native" types to audition for roles in Robert De Niro's upcoming directorial debut, 1993's "A Bronx Tale." Elba was far from a native New Yorker and had no authorization to work in the States. But he showed up anyway and filled out the audition form, handing it over to the casting associate with large swathes left blank.
"She looked at me, and she goes, 'Well, are you a resident here?' " Elba says. "I said, 'Not exactly. Not yet.' " But Elba managed to talk his way into the audition room. He didn't land the part, but the experience had a lasting impact on him. He still cites De Niro as one of his inspirations for moving to the States to ply his trade in the world's biggest acting market. After making that move, he went to work on his American accent, which he was told wasn't up to snuff when he began going out on auditions. He likens learning a new accent to learning a new language.
"Most important, which I always tell people, especially students, is understanding the tradition of the language, understanding the culture and why people speak that way—who says what and why," Elba says. "If I want to learn Spanish, it's really difficult for me to learn it via computer program. But if you go there, you start to understand why people say things, what the shortcuts are, what the cadence is."
When Elba booked "The Wire," the character bible for Stringer Bell said his was one of the few roles not originally from Baltimore—so Elba played him with a more general East Coast accent. In "Thor," the Asgardians are the same beings worshipped in Norse mythology, but there's barely a Scandinavian accent to be found in the film. Most of the actors—as well as their director, Kenneth Branagh—are subjects of Queen Elizabeth in real life, and the way they talk onscreen reflects that.
"We settled on an accent that was adopted by Asgardians," Elba says. "It wasn't really British, but it wasn't American. Myself, Anthony [Hopkins], Chris [Hemsworth], Tom Hiddleston, we all adopted an accent that sounds pretty British but is more plain."
Elba calls Branagh a great director and says working with the Shakespearian star was "sort of a master class for me in the future," when Elba hopes to direct. For now, he recently finished shooting a second cycle of "Luther," which will air this year on the BBC. And he will continue to shuttle back and forth between his native soil and adopted homeland as his career grows. Asked if there's one major difference between working in the U.S. and working in the U.K., he answers definitively. "The grub," he says. "The craft tables are bigger on American sets."
---
The 'Wire' Tsunami
"The Wire" never won an Emmy Award, but three years after the final episode of creator David Simon's in-depth look at crime in Baltimore aired, the show is regarded by many as one of the best in television history. Elba is still struck by the phenomenon it became.
"We never received huge amounts of accolades and we were never trendy at one stage," he says. "However, over a period of eight years, that show has become a cult classic. It has started to receive the recognition it deserves. Different parts of the world have had a sort of 'Wire' tsunami, if you like, because everybody's talking about it. Everybody wants a piece of it."