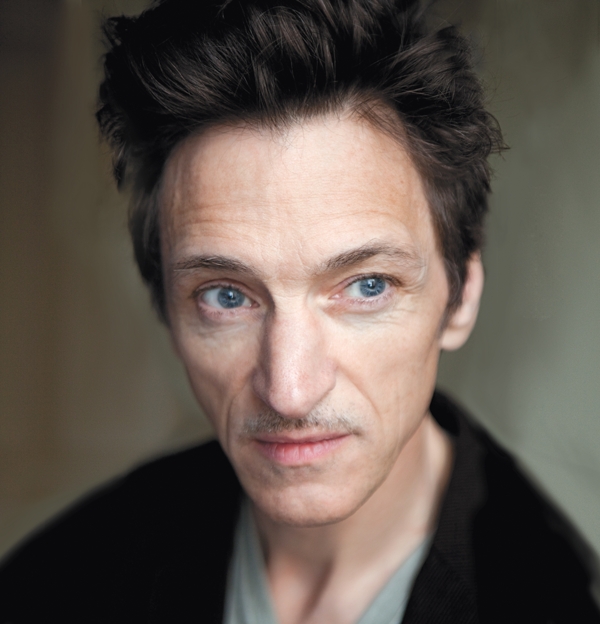 John Hawkes is uncomfortable being the center of attention. Despite prominent roles in blockbusters such as "The Perfect Storm," regular TV gigs on cult shows "Deadwood" and "Eastbound & Down," and an Oscar nomination for his steely supporting turn in 2010's "Winter's Bone," the journeyman actor has enjoyed a certain amount of anonymity. And that's just the way he likes it.
"The idea of having a higher visibility makes me nervous," he says. "I'd rather have less money and a more interesting life than more money and a more public existence." He adds that staying under the radar is one of his strengths as an actor. "I've always been the person who could quietly observe, not be observed. There are great actors who I have trouble believing if I know too much about them. I don't want to watch a performance and not believe a person because I know he just broke up with his girlfriend who used to be on 'Ally McBeal.' "
If the "Ally McBeal" reference seems dated, that's another aspect of Hawkes' charm; he's delightfully old-fashioned. He doesn't own a computer or have an e-mail account, and when asked how sides are sent to him, he says, "Well, I don't want to brag, but I do own a fax machine." He says his representatives would love for him to step into the Internet age but adds, "I've been lucky enough to have enough success for the last couple years that they have accommodated me. It's a good thing I've done well, or I would have to get e-mail." He does possess a cell phone, which he shows off with pride, and it's one of those outdated models where letters share a number on the keypad, meaning you have to press a digit three times to type the letter "c." Not that it matters—Hawkes wouldn't dream of text messaging.
So it is with mixed emotions that Hawkes finds himself ensconced in a large room at a five-star hotel during the 2012 Toronto International Film Festival, the focus of growing awards buzz for his performance in "The Sessions." The film, from writer-director Ben Lewin, tells the true story of Mark O'Brien, a poet and writer who, due to a childhood bout with polio, is unable to move his body from the neck down and spends much of his time in an iron lung. After being asked to write an article about sex and the disabled, O'Brien sets about losing his virginity with the help of a sexual surrogate named Cheryl Cohen Greene, played by Helen Hunt.
What could have been maudlin or just plain creepy is handled with humor and grace by Lewin and his cast, which includes William H. Macy as the priest O'Brien confides in and Moon Bloodgood as his caretaker. The film premiered at the Sundance Film Festival in January to rave reviews and was awarded not only the Audience Award but a Special Jury Prize for Ensemble Acting. And Hawkes is all but guaranteed his second Oscar nomination, this time for lead actor, for his honest, breathtaking performance as O'Brien.
If Hawkes is nervous about the attention, others, such as Lewin, are thrilled by it. "Finally, people will know the name John Hawkes," says the 65-year-old filmmaker, a polio survivor who walks with the aid of crutches. Like many, Lewin didn't know Hawkes' name when casting director Ronnie Yeskel suggested him for the role. Hawkes was fresh off his nomination for "Winter's Bone," and Lewin checked out his terrifying performance as Teardrop in the drama. "I thought, 'This creepy old guy?' " Lewin says with a laugh. "But as I began to watch his other films, I realized I was already a fan. I had seen him in many things and not even realized it was the same person."
Hawkes says many scripts were sent his way in the wake of "Winter's Bone," but he instantly responded to "The Sessions," then titled "The Surrogate," joking that he went for the one with the lowest budget. He arranged to meet Lewin at a deli in West L.A., and that initial meeting stretched to more than two hours. Hawkes went in with two major concerns, both of which Lewin quickly allayed. "My first question was whether or not he had tried to cast a disabled actor in the role," Hawkes says. "Because I did not want to be taking a job from someone more suited for it. But he assured me he had looked all over and not been able to find the right person."
Hawkes' other source of trepidation was whether Lewin would hold back on showing all of O'Brien's complexities, something Lewin promised would not be an issue. "Ben, being a disabled man himself, was open to the idea of disabled people being mean and shitty and snotty too," Hawkes says. "He certainly didn't want this to be Saint Mark O'Brien. He wanted a warts-and-all approach. He wanted all of Mark's humanity, light and dark."
Although O'Brien died at 49 in 1999, Hawkes was able to do extensive research thanks in large part to O'Brien's writing, including the article "On Seeing a Sex Surrogate" and his book (written with Gillian Kendall), "How I Became a Human Being: A Disabled Man's Quest for Independence." Also vital was Jessica Yu's 1996 Oscar-winning short documentary, "Breathing Lessons: The Life and Work of Mark O'Brien." Hawkes watched the 35-minute film repeatedly, learning to mimic O'Brien's distinct, nasal, slurred voice. However, he couldn't be too accurate—"Breathing Lessons" is subtitled because O'Brien is frequently difficult to understand. Perhaps most important, O'Brien's humor and humanity come across vividly in the film: At one point he refers to himself as "a former person"; he also says of a nurse, "I swear, Garcia was a crazy bitch."
In addition, Hawkes met the real Cohen Greene and Susan Fernbach, who was O'Brien's girlfriend at the time of his death, and both helped him form a clearer picture of the man. He says he felt an extra responsibility in portraying a real person. "It's an honor and a privilege to portray any character in front of an audience, but particularly so when it's someone who lived and breathed and walked on the earth," Hawkes says. "It creates a layer that makes you work a little harder. I like to think I put 100 percent into every role, but there's certainly more care taken to honor one's life and try to do right by them and by the people who survived them."
Of all the stories Fernbach told him, Hawkes says the one that stands out in his mind was from after O'Brien's death. "She said when she went to his place when he'd passed away, there was no evidence of him at all, no feeling that he'd been there," Hawkes says. "And she loved it; she felt he had taken his spirit and moved on. He just cruised out of there." Fernbach took a few of O'Brien's possessions, including an electric toothbrush she had used to brush his teeth. "Susan is not a super New-Agey kind of person, so this surprised me. But I asked if she ever felt anything after he passed away. And she told me how a couple weeks later, she had this feeling he was present, and the toothbrush turned itself on."
By far, the most difficult part of the role was embodying O'Brien's physicality. O'Brien had a severe curvature of the spine, and while Lewin had suggested the possibility of using a body double at times, Hawkes was firmly opposed to the idea. Instead, he created something he lovingly dubbed "the Torture Ball," a piece of foam the size of a soccer ball that he put under his back. This turned out to be dangerous, as not only did it cause intense pain, but Hawkes' chiropractor warned him that his organs were migrating. Still, Hawkes refuses to dwell on it, saying, "It's hard to complain when you think about people who live with pain every minute of their entire lives."
There was very little rehearsal on the set, so prior to shooting Hawkes made himself a mouth stick, which O'Brien uses to type and turn pages. "I got to be pretty good with that thing," he says. In addition, O'Brien was only able to move his head at a 90-degree angle, so Hawkes had to lie perfectly still for long periods of time. But Hawkes' performance isn't just an impressive physical display; he also digs deeply into a complicated man who grapples with his fear of sex and love. As O'Brien wrote in his article, "I wanted to be loved. I wanted to be held, caressed, and valued. But my self-hatred and fear were too intense." Hawkes manages to convey excitement, discomfort, awe, and joy while barely moving a muscle.
Though Hawkes has always been a chameleon, even his biggest fans might not know it's him at first in "The Sessions." The irony is not lost on the actor that he may well receive the most acclaim of his career for a performance in which he is virtually unrecognizable. "That's great," Hawkes says. "The highest compliment I can be given as an actor is that people don't know who I am."